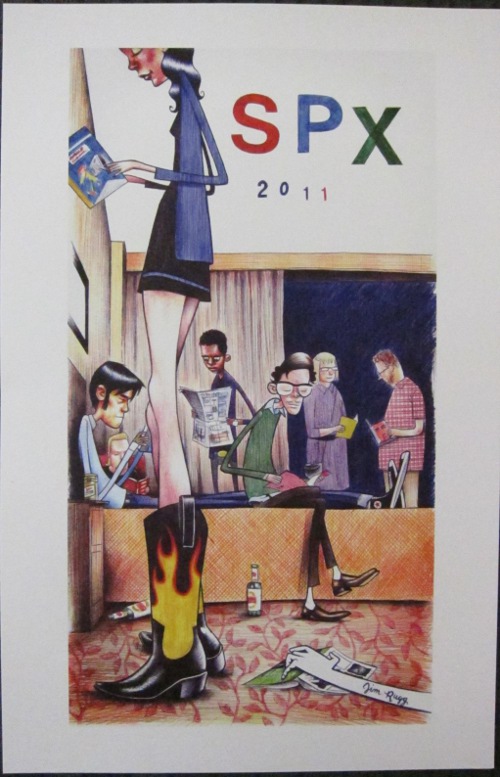 The Small Press Expo is really two festivals, simultaneous and inseparable but nonetheless distinct – the one where cartoonists talk to other cartoonists (and publishers and journalists and critics) about their work and their craft and their inspiration, and the one where comics fans and curious people come to collect mini-comics, buy compilations, fill sketchbooks, get autographs, see what it's all about and meet those cartoonists. SPX cartoonists are exceptional people. And SPX is, ultimately, not so much about comics as it is about cartoonists themselves – cartoonists as a source of creative inspiration for each other and for the rest of us.
When I attended my first SPX, I had a vague grasp of the idea of art comics but I had read very little – Eddie Campbell's "Fate of the Artist" and Dash Shaw's "The Mother's Mouth." I read the Shaw because I was writing a regular books review column for a Virginia-based magazine and Shaw at the time was living in Richmond, so it fit my "local author" requirement. The Campbell was specially and insightfully selected as the "Right Way to Introduce Caroline to Art Comics" by a friend who resisted giving me comics to read until "Fate" matched up with the things I'd said I liked about literature. (It remains, as everybody here knows, one of my favorite books period, of literature or comics.) So I was primed for the notion that comics were Art, but nonetheless not quite prepared for the headiness of SPX.
That first SPX afforded me the opportunity to speak directly about art – not just comics, but art and writing and criticism as well – with cartoonists like Austin English and Nick Abadzis and Juliacks, and with critics like Gary Groth and Douglas Wolk, and it gave me the opportunity to hear really intelligent panel discussions about making art, featuring not only Nick and Austin but John Hankiewicz, and Tom Kaczynski, and C.F. and Kim Deitch. Those conversations, passive and active, were about comics on the surface, but for me, without a lot of comics reference points, they were every bit as much about art in general – about inspiration, about making yourself creative, about doing the work.
I've had a similar experience at every SPX I've attended since.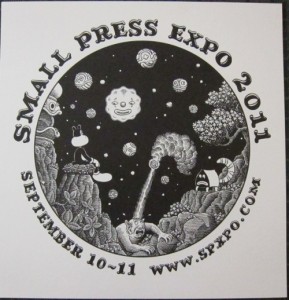 After this year's show, when we were all coming down from the high, Charles Brownstein of the CBLDF commented that "if you let it, [SPX] will reorient you towards comics as a spiritual pursuit," and the sentiment gets at exactly what's always made SPX so compelling. Until I started writing for HU, the culture of art comics in my experience was the culture of SPX. And the culture of SPX is extraordinary, because of those extraordinary cartoonists – 300 or so of them – and the conviction and imagination they bring to the show. I love comics because I love SPX. And I love SPX because the cartoonists' passion for comics is an airborne intoxicant everywhere you go during the festival. At SPX, the cartoonist is the medium, transmitting the force and effect of comics' potential to everyone in the room.
I think most people who come to SPX experience at least some of that intoxicating excitement, and I think we recognize it as one of the festival's most valuable assets – especially for getting neophytes like I was to care more about comics and what they have to offer. Recognizing it, though, isn't enough — we have to get that excitement airborne before the festival, so that it arouses curiosity in people who wouldn't normally come to a comics event. And we have to get it into media that reaches that audience locally.
Coverage of SPX within the comics blogosphere is always strong (thanks everybody!). This year, advance coverage of SPX in local media was much more extensive than in any previous year – and we had a packed floor on Saturday as a result.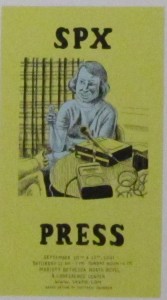 That coverage was due, again, to cartoonists: the festival's slate of high-profile guests was exceptionally strong this year, thanks primarily to Executive Director Warren Bernard's months-long efforts with publishers and individuals. But the coverage goes into something of a vacuum, because most non-comics readers, including many journalists, have little to no frame of reference when they see an article about alt-comics. Mainstream media outlets, even the indie alt-weeklies, aren't attentive to the books and cartoonists through the year (they often don't really do "arts" coverage at all.) Non-comics readers aren't primed to think of comics as a medium rather than a genre; they don't get historical references; they have different expectations from people who are already in alt-comics' core niche. Editors either don't see comics coverage as relevant, or they see it as relevant only for their calendar/events section. The good editors get someone who is "in the know" about comics to cover SPX – but then that skews the coverage toward the existing niche demographic.
The problem of the expanded versus niche audience is of course something comics deal with all the time and in many contexts. On a panel devoted to "Navigating the Contemporary Publishing Landscape" (watch online at the SPX website), Fart Party cartoonist Julia Wertz, discussing her experience publishing Drinking at the Movies with Random House, commented that "what big publishers do is they just throw a lot of shit at the wall and they want something to stick, and comics don't stick because people don't buy comics. So the problem was that they put out this book and they had no idea how to market it, and I'd say 'you need to send a copy of this book to The Comics Journal or to Tom Spurgeon,' and they were like "what's that?'…They were really nice, but they had no idea what to do with this book."
I sympathize with those people at Random House, trying to sell mass general audiences a comic. The advantage of a press like that is their ability to put your book into the hands of a very wide audience. But it's really hard to get across to the wide world of non-comics readers why a comic or a cartoonist matters. So many of our answers about why comics matter refer back to medium-specific, historical or nostalgic, comics-insider frames of reference that are largely meaningless to that non-comics reader. If your audience is really those people who already read TCJ and Tom Spurgeon, if your comic is made for comics insiders, then Random House's broad reach honestly becomes a disadvantage. Wertz is surely right that comics insiders are the most likely people to buy her book and that the Comics Internet is the best place to market a comic. But things stick when there's an affinity between them, so the question jumps out — is the audience of people currently reading the alt-comics Internet, the audience already familiar with alt-comics creators and vocabularies, the audience of people prepared and persuaded to consider mechanically reproduced comics as postmodern objets d'art, really large enough to support, economically and artistically, the critical mass of cartoonists needed to keep art comics and cartooning vibrant and vital as an expressive medium? Or do we have to build an affinity between comics and those expanded audiences, who may never be "comics insiders"?
One of the best things I did at SPX was talk to occasional HU commenter — and Ignatz winner for Promising New Talent! – Darryl Ayo Brathwaite, who has really thoughtful opinions about this topic. Darryl commented that "indie comic insiders tend to buy the critically acclaimed stuff, and the indie comic browsers tend to go for stuff that doesn't get Comics Journal acclaim necessarily, but has a fairly easy hook." An easy hook helps people manage the noise: "conceptually simple stuff appeals to people's sense of wonder as well as to their sense of needing manageable answers in a room full of noise, both audio and visual." I think he nails those "comics-civilians" and their buying behavior, but I think he also nails the essence of PR: identify and convey the hook, simply and directly enough that the message gets there in just a few seconds.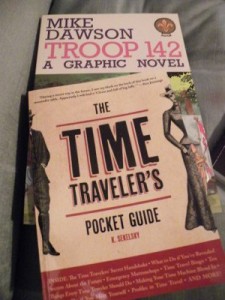 The truth, though, is that comics insiders get overwhelmed by noise too. And a catchy summation can help people grasp the value of a conceptually sophisticated book. It's not either/or, really — conceptually simple or complex — what stands out most to me in Darryl's observation is the importance of making people care, quickly and easily. As a frequent purchaser of both books and visual art, I often get stymied by art comics that don't have good cover blurbs or creator bios. Sometimes it's just plain impossible to tell what I'm holding without Googling it — or reading it. For a mini-comic, you just buy it anyway, because it's $2, it's handmade, and it looks cool. But it's harder to rationalize the gamble for a $15 mass-produced book, and for me, impossible once the book costs $35-40. At a table in a noisy room, the blurb is the most immediate way to convey to a potential reader why the book matters enough to spend money on it. Fantagraphics' blurb for Cathy Malkasian's Temperance is excellent, just right for making the book jump out to a casual browser (even though they omitted an artist bio.) K. Sekelsky did a terrific job in one sentence on her illustrated book The Time Travelers Pocket Guide. Secret Acres' compilation of Mike Dawson's Troop 142 uses a catchy quote to strong effect.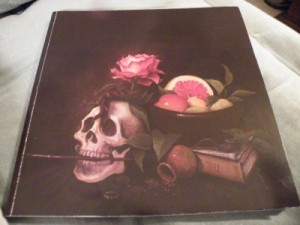 But, those are narrative books. Tom Neely's beautiful and conceptually challenging book The Wolf, in contrast, doesn't have a blurb at all. It's is a wordless comic, and I imagine it doesn't have a blurb for the same reasons lots of wordless, "art-focused" comics don't have blurbs: partly a) because it would visually disrupt the cover, but mostly b) because blurbs generally assert interpretations, and art-focused comics tend to value openness of interpretation, "make of it what you will." I bought it because Charles Brownstein recommended it, but without his insider intervention I'd probably have passed over it: it's visually arresting but it's not really quite my thing (body horror and no prose). Charles, though, captured my attention — he essentially narrated a cover blurb. He got me past my first impressions and convinced me that the book matters, that it has something to say.
I know this suggests questions about whether comics are ontologically and commercially more like books or visual art, and raises philosophical issues about the Work of Art in the Age of Mechanical Reproduction. Comics are Art — but they're an art that hides quietly on the bookshelf, unlike the oil painting over the piano. Does thinking of comics as art objects move them toward kitsch because of the status of reproducibility in the comics medium, or do books where the art takes center stage problematize the categories of kitsch and art, including allo- and auto-graphic permeability and the subjectivity of interpretation? Anybody who has talked to me about art knows those type of questions excite me, and I think the extent to which comics challenge our notions about materiality and value does influence why people don't buy comics.
But I also want every exhibitor at SPX to sell out of everything they bring. Promotion — whether at the festival level or the individual level — lives in that realm of hooks and pitches, not at the level of critical ontology. The kind of hook that appeals to a comics-civilian browsing at a festival isn't really that far from the kind of pitch that appeals to a mainstream journalist skimming through an inbox of pitches. Part of the mission of comics PR, I think, should be to balance the valuable and motivating intimacy of comics' community of insiders against the need to identify accessible and relevant hooks to promote cartoonists and their books successfully to an outsider public.
It's not a ready balance. Those outsider publics rarely think in terms of medium; they think in terms of content. In the case of film and fiction and television, each medium has many disparate markets and target demographics that align more with the genres and styles and content available in all of those media than they do with any medium itself. But comics is both a single medium and, to a great extent, a single market. Mainstream comics readers are more likely to buy and read the comics at SPX than are people who have no ties to comics at all. But those outsiders do have commitments to chick lit or procedural drama or postcolonial narratives or feminist cinema. To appeal to outsider publics and expand the audiences who read comics, comics PR has to find the places where the content and genres and styles of the comics medium overlap with those disparate markets. The biggest challenge is appealing to those content-oriented markets without sacrificing what is so joyful about the medium-driven community we have now.
---
Unfortunately, I haven't had a chance to read anything I bought at SPX, and I was only able to spend about an hour in the exhibit hall. So here, until I have a chance to process a little, are some photos of what I bought. They'll get a little bigger if you click on them; mouse over them to see cartoonists' names and titles. Some things I wanted to buy and missed, like Darryl's comics, and L. Nichols' beautiful work, and many others on Rob Clough's list of must sees. I also didn't make it to all the Ignatz nominees' tables. For those of you who were there, please tell me in comments what else I missed!