The Godard Roundtable will pick up later today, but I thought I'd sneak this post in since we have a little space.
_______________________
Since I wrote my last post on the movie Ella, Enchanted, I reread Gail Carson Levine's book Ella Enchanted, on which the movie is based.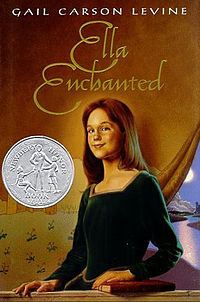 The book is very different…and I'd say a good bit better. Ella wins the prince over not because she's spunky, but because she's smart and funny — and Levine is a good enough writer to endow her creation with actual wit. The love story is a lot more convincing too; the book lets it develop over months rather than over weeks.
The story is also much darker. In the film the obedience is definitely shown to be a curse…but it's also fun, and funny (Ella grabbing her own tongue when told to hold her tongue; Ella hopping away when told to hop to it.) And sometimes the curse is actually even something like a blessing. Ella is, for example, magically able to obey commands to become a fighter and beat up ogres early in the movie; she's able to become a talented singer when told to be so.
In contrast, in the book, the curse confers no magical powers. When Ella is sent to finishing school and told to behave like a lady, she just has to do the painful, grinding work of training herself to act like a lady. The book does a much better job of making you feel the oppression of slavery, not as a painful occasional trick, but as an everyday weight on the spirit.
Another difference is that in the film Ella's father is distant and flighty, but not actively cruel. As a result, a lot of the movie doesn't really make sense — why doesn't Ella tell him about her curse, for example? Why does he marry the repulsive Dame Olga? In the book, though, Ella's father is actually a grasping, cruel man — not completely evil, perhaps, but certainly caring far more for money than for Ella. This is made especially clear in a painful scene in which her father attempts to marry Ella off to a wealthy, older earl. He sees her as a possession; as chattel. And her obedience forces her to be just that.
The political ramifications of this are interesting. In the film, of course, politics is figured in terms of authoritarianism and revolution. The uncle-on-the-throne is evil and racist, and Ella's obedience makes her sensitive to the need to treat others justly. In the book, though, the king is a good sort, and there's no sense of widespread injustice. Instead, the injustice is gendered. It's in the way Ella's father treats her as a thing, and in the way that her stepmother and stepsisters treat her as a servant doing traditional woman's work.
Ella's escape from the curse in the book follows through on the logic. In the film, the prince asks her to marry him and she frees herself, as if becoming his makes her no one else's. In the book, though, Ella finds the strength to break the curse by refusing the Prince when he says "marry me". Ella knows that with her curse, others could use her to betray the Prince; an obedient wife would destroy the kingdom. It's only when she breaks the curse and gains her independence that she can be a good wife — a person, rather than a chattel.
The book, then, is much more sensitive to patriarchy's specificity; to the way that fathers and husbands are not just loved ones, but potential oppressors. It's much less interested, though, in class injustices — Ella never extrapolates from her own servitude to wonder about the conditions of other servants, for example. It seems like you can have narratives about authoritarian regimes (like the Hunger Games) or you can have narratives about patriarchy (which I'd argue is the case with Twilight, where Bella is constantly thwarting Edward's plans for her) but combining the two seems difficult.
Perhaps that's because, when you do combine the two, it starts to seem much more difficult for our heroine to win? You can take public authoritarianism seriously or you can take private authoritarianism seriously, but both at once is maybe just a little too much reality for a fairy tale.
________________
This is part of an occasional series on empowerment.