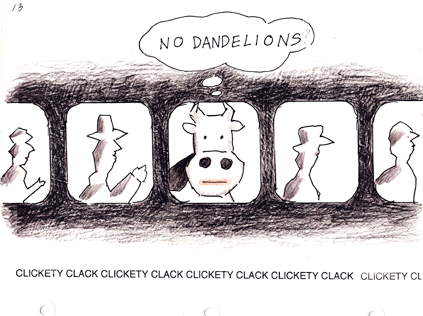 Hello! We come to the end of our second round of posts devoted to Robert Binks, illustrator and artist extraordinaire. Illustrations will be our focus this week, with a sampling of Mr. Binks' freelance, private and on-staff work (for the Canadian Broadcasting Corp.).
As always, work done for the CBC is © CBC/Bob Binks, and Mr. Binks' private works are © Bob Binks. Our previous posts can be found here, and scans of his illustrations for a book of  Ogden Nash's poetry are here.
First, an illustration done for the Toronto Star newspaper during the 1970s: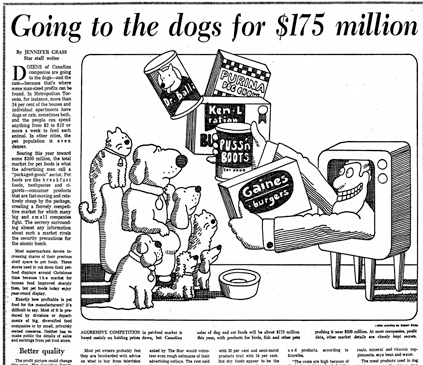 The picture grabs the eye, as a newspaper cartoon has to, but it does the job in a way that's quite unusual. The drawing is built around two sets of steps — the products rising up from the TV, and the animals making up the audience — that zigzag up from the lower right to the higher left. How often do you see that? And the shapes making up each group tend to get bulkier as the group rises.
More dogs, this time in a card Mr. Binks made for a friend who had lost a pet: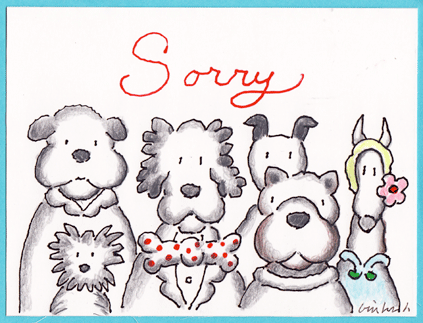 A pair of subtle, unorthodox touches: the tiny drop of the composition's central line from left to right, and the spare but warm placement of color among the picture's gentle grays. The red motto and polka dots are presented front and center, then left on their own until color reappears at the far right of the drawing, just where the gently dropping central line comes to rest.
Now for six drawings taken from a group of nineteen. As we have seen before (that is, here, here and, if you scroll down, here), Mr. Binks finds something provocative about cows, and especially cows  juxtaposed with such unexpected settings as the typical modern metropolis. Or, as he puts it less pretentiously, "Recently I felt I just had to write and illustrate a cow story for my grandchildren. Again, the theme is about a cow and the big city."
Below is a selection of illustrations from his privately made book and its story of one cow's heroic odyssey: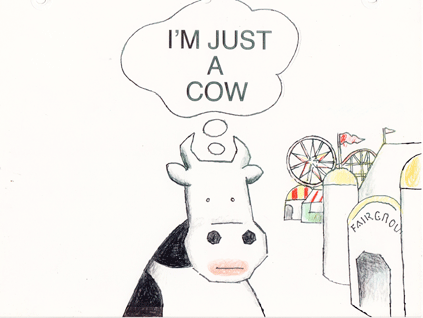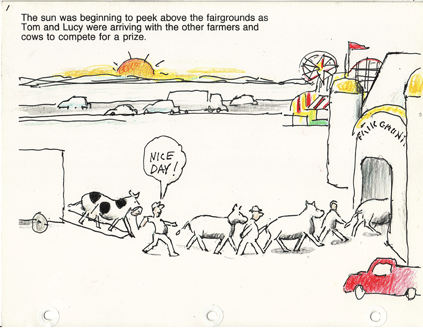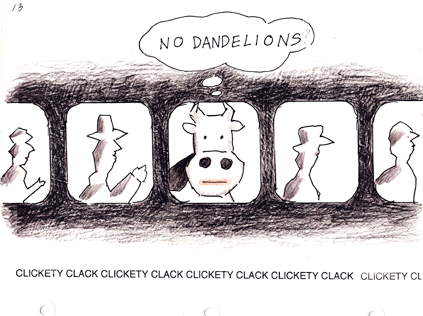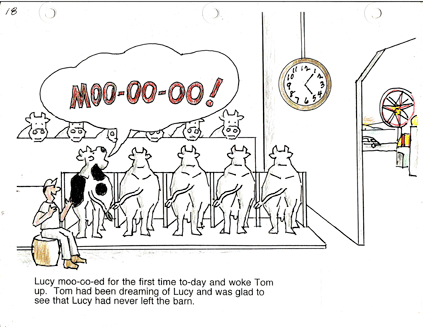 A triumphant sequence! Which brings us to our clean-up pair of pictures. First, from the Toronto Star, a drawing that Mr. Binks has also used for cards congratulating friends on their birthday: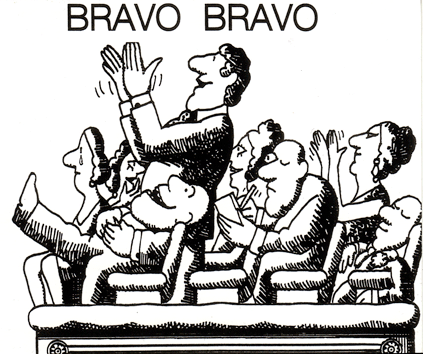 And a studio graphic that the CBC show Take Thirty used for station breaks: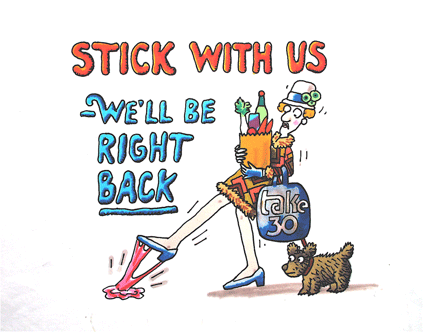 That's good advice, as we hope to present another Binks sequence a little down the road. In the meantime, enjoy a healthy and prosperous 2012.