I saw the new version of "The Girl with the Dragon Tattoo" movie on Christmas Day (you don't force your seasonal observances on me and I won't force mine on you), and of course I had mixed feelings even before the opening wails of Trent Reznor and company running "The Immigrant Song" through the random industrialization machine signaled the puzzling (and oily) James Bond intro. (Not all that inexplicable, really; it was, you know, edgy. Man.) (And apparently I shouldn't be so offended, since Wikipedia tells me that marching bands commonly play "The Immigrant Song" at high school and college football games. We will never speak of this again, all right?)
I mean, I know Daniel Craig is Bond, but this is a different huge, high-profile franchise. And the damned thing was way too long, anyway. It made me cranky even before I found out it was a serial killer movie. To which I say – really? A serial killer movie? (Yes, yes, it was a serial killer book before it was a serial killer movie; I don't care.) I love murder and evil as much as the next person, but serial killer plots are where writers turn when their ideas have abandoned them and all they have left is to sit at the kitchen table, alone, hating their mothers. (I know, some people like serial killer movies. Whatever.)
Anyway. I didn't go to see this movie for the plot (although a serial killer seems egregious even in a movie you fully expect to suck). I went, obviously, because I have a huge crush on Rooney Mara. I am perfectly happy to watch Daniel Craig for hours at a time, as well. I felt OK about this, at the time, because Rooney wants me to stare at her, enthralled, for the duration of the film. And I'd read her bloviating about how vulnerable the character is, and what a triumph this is, so I thought I knew what to expect. I mean, a vulnerable female character – what next? A brilliant, insightful, shockingly attractive, effortlessly sexy male journalist?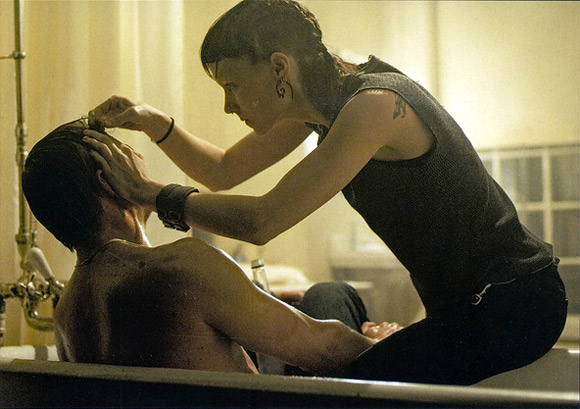 I began to feel uncomfortable in the role of voyeur, though. Mara's character, Lisbeth Salander, couldn't be more vulnerable. Steig Larsson took pains to fuck with her in every way he could come up with, and the actress sold it and then some. She was bad ass – so bad ass, in fact, that she made Daniel Craig pretty much superfluous. Which is saying something. (He has it all – acting, looks, ill-humored comments in interviews.) The extravagantly unpleasant abuse Larsson heaps on Lisbeth is unnecessary, at least in this version, because Rooney Mara nailed it. Her portrayal is so good she could have just showed up and solved the mystery, and we'd still get it.
But then we wouldn't have gotten to see the rape scenes, and that would be a shame, wouldn't it?
I'm also accustomed to women suddenly taking a sharp left turn without signaling to inexplicably fall in love with some asshole, largely in service of the ego of the writer/director/male movie-going public, but when Lisbeth Salander does it, that's just wrong. I was actually offended. It wasn't that I couldn't see a beautiful woman in her early twenties going for a man who's over 40, rumpled, and kind of ordinary (except for his keen intellect, indefatigable sense of justice, and blinding yet low-key charm), even one who isn't played by Daniel Craig. My issue is that this woman set her father on fire, people. We just saw her get brutally raped. No penis is magical enough to magically fix her issues with men.  I do not buy it to a degree that destroys all the disbelief I'd managed to suspend. It is more unlikely than the serial killer. It is more unlikely than everything. It is wrong and stupid.
I have two related problems. The movie makes it clear to us that Lisbeth sleeps with women because she's damaged. To which I say, fuck you, movie. Bisexuals are fucking sick to death of being tormented and confused. Please accept that some people like both men and women and move on, all right? How often do I have to explain this to you? Also, the woman Lisbeth picks up is much better than the stupid journalist, anyway. When he shows up at Lisbeth's apartment and seems vaguely threatening, the girl asks Lisbeth if she wants her to stay. That is sweet. On the other hand, we have the 40+ year-old man macking on a woman almost as young as his daughter, and he knows she's fucked up, on top of it. And the movie doesn't seem to think this is horrible and creepy. I'm pretty sure we're supposed to find it romantic. Fuck you again, movie.
I actually enjoyed the movie, mostly, even though it pissed me off (if I only liked things that didn't piss me off, I wouldn't like much) and made me wonder about myself for wanting to stare at Rooney Mara/Lisbeth Salander under these circumstances. It is not the first time I've had these concerns. And regardless of how wrong or not wrong this might be, I'm proud to say Lisbeth really did save the day. She totally rode in on her motorcycle and saved Daniel Craig's ass, and then, as an encore, she took care of the slippery businessman who had tried to ruin Craig's career at the beginning of the movie. Lisbeth is as cool as Clint Eastwood (in a spaghetti western sort of way, not Every Which Way but Loose or Pink Cadillac or some shit like that), and women don't get to be Dirty Harry very often.