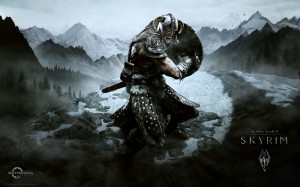 Hour 0: Picked up my copy of Elder Scrolls V: Skyrim. The game is a sword-and-sorcery fantasy set in the nation of Skyrim. Like most American role-playing games, Elder Scrolls allows you to customize the playable character. In fact, it gives you an incredible number of options when designing your digital avatar, including race, gender, and every minute detail of your face. I'm going to take my time and make sure that my avatar reflects the heroic Inner Me.
Hour 1: Fuck it. After spending an ungodly amount of time adjusting the size of my digital eyebrows, I'm forced to acknowledge that Inner Me looks like an asshole. I'll just go with the default character design.

Hour 2: Killed a dragon. That was awesome. Also killed a merchant by accident. That was not quite as awesome, but fun nonetheless. I then spent several hours just wandering around and killing stuff. It's the American Way.
Hour 5: This game is big and beautiful. There are rugged mountains, lush valleys, and vast forests containing the occasional cave or village. And there are countless non-playable characters (NPCs) to interact with. In general, the population of Skyrim is heavily armed, suspicious of outsiders, and hostile to the central government. So Skyrim is basically West Virginia without the strip clubs.
Hour 10: The main quest is rather dull. Even the stunt-casting of Maximilian Von Sydow can't hide the fact that this is a third-rate rip off of Tolkien. Fortunately, the game has no shortage of side quests. Every person I talk to seems to need my help with something. And I can join up with the various factions (warriors, mages, thieves, and assassins), each of which has their own storyline unrelated to the main quest.
Hour 20: Between all the caves, ruins, crypts, cities, factions, and random dragon attacks, I'm starting to feel a bit overwhelmed. I have a backlog of about 50 quests I haven't had time to get to. I've completely forgotten what the main quest was about. I vaguely recall some "good vs. evil – fate of the world" bullshit.
Hour 40: I've come to the conclusion that mages and warriors are boring. All the cool kids are thieves. Plus, you save so much money by simply taking things instead of buying them.
Hour 60: I decide to get married. In Skyrim, marriage consists of putting on an amulet that indicates you're single, then asking the first person you meet to marry you. The marriage has no emotional significance, since the spouse has only three standard lines of dialogue. On the plus side, she does bake you a pie every day. But there's no divorce option, so the only way to end a marriage is murder.
Hour 70: I've completed all the warrior quests, the entire main quest, and over one hundred side quests. I've lost track of the number of dungeons I've explored. I've "divorced" my wife, earned a title of nobility in six different regions, and purchased homes in three towns. I'm barely halfway done with this insane game.
Hour 90: The Dark Brotherhood (assassin) storyline more than make up for the tedious main quest. It's so wonderfully vicious. I kill a bard just for being bad at his job. I murder an innocent woman on her wedding day. I assassinate the emperor and then kill the guy who hired me to assassinate the emperor. What does it say about me that I enjoying snuffing out lives more than saving the world? Perhaps it says I'm a bad person, but I prefer to think of myself as a free spirit who won't be bound by society's arbitrary rules.
Hour 1o0: Sweet Jesus, I've been playing this game for weeks and I still have 20 more quests to finish. I'm going to finish this last set of quests for the Thieves Guild and then I'm done …
Hour 120: Okay, I finished all the faction quests, city quests, the civil war quest, and the main quest. I've purchased every home, and acquired a title of nobility in every region.  So now I'm going to explore the last few crypts, and then I'm done…
Hour ???: I've gotta hand it to Bethesda Games, they make good crack. But I'm burned out. The only way to keep feeding this addiction would be a second playthrough, and … no. I can't do that shit. I'm done. I'm over it. I've had my moment of clarity and I'm moving on with my life. Unless Bethesda provides some downloadable content. Then maybe just one more taste.