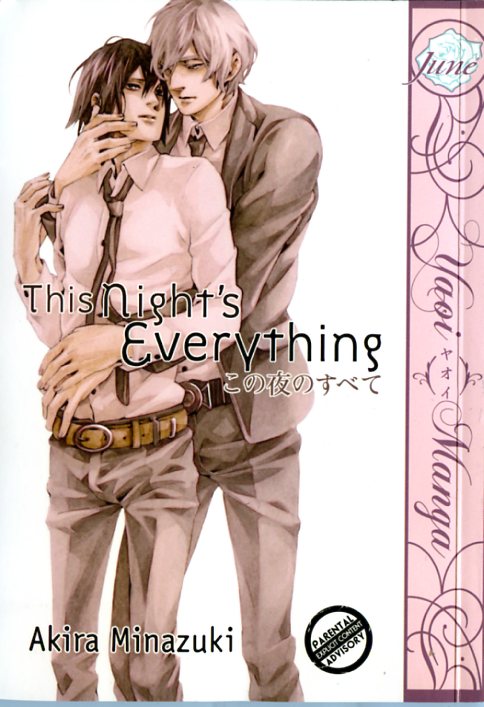 Akira Minazuki, 2011, June

I love this cover. Love it. Minazuki's style really does it for me because it's sort of realistic (I said sort of), understated, and charmingly awkward. Not hugely awkward – charmingly. I insist. Minazuki also did Tonight's Take-Out Night," which I loved (you can tell because I still remember it, which rarely happens in a months-later kind of way). I've also seen a scanlation of another of her stories (about a shinigami) that I loved as well. So we're four stars solid behind Akira Minazuki.
Her story lines aren't quite typical, and her characterizations include the subtle details that allow you to jump fully into the story. What could be better than a death god, you might ask? I'll tell you. Assassins. Assassins trump everything else, especially if they assassinate in sharp, mod-cut suits and use swords. Swords, people. (Some of you might remember my admitted fondness-shading-toward-obsession for assassins of the sword-wielding, brooding headcase variety, a.k.a. Aya in Weiss Kruez. Most of you have no idea what the hell Weiss Kruez is, of course, and while that makes me sad, I've come to accept it.)
There was some kind of war in the immediate prehistory of this book, which somehow included individuals fighting on their own with swords (or so it appears in the flashbacks), and some of those lone fighters were recruited to guard the Professor, about whom we know little except that he must have won, since he now runs this large organization of bodyguards and assassins who clear the Professor's path or some such fascistic euphemism. Nanao has been with the group for ten years and hides his pain behind the refrigerator – I mean, behind a façade of good humor and easy charm.
And we have Aoi, whose name I can remember, although that's only because I keep thinking it's "Aioli." I don't like mayonnaise, though, even fancy French mayonnaise with garlic in it. Whipping oil and raw eggs together until they're gelatinous and slimy strikes me as a deeply perverse thing to do. Also, Aoi is a lot of vowels. As an English speaker, all those vowels without the calming influence of a consonant seems to be asking for trouble. At any rate, Aoi shows up, a 19-year-old recruit who takes himself very, very seriously and gets paired with Nanao, who keeps getting his partners killed. Oops. Ha ha!
This starts out as a genre I think of as friendship porn. There is close camaraderie, there is banter, there is some thawing of the quiet, stoic, uptight, enigmatic dude (known in the business as the QSUED, he makes absurd proclamations like "How can hands that kill people show any concern?") brought about by the largely unflagging cheer, flouting of rules and decorum, and casual flirting of the other guy (or the OG, who says things like, "A little resistance makes it hot, right?"). The OG makes it clear he likes the QSUED, even though he's haughty and hard to deal with, and the QSUED makes it clear he is brooding and enigmatic and we aren't going to find out what the hell he might or might not think. The key is that the QSUED would never let the OG take the liberties he does with the QSUED's dignified person if he didn't really care about the OG. At some point he graces the OG with a small, enigmatic smile, so you know that deep down, he does have feelings. AWWW!
As is so often the case, this creator has some odd ideas about courtship. Nanao returns from an assassination, blood splashed across his face, eyes wild, and climbs on top of a horrified Aoi. Nanao explains that the killing gets him hot and Aoi just needs to help him get off. Perfectly reasonable, right? Aoi manages to slow things down by almost biting off the two fingers Nanao has stuck in his mouth, and soon Nanao figures out the Aoi is a virgin. He puts this together with a previous observation that Aoi's sword is unnicked and determines that Aoi isn't really a soldier, like he is, and wonders, "What kind of mistake got him tied up in this?"
Having decided that Aoi is essentially pure and untouched, Nanao decides to keep him that way. Years into their partnership, we find out that Nanao has delivered all the killing blows, sparing Aoi that loss of innocence. (I would call this splitting hairs, but it makes all the difference to Nanao.) Now, I don't know about y'all, but I find all this very romantic.
After years of being an assassin, Aoi eventually, as you might expect, has to kill someone. It is impressively bloody and dramatic, and Aoi completely falls apart. Now, again, I'm not entirely sure I'm sold on this aspect of the characterization, since this guy's been helping Nanao take people down for years, and I'd think he might have gotten over the whole thing a little. But never mind. It's fine because it finally gets our boys together in an emotionally and physically intimate way. I love the way all this is drawn, by the way. Nanao is giving Aoi his first blow job (or his first anything), and here's Aoi:

Ohhhhh!!!!!! Angsty!!!!!! Now we finally get the sex scene we've building up to for about 87 pages (give or take a splash page). It's angsty as well, but also tender. And hot. Totally worth the wait, if not for the actual sex, then for the morning after, when Aoi finally spills his secret.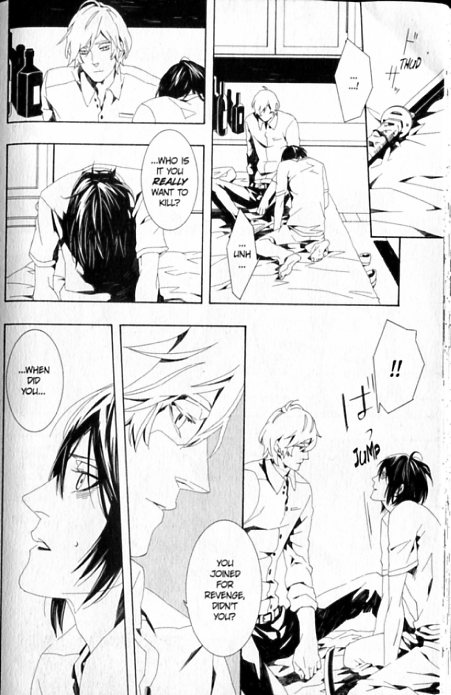 Now this sets some shit in motion. Nanao goes off to take care of things for Aoi, and it's a big-time sweep-him-off-his-feet gesture. It changes everything and sets their murky organization after Nanao's head. Things happen, other things happen, Aoi gives in to the inevitable "love him need him gotta have him for my own" revelation we all saw coming from page one (especially if we happened to look at the cover), and the sailing off into the sunset of yaoi bliss thing is even handled in a sort of dangerous, edgy way that I found deeply pleasing. Possibly thrilling, in, you know, a kind of subdued way.
I very seldom get all directive on you, the reader (in part because I'm not entirely convinced there will be any readers), but in this case I'm telling you, seriously, check this out. Will you love it if you don't love assassins? I can't say because I don't understand people who don't love assassins and therefore have no idea what they might find pleasing. Mayonnaise, probably.