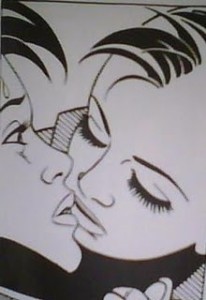 News Flash: straight men love lesbians. We love them in movies, television, magazines, games … pretty much any medium you can name. But comics fandom is in a league of its own. The Japanese have an entire genre dedicated to girls who love girls.  In the U.S., Jaime Hernandez built an enviable career by writing about lesbians, and he's hardly the only male creator to find success through Sapphic appreciation. Lesbian (and female bi-sexual) characters may not be necessary to win accolades and commercial success, but they've never hurt a writer's chances.
Before someone accuses me of being glib, I'll acknowledge that Locas is indeed more thoughtful than lesbian porn. I won't elaborate on the merits of Locas, as I'm sure the other roundtable contributors will discuss it in detail. Suffice to say, it's about much more than sex. And Hernandez  obviously cares about Maggie and Hopey for reasons besides prurience. But the prurience is always there, lurking in the background.
There are plenty of theories explaining why straight men love lesbians, but I suspect much of the appeal has to do with voyeurism. Lesbianism is a rejection of the male presence. Stories about lesbians allow men to gaze upon a "hidden" world of women, and by gazing upon it they shape it to their desires. The pleasure comes not simply from observing women, but from observing women in an environment that excludes men. This phenomenon is obvious in mainstream lesbian porn (that is, porn created for men), because the physical attributes of the women and the manner of the sex are intended for a straight male audience. However, voyeuristic pleasure does not require explicit sex. The appeal is not simply in the women being attractive, but that they are attracted to each other, and that attraction both reflects and enhances straight male desire.
For a writer, there are additional pleasures in creation and control. In Locas, Hernandez created an universe centered on women. The women fuck and fight and do crazy things, often in the absence of any man, yet Hernandez controls everything: their personalities, histories, clothing, bodies. Maggie and Hopey are shaped by Hernandez, and they embody his desires and fantasies. Their mutual attraction is his attraction, whether to each of them or to the two of them together.
On a related note, the limited number of male characters in Locas has occasionally been treated as a failing in Hernandez's writing. But that complaint misses the point. The lack of male characters is not a bug, but a feature. A more frequent presence of men would alter the nature of the story, because it could no longer be a world primarily of women. Stories about men with women have their own appeal, of course, but that appeal is fundamentally different from the voyeuristic appeal of lesbianism.
Is it impossible for a straight man to write about lesbians in a completely non-exploitative manner? Maybe, but that doesn't mean the outcome would be superior art. As I suggested above, even an exploitative work can have artistic merit (and there are treatments of lesbianism far more exploitative than Locas). And LGBT readers are often the most enthusiastic fans of lesbian stories by male creators (see Jaime Hernandez, Terry Moore, Joss Whedon, etc., etc.), at least when those creators treat their characters with a modicum of respect.
But I'm left wondering how Locas  would be different if it had been written by a lesbian. And how would the identity of the creator affect the critical reaction in the tiny world of comics? Would a lesbian creator be given the same acclaim for Locas as Hernandez, or would she be pigeon-holed as an LGBT creator writing for a queer market? Do male comic readers give a damn about lesbians when they're created by lesbians?
__________
The index to the Locas Roundtable is here.