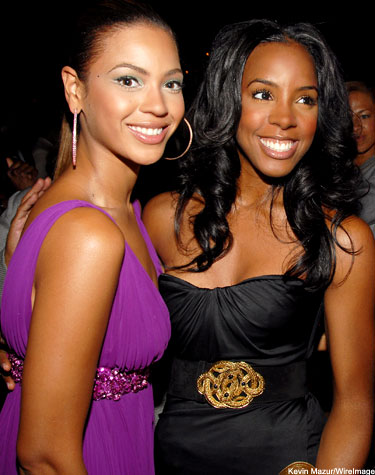 These reviews first ran on Splice Today here and here.
Beyonce, 4
"I Was Here" off Beyonce's latest album, 4, is one of those songs that makes you re-evaluate an artist's entire oeuvre in light of the capacious bucket of liquid feces that has just been upended on your noggin.
Not that Beyonce hasn't spawned crap before… and crap of similar provenance. She's always had a weak spot for surly self-vaunting, reaching perhaps its apex in 2001's "Survivor," a song devoted largely to taunting the two women she'd forced out of her band. Still, crass as it was, "Survivor" at least had a hook. "I Was Here," on the other hand, brings all the self-absorption and none of the pop smarts. Beyonce takes a deep breath and belches out barrels of Broadway glop, enthusing over her own career success with unembarrassed egotism and Hallmark card triteness. ("I want to leave my footprints on the sands of time…want to leave something to remember so they won't forget.") Moving into her second decade of mega-success, Beyonce is proud to let us know that she's got absolutely nothing to talk about except how cool it is to be mega-successful. She makes her mirror look deep.
In fairness, this has always been a big part of Beyonce's appeal. Male rock and rap stars are notorious narcissistic assholes, but female performers, from Madonna on down, tended to seduce their listeners with at least as much vulnerability as swagger. Beyonce, though, was all about the girl power put-down; from "Bills, Bills, Bills" through "Irreplaceable" through "Single Ladies," Ms. Knowles never pleads when she can sneer instead. Her message isn't so much "I Will Survive" as it is "Fuck. You."
As rock and rap have shown, "fuck you" is a pretty popular slogan, and Beyonce has certainly opened the way for women in pop R&B to be bigger jerks. It's hard to imagine how we would have gotten from Ashanti and early Mariah Carey to Ke$ha and Lady Gaga without Beyonce in the middle.
But while Knowles may have broadened the range of attitudes available for female pop singers, her own emotional reach has always been limited. She can be triumphant, she can be hectoring… or, yeah, she can be triumphant. It's pretty clear at this point that she'll never manage a song like her former bandmate Kelly Rowland's "Still in Love With My Ex," a rapturously heartbreaking track about betraying yourself and everyone you care about. To sing that song, Rowland had to admit to weakness, and Beyonce isn't going to do that any more than Robert Plant or Snoop Dogg would. When Knowles talks about being hopelessly in love on "Rather Die Young," it's all about burning out before you get old; James Dean and gasoline and leaving a beautiful corpse. Similarly, "Start Over," about a love she can't leave behind, ends up as a surging future-hope anthem. Rowland's adult despair and self-loathing—or, say, Patsy Cline's—might as well be in another language. Beyonce's a rock star, and rock stars kick life in the ass; life does not kick them.
Rock stars also look really stupid when they get old enough to know better… and there's some indication that Beyonce may run into that problem as well. Her longevity has been astonishing in a genre where careers are often measured in months rather than year, but, however belatedly, her shtick is starting to fray.
"Best Thing I Never Had" is Beyonce once again kissing off some dumb dude with a mid-tempo lyricism that is much less engaging than "Irreplaceable"; "Run The World (Girls)" is a percussive girl power jam without the humor or novelty of "Single Ladies." "Love on Top" tries to re-energize the flailing diva by reaching even further back, all the way to Destiny's Child's first album and the summery, girl-group vibe of "No, No, No." Beyonce responds with a strident, hog-calling vocal that dutifully beats the song's would-be flirtatiousness to death and dances on its corpse.
There are a couple of bright spots on the album. "Countdown" is a bizarre, lurching mini-masterpiece; with horns, steel drums, keyboard bleeps, and a bizarrely out of sync Boyz II Men sample all bouncing around each other as Beyonce declaims and soars and even woofs like a dawg. It's weird and sexy and hip—more like an Amerie or Robyn track than most of Beyonce's solo work. She's still got some fire in her, so maybe 4 is just an unfortunate detour, and she'll figure out a way to make decent albums again. I won't hold my breath though. Once rock stars start to suck, there's generally no going back.

Kelly Rowland, Here I Am
The cover of Destiny's Child's 1999 mega-smash Writing's on the Wall shows three blindingly hot women swathed in clingy white diaphanous nothings—and, Kelly Rowland. Beyonce, LaTavia, and LeToya look like they're ready, waiting, and eager for superstardom; like they've spent their whole lives preparing for the moment when they could bare their shoulders and be showered with adulation and cash. Rowland, on the other hand, has a deer-in-the-headlights stare. You can almost see the cartoon thought bubble above her head, "Are we done yet? Can I put on some clothes now?"
It's not that Rowland is particularly unattractive for a civilian. But standing next to Beyoncé Knowles, one of the more heart-stoppingly beautiful women on the planet, she does end up looking a little horse-faced—like the sit-com best-friend, carefully chosen not to upstage the star. Rowland, who lived with the Knowles' from the time she was 14, solidified her stand-by-your-BFF cred when she remained with Beyoncé during LeToya and LaTavia's acrimonious split from the band. On subsequent albums, Rowland did her usual thing, flanking Beyoncé and new bandmate Michelle Williams, looking hot but not too hot. A notable exception is DC's 2001 Christian album, where the trio all wear something approaching street clothes and Rowland actually seems… comfortable.
Destiny's Child is long gone, and Rowland has invested in breast implants—but whether she's an A or a B-cup, in a band or out, she's still a second stringer. Her only big hit without Beyoncé, 2002's "Dilemma," wasn't a solo success, but a collaboration with Nelly. Her post-DC solo album, Ms. Kelly, didn't do squat in terms of sales, though it was surprisingly strong musically. Its first track, "Like This," featured Rowland's thick Houston accent wrapping itself around a sparse head-nodding hook. The song had character and made you remember why you always liked that best friend on the sitcom better than the boring lead.
The same cannot be said for Rowland's latest album. In some ways, this is the logical culmination of her career—a work devoid of ambition or vision, designed to underwhelm on every level. The title, Here I Am, seems to have been chosen specifically for purposes of self-refutation. The opening song, "I'm Dat Chick," is resolutely anonymous. Rowland's accent is obliterated in an onslaught of autotune, and Tricky Stewart provides a bland anthemic backing.
That's how it goes throughout. Ke$ha uses autotune to give her castrating party girl persona a snotty adenoidal edge; Britney uses autotune to turn herself into a robot. Rowland, though, just uses it to rub off the edges of her personality, like she's afraid you'll notice that she's singing without a real frontwoman. The obligatory guest appearances by various rappers just drive the point home more painfully. Rowland's pro forma cooing on "Motivation" sounds lame on its own… but when you put it next to Lil Wayne's languidly, goofily lascivious rap ("I put her on the plate/and then I do the dishes"), the putative star's lack of star power becomes actively embarrassing.
It's a well-known truth that pop success is far more about marketing than musical talent or genius. Lady Gaga isn't an especially gifted musician, and she doesn't even look like the typical pop star sex bomb—but despite all that she has charisma out the meat dress. Rowland, on the other hand, has neither sex appeal nor marketing smarts. She poses topless on Vibe, and the media reacts as if a bra fell in the forest and there was no one around to hear.
The sad thing about this is that with Destiny's Child and even on her own, Rowland has been involved in making a fair amount of great music. Ms. Kelly is arguably better than any of Beyonce's solo albums, and the harmonies of Beyonce and Kelly together with their bandmates are some of the most heavenly musical sounds of the early 2000s. On Here I Am, though, Rowland is swallowed by her own lack of wattage, trying so hard to be a diva with charisma that she sounds like any random diva, minus the charisma. It's a reminder, maybe, of the many ways in which pop stars find themselves constrained. Everyone knows that you only get an audience if you make a certain kind of music and have a certain kind of image. But Rowland's career suggests, too, that failing to sell your image can in certain circumstances, not only reduce your audience, but can also end up gutting your music.