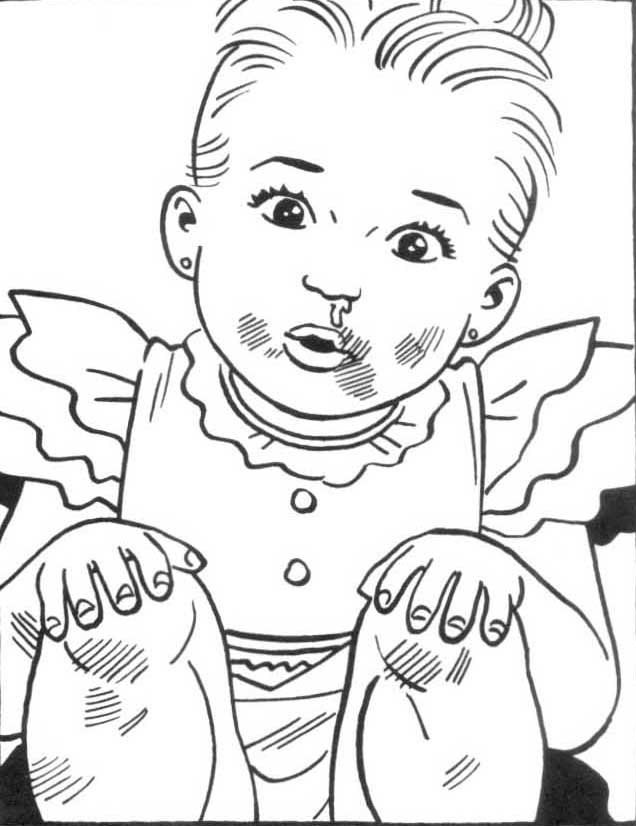 Recently, in order to prepare a comprehensive timeline and character guide for the upcoming Love & Rockets Companion, I re-read Jaime Hernandez's entire body of work – thirty years worth of stories. This was, of course, not the first or even fifth time I had read these stories, having meditated on each and every chapter in detail, but in flying through the entire series in just a few weeks, it struck me yet again what a stunning achievement Locas is. Despite all that I have written, I had the sensation that I was staring at the Grand Canyon; so vast and indescribably beautiful as a whole that praising it was like empty babbling.
Yet, it has been my mission over the last five years to immerse myself in the Hernandez Brothers' work in order to really understand and describe how Jaime and Gilbert have accomplished what they have.
When I spoke to him recently, Jaime mentioned that looking back on his career, he was most proud of the fact that he gave his characters a past and a future. This is something that fans of Locas understand intimately. No series ever in the history of comics has engendered such passionate and sustained emotional investment from its fans, and there are many reasons for this, but the fact that these characters are fully realized from birth to, eventually, death, is at the core of what makes them so fascinating.
The characters' past has always been an area where fans have had a particularly strong response. Whether it's "Spring, 1982," which explored Doyle Blackburn's trouble background, "Tear It Up, Terry Downe," a compelling shotgun blast through Terry and Hopey's brief yet tumultuous relationship, or "Flies on the Ceiling" about Izzy Ortiz's emotional breakdown, which still stands among Jaime's most beloved tales, the stories that look backward seem to stand out among Jaime's vast oeuvre. This is perhaps why the recent stories in Love and Rockets New Stories 3 and 4 have garnered such effusive praise from all corners of the industry.
Most of the underlying events in "Browntown" and "Return For Me" are not new to those who have paid close attention over the years. Letty Chavez, Maggie's best friend who died tragically in a car crash, was first mentioned all the way back in "Young Locas" in issue #13 in 1985, and referenced again in juxtaposition to Maggie's friendship with Hopey, in "Wigwam Bam." Even the circumstances surrounding Maggie's father's affair which led to Maggie living with her irascible Aunt Vicki, have been chronicled from a variety of perspectives since the second issue of the series. Yet, there is something special about these latest stories. For a while it eluded me because I felt the same sense of awe and admiration I have for Jaime's work generally, yet was incapable of articulating exactly why these particular stories stood out, but then, on this final re-read, it hit me. "Browntown" is not about Maggie.
The tragic story of Maggie's troubled younger brother, Calvin, is the real revelation. This is the new part of the story within the larger narrative, and as usual, it's conveyed with astonishing naturalism and compassion. In "Browntown," Calvin was just a normal boy who became the victim of a sexual predator, and as his family unraveled at the same time, he found himself exposed and alone. This terrifying feeling was unleashed in a violent rage when Calvin ultimately attacked his unnamed abuser, and the resulting devastation – both to himself and his family – profoundly altered both his and Maggie's life.
Alone, "Browntown" could be considered a masterpiece of character psychology, a hallmark of Jaime's storytelling, but when combined and read alongside "The Love Bunglers" and "Return For Me," as Jaime obviously intended, its impact is greatly magnified. By swinging from past to future, Jaime illuminated the long-term psychological effects of Calvin's ordeal in a way that is both believable and heart-wrenching. Although he grew up, Calvin never recovered from this childhood trauma. As an adult, he remains lost and alone, terrified and mistrustful, incapable of forming normal human relationships. Throughout his adulthood, which is shown to us only in telling glimpses, Calvin mostly lurks in the shadows, avoiding rather than embracing the love and support from family and friends.
But Jaime's masterstroke, which is something that his fans have become accustomed to over the years and perhaps take too much for granted now, is how he managed to seamlessly and organically integrate this past tragedy into the vast tapestry of Maggie's life. "Browntown" may not have been about Maggie specifically, but on the whole, she is still the Sun around which all of the other characters orbit. Although she was already one of the most fully-developed and realistic characters ever created in comics, this story shook her up and redefined her yet again. In "Browntown" and "Return For Me," Jaime did not just delve back into Maggie's past again, as he has done with such skill and sensitivity throughout his career, he illuminated and deepened perhaps the two defining events of her childhood, her parents' divorce and her best friend's death. Although we were aware of these events previously, the emotional experience of reading these stories was akin to a close friend finally opening up and confiding to you after years of holding back about some carefully guarded secret.
Although exceedingly subtle, this arc of stories (particularly "The Love Bunglers") also addressed, confidently and directly, the long-running saga of Maggie's relationship with Hopey. Where Jaime had arguably become complacent in keeping Maggie in her shell of perpetual relationship ambiguity (will she end up with Hopey or not?), Calvin's devastating attack on Ray finally woke her up and made her realize how important he is to her. The prospect of loss compelled her to finally look inward in a way she was not mature enough to do when Speedy died. The impact of this tragedy within the sweep of Maggie's life story cannot be understated – this was a defining moment of transformation for her.
Rather than serve as an ending to the series, as some have observed, I suspect that time will prove that "Love Bunglers" was the beginning of a new era in Jaime's characters' lives as they start to grapple with aging, parenthood, marriage, etc. I view these stories as a landmark in terms of the characters' development, just as "Wigwam Bam" and the stories that followed showed the characters growing out of the punk phase into young adulthood.
The realism and emotional sincerity of this tandem of stories cannot be understated. The full impact of "Browntown," "The Love Bunglers" and "Return For Me" will linger forever in the minds of Jaime's fans because, taken together, these stories illuminate Maggie's past, while at the same time, push her forward, forcing upon her a maturity that only life experience and age can ascribe.
At a signing Jaime did in Brooklyn last Fall, I had a fan (a prominent artist, no less) confide to me that he had known Maggie and Hopey longer than any of his real friends, and cared for them just as deeply. This kind of emotional investment is the bond that Jaime has forged with his readers, and it is this bond, not some wistful sense of nostalgia for Maggie's punk rock youth, that makes the recent Locas stories so powerfully resonant. Like relationships with real people, Jaime's fans, both new and old, continue to feel something akin to love for Maggie, Hopey and their friends. Ultimately, it is this love (not rockets) that underscores everything in Locas, and the more the characters reveal about themselves and their past, the more this love deepens and matures. By unfolding chapter by chapter over three decades, Locas takes this realism inherent in all human relationships to a whole new level. Its ambitious scope, specificity of character, and sustained artistic quality elevate it above most other contemporary comics.
_____________
The index to the Locas Stories roundtable is here.