This first appeared on Madeloud. I thought I'd reprint it today to sync with my Slatereview of Anthony Heilbut's great new book.
_________________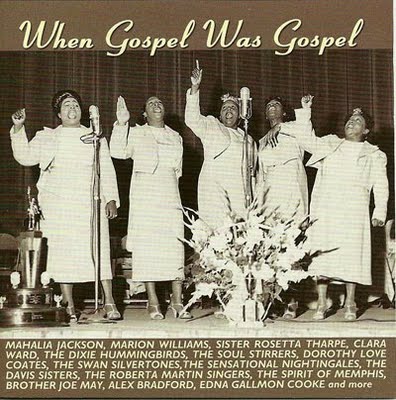 Anthony Heilbut is probably the most influential white atheist in African-American gospel music.
His 1971 book, The Gospel Sound: Good News and Bad Times, was the seminal study of the genre. In addition to being a scholar, he was also an influential producer and compiler, and the records he put together remain some of the best introductions to the music. Many of his compilations and projects were on vinyl and never made the leap to disc — but many more were done more recently and are still, blessedly, in print.
A good place to start with Heilbut's gospel compilations is one of his most recent: When Gospel Was Gospel, released on Shanachie in 2005. From the guitar evangelist Sister Rosetta Tharpe to male belters like Robert Anderson; from female gospel groups like The Davis Sisters to male accapella quartets like the Swan Silvertone Singers, Heilbut does his best to span all of the major styles and many of the major singers of the 1940s and 50s Golden Age of Gospel. As with all of Heilbut's albums, the liner notes are extensive and exemplary, and the variety and quality of the material makes this a sublime experience for hard-core fans or non-gospel listeners alike. My favorite moments may be the Sensational Nightingales jauntily fierce "Sinner Man" and Marion Williams' manic, extended "OOOOOOOOOOOOOOOOOOOOOOOh!" in the middle of the rocking "Traveling Shoes." But really, cherry-picking individual bits is hardly the point — the whole thing is gold.
Probably my personal favorite of all the Heilbut compilations I've heard is Kings of the Gospel Highway: The Golden Age of Gospel Quartets, from 2000. The album traces the influence on the gospel quartet movement of seminal Soul Stirrer's lead R. H. Harris. Heilbut argues that Harris was pivotal in moving away from the close ensemble style of jubilee singing and towards a hard gospel sound focused on improvising soloists. The new style was, as Heilbut amply illustrates, one of the triumphs of American music; highly crafted, intensely soulful, both innovative and devastatingly archaic. Again, it almost seems silly here to point out high points. But if I have to choose, I'd single out R. H. Harris bending notes and yodeling over the ominous, moaned backing on "I'm a Soldier;" Spirit of Memphis Quartet high tenor Wilmer Broadnax switching leads with baritone Silas Steele to build up an electrifying tension on "Jesus Jesus"; and the almost-countryish-jubilee of the Swan Silvertones' "Working on a Building," blasted apart halfway through by the testifying of hard lead Solomon Womack.
Heilbut worked as a producer with the great gospel singer Marion Williams on now out-of-print albums. Some of his compilations of her work are still available, however, including The Gospel Soul of Marion Williams from 1999. The tracks come mostly from the 1970s and 1980s after Williams had left the Clara Ward Singers for a solo career, and the backing rarely has the collaborative detonation of the group context. Nonetheless, Williams is a phenomenal performer, who can swing effortlessly even while summoning up enough power to take paint off the walls. The two minute accapella "Sit Down Servant," manages to encapsulate the entire history of African-American music, from unaccompanied worksong to preaching to heartfelt blues to jazzy variations to rap, as Williams uses her own breathing and snorting to punctuate and define her rhythmic phrases. After you listen to it, it's hard not to agree with the Rolling Stone Album Guide, which called her simply "the greatest singer ever."
One of Heilbut's few older albums that remains readily available is Precious Lord: Recordings of the Great Gospel Songs of Thomas A. Dorsey. Produced in 1973, it is, as the title says, a tribute to the great songwriter Thomas A. Dorsey, featuring numerous gospel greats covering his most famous tunes. Put together more than a decade after gospel's Golden Age, the album is as much Heilbut's love letter to the era as to an individual. Marion Williams sings on a number of tracks. So does R. H. Harris, whose soaring vocals are almost as masterful as in his heydey, despite the fact that, at the time of this album, he had long since stopped touring and lapsed into semi-obscurity. Additional highlights include tracks by the Dixie Hummingbirds and Alex Bradford, and a turn by Sallie Martin, whose deep, mannered singing sounds like no one else on earth.
Other Heilbut compilations include The Great Gospel Men, The Great Gospel Women, All God's Sons and Daughters: Chicago's Gospel Legends, and another Marion Williams' compilation, Remember Me. He was also the producer on a great many albums, including work by the Dixie Hummingbirds, Mahalia Jackson, Sallie Martin, and many others. Though I haven't heard anywhere near his entire oeuvre, I can say with some certainty that anything his name is on is highly recommended.