Craig Norton's recent show is a different beast than what you'll find in galleries around Chelsea and the New York art scene. Tim Came Home From the War and Isn't Timmy Anymore, at Jim Kempner Gallery until June 23rd, is an emotional and explicit rendering of the schizophrenic divide between America at war and at home, and the egregious neglect of veterans. Norton is also a hyper-realistic and self-taught draftsman who makes narrative art. These factors are not the taboos they were fifty years ago, but they are no longer typical in contemporary art either. To compare, the famous Gagosian Gallery is showing a famous photographer's gargantuan, historic prints of other famous people. I'm currently writing this piece next door, in a miniscule gallery called Family Business, where we are exhibiting a group show entirely comprised of sticks.
Conceptual strength and skillful execution are crucial to the success of any art work, past or present, even if the faces of these terms have changed. In Tim Came Home… concept and skill manifest in ways the wider public would expect them to—ironically, this quality makes him an outsider in today's art world.  I hope Norton's pop-out, transfixing murals can function as a gateway for casual viewers into contemporary art, and a call for artists to consider the perspective of those unversed in it.
Norton's work rejects the idea that art is by nature morally and politically apathetic, ineffective, and/or isolated, ideas that philosophers, artists and critics have argued for centuries. Artists periodically challenge this claim, but perhaps no population rejects it more often than those outside of the art market, whose faith that art 'matters' may be the art world's most regular misguided compliment, (and art has suffered for it through many censorships and its co-option by propaganda.) Along these lines, many still believe that art is a showcase of technical skill, and that virtuosity isn't inherently absurd.   Norton caters to these ideas, but in doing so, his work also fulfills conservative expectations about 'art' that we have a good reason to question. Tim Came Home… is a riveting, provocative show, but it lets the art-world context essentially "talk behind its back," rather than directly address the inherent weirdness of politicized art in the contemporary gallery.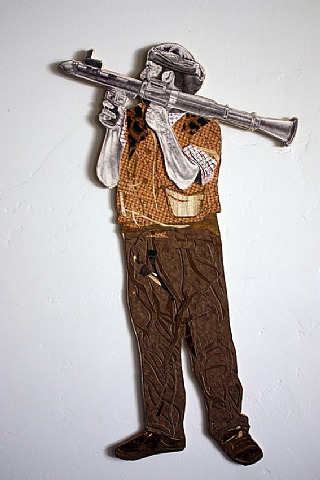 Norton's work is not only political, but fascinatingly journalistic. Reminiscent of the Wall Street Journal portraits, Norton renders faces, hands and firearms out of tiny marks and stipples. Oftentimes the hands and faces are blown out of proportion, which distorts the figures into punchy homunculi, and brushes caricature without slipping into it. The clothing and bodies are made of boldly colorful wallpaper collages. He 'draws' folds with wood-relief style incisions. This mimicry of print illustration is bolstered by the fact that he designed the installation to tell a story. Instead of accompanying a news article, Tim Came Home… could be read as the article itself, or as a history museum exhibit where the story is told through the dioramas alone.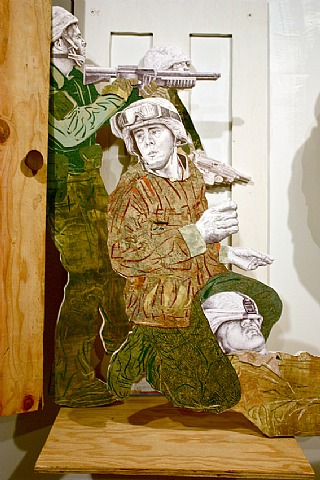 The effectiveness of the hanging contributed to the shows emotional resonance, but also to what is problematic about it. From a strictly "graphic narrative in the gallery" perspective, I was thrilled to see the show explore the layout's control over the narrative. Tim Came Home… was hung two different ways, which created two different 'stories.'
Initially, the viewer would walk into the gallery and encounter a crowd of happy, urban passerby. Viewers would then typically start over to the left, with No Welcome Mat.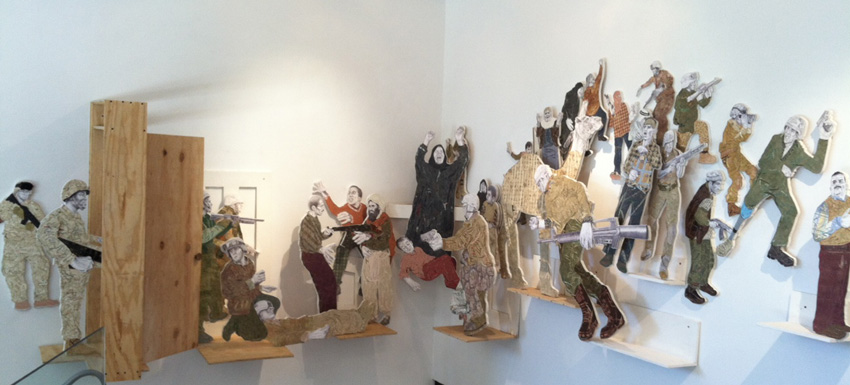 This crowd scene erupts into the first, with injured veterans parachuting down into the unworried crowd. Moving to the right, around the front desk, the second act focuses on the tragic integration of these two worlds. The first is a military funeral. The second is called My Daddy is A Decorated War Veteran, where a young girl claws at her face, before a crumpled man and a shotgun.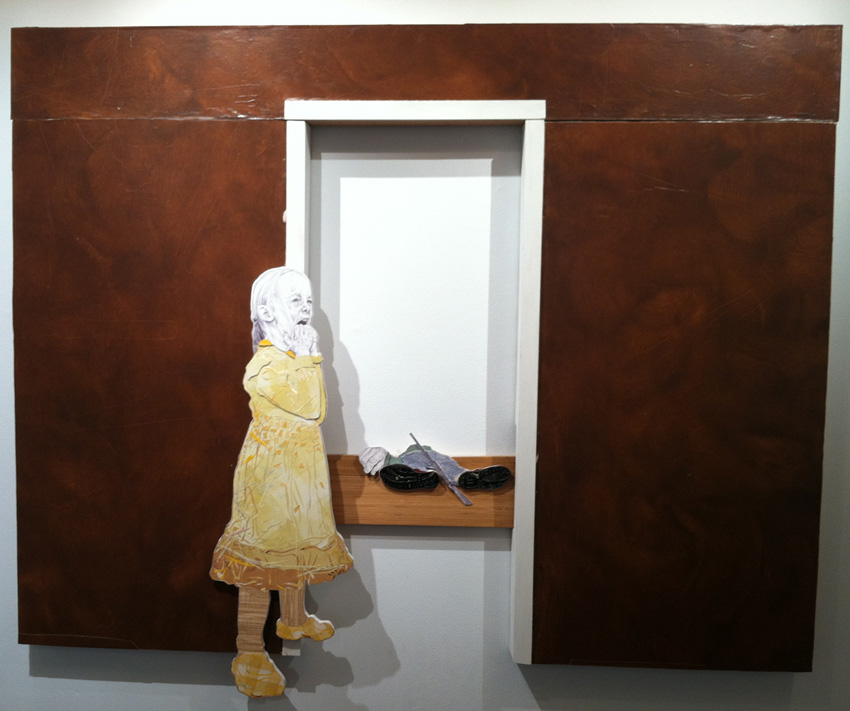 The forceful disruption of the "side scrolling", frieze-like perspective allows you to peer straight through the wall, to the scene behind the girl, and at an impossible angle inside the coffin. The effect is very moving.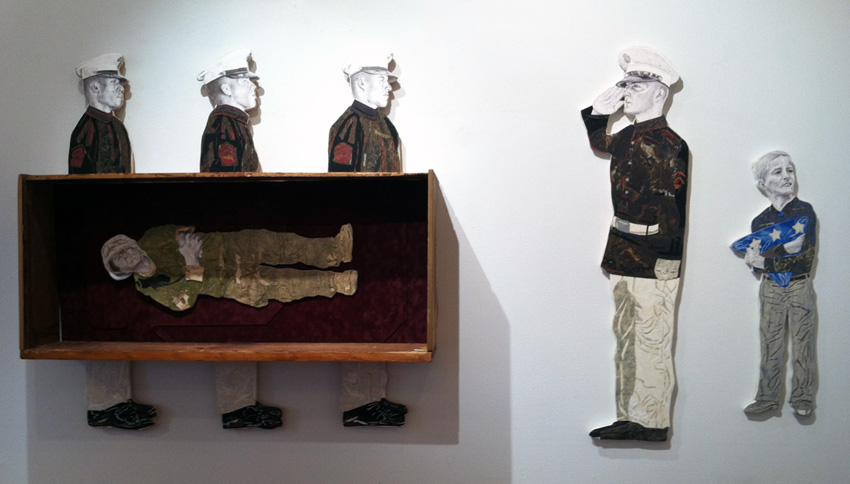 Unfortunately, gallery visitors sometimes didn't notice the "second act" around the desk.  The Jim Kempner Gallery rehung the show so that visitors first emerge to see My Daddy Is… No Welcome Mat still begins the show, but the scene doesn't bleed into the urban passerby. Instead, the warfare peters out into negative space, and a small pocket of the passerby lead back into My Daddy Is…. Around the desk, the two parts of the military burial flank the rest of the happy-go-lucky city-dwellers. Life goes on, and no one is the wiser—the second hanging, while a compromise of the original vision, is rhythmically more complex, less melodramatic, and damning.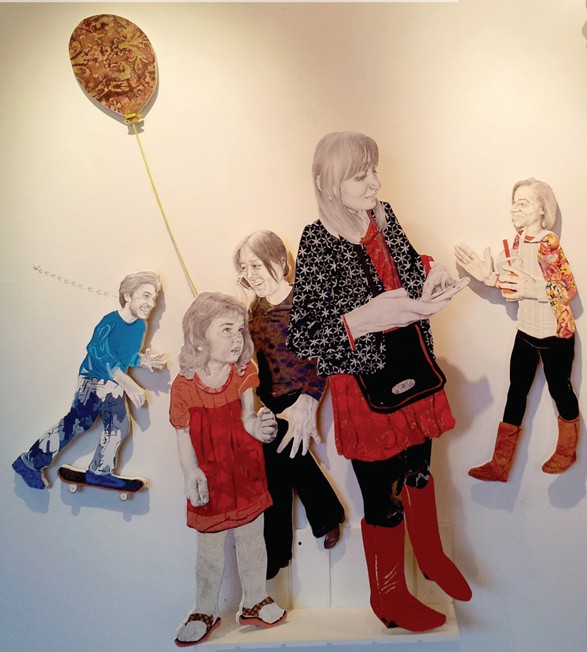 Norton's past work focused on the Civil Rights movement, and he was challenged about his right, as a white man, to depict moments as iconic as Martin Luther King Jr.'s arrest. Norton responds in his personal statement, "I make art about mankind. Lots of people care only about their own identity groups… and I'm not going to sit back and do nothing because the victims are different from me. It's a human issue." He goes on to say "Art is the way I bring about awareness and dialogue—and hopefully inspire change."            
This statement plays into the editorial feel, where a piece documents and somewhat universalizes the particular. Norton doesn't comment on the role or the effect of the gallery context on his plea. The gallery is treated like a culturally heralded space, where people seek meaning, information, and often go to look at pretty things. This is not untrue, but it ignores other currents too. At the risk of being grotesque, art is a luxury commodity, and fetishistic, which the neutrality of the gallery amplifies. The art world is also a complex and hierarchical social scene that partially takes place in the gallery, transforming openings and installations into sets to act inside of. A truly thorough contemplation of a work will consider the historical context and precedents of the piece. Norton's work is a little strange in that it appears to be descended from editorial illustration more than anything.  This does not mean that Norton's work doesn't belong there, but that the conditions of its "immigration" are unusual and inextricable.
Is the art gallery a useful place to encounter Tim Came Home…? Ultimately, yes— it does raise awareness for an important social issue, even if the scenario is ironic. But is a private collection a useful place for this piece? How about an art museum? Is Norton's work best designed for public spaces?  If Norton's wish for awareness and dialogue attaches a use-value to his work, certain environments could be more successful than others, and Norton's work would also violate 'art for art's sake.' No big deal: art pour l'art has been rejected before, and chances are it's a mental illusion, (people use art without admitting to it, and for reasons they can't articulate.) Finally, Norton's arresting photorealism individualizes the subjects, but it is also hypnotic, exciting the eye with spectacle of torment, violence, and artistic wizardry. Norton's process receives a paragraph of the artist's statement before the political component is even discussed.
I apologize: I won't attempt to answer these questions in this review, but the questions themselves are illustrative. An artist doesn't have to have a fully elaborated concept to start working. Here, the ideas and context don't dovetail together to create an Eureka moment—instead, Tim Came Home highlights the mess of understandings about what art is and what it does. Which are, more than ever, important questions to ask.
All photographs are courtesy of the artist and Jim Kempner Gallery
Tim Came Home From the War and Isn't Timmy Anymore
Jim Kempner Gallery, May 12th – June 23rd, 2012