A common stereotype of superhero fans is that they love the comics they read as children. Apparently, superhero comics were so much better during the Golden/Silver/Bronze/Iron/Tin Age. But rosy nostalgia is difficult if you grew up reading superhero comics in the 1990's. With a tiny number of exceptions, those comics were terrible. That's not meant as a defense of the current crop of superhero comics, which are generally unreadable. But the comics I read as a kid weren't much better. In fact, many of the problems in the 2012 superhero market – amateurish art, continuity porn, title crossovers designed to push you into buying a dozen extra comics – were firmly in place by the mid-90's. And yet I was buying this crap.
I've mentioned before that I was an X-Men fan. And out of all superhero fandom, X-Men fans were the biggest suckers. Marvel editors figured out that we cared so much about our spandex soap opera that we'd be willing to buy not just one, or even four, but upwards of six or more titles each month. In any given month, I was buying X-Men, Uncanny X-Men, X-Force, X-Factor, Excalibur, Cable, X-Man, Wolverine, and probably around 2-3 mini-series. I was even willing to shop outside the X-Men ghetto if a crossover required it. Crossover with Ghost Rider? Sure, I'll buy that. Avengers? Not a fan, but I would get it. I was even willing to buy Fantastic Four if necessary (and if you want to experience superhero comics at their nadir, read some FF in the 90's).
So I was part of the target audience for the "Onslaught Saga," the big crossover of 1996. For those of you who had social lives that year, Onslaught was a psychic energy being inadvertently created by Prof. Xavier after he psychically lobotomized his arch-enemy, Magneto. They had some weird mind-meld, and their bastard offspring was out to conquer the world, enslave humanity, etc., etc.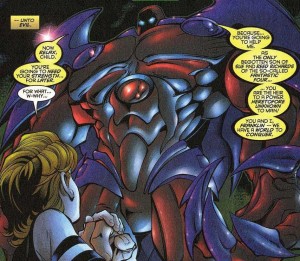 Onslaught was not much of a character, being one-dimensional and completely devoid of personality. But he wasn't even much of a plot device, because the Onslaught Saga barely had anything resembling a plot. Instead, it meandered from one irrelevant beat to another before finally lurching to a "climax." More accurately, Onslaught should be described as a corporate re-tooling device: most of the Marvel titles that weren't part of the X-Men line were selling so badly that Marvel decided to reboot most of the characters and hand creative control over to the big names of the decade, like Rob Liefeld.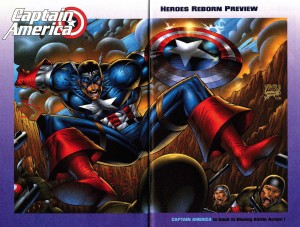 Eat gooch and die, Japo-Nazi!
 Onslaught existed for only one purpose: to "kill" all the heroes (excepting the X-Men) so they could be reborn in another universe. In other words, the point of the Onslaught Saga was not to tell a story but to restart a few brands. I had purchased plenty of bad crossovers before the Onslaught Saga, and I had seen plenty of transparent attempts to reboot an unpopular superhero. But the Onslaught Saga actually offended me in a way that's hard to describe. Maybe it's because the X-Men franchise was hi-jacked to reboot another group of heroes, characters that I had never cared about and would never care about. Or maybe I was offended by the blatantly transparent "corporateness" of it all.
Technically, this roundtable is supposed to be about the worst comic I ever read, not the worst crossover. It's hard to pick a single "worst" comic in the Onslaught storyline, because all of them were rubbish. But if I had to pick, I'd go with Uncanny X-Men #336. It isn't the worst on most "technical" levels. Scott Lobdell's script is about as passable as one could be for a comic of this nature. And Joe Madureira's art doesn't make me want to poke out my eyes most of the time, though there are plenty of shitty panels.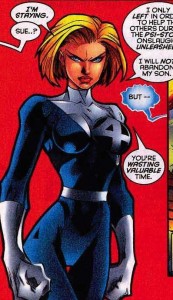 I'm not even sure where to begin: the lazy use of coloring instead of drawing a background, the balloon boobs, or the fact that her hands are turning into rocks.
But what makes this the "worst" comic was that this particular issue was the moment when I stopped caring about the X-Men. I know this because it's the last issue of Uncanny X-Men in my collection (I read the Grant Morrison comics years later, but I downloaded those). It's hard to look back and remember what was passing through my mind, but at some point I decided that I was getting nothing out of this hobby: no laughs, no excitement, not even the fannish pleasure of seeing certain couples hook up. I just wasn't interested. When I quit X-Men, I actually stopped reading all comics for the most part, and it wasn't until several years later that a college friend introduced me to comics for older readers.
My decision to quit X-Men comics was at least partially dictated by other developments in my life. Around the same time I gave up comics I also got my first car and I was starting to notice girls. I was spending more time with my circle of friends and less time reading the funny books. And none of my friends were into comics, so there was no one to reinforce my bad habit. And back then the Internet was only partially developed – and dial-up connections SUCKED – so there were few opportunities to participate in comic blogs or web forums. So, despite being an X-Men fan for years, it proved surprisingly easy to quit.
In a way, I supposed I should be grateful to the writers of the Onslaught Saga. Had they actually put together a halfway decent story, I might of continued reading superhero comics indefinitely. And instead of blogging about the worst comic I ever read, I'd be writing a panegyric for Geoff Johns.
__________
Click here for the Anniversary Index of Hate.