On HU
Featured Archive Post: Caroline Small interviews Nina Paley on copyright and free culture.
Me on some of the great musical guests on the Batman TV show.
We're having our 5th year anniversary, and celebrating with a month long roundtable in which people write about the worst comic ever (or the one they dislike the most, or that they think is most overrated.) I started the celebration off with an explanation of Why I have chosen hate.
Bert Stabler on how twee ate Chris Ware.
Me responding to Heidi McDonald by arguing that negative criticism isn't really all that popular. (I may need to eat my words, though; this week's hatefest has gotten a huge number of hits by our standards.)
Matt Brady with 8000 words on the crappiness of Blackest Night.
Kate Dacey on Gandhi: good man, terrible manga.
Jones, One of the Jones Boys and I discuss whether you should hate the comic reader or just the comic.
Alex Buchet on Spirou and Fantasio's racism for kids.
Matt Senece defends the outsider art genius of Geoff Johns.
Johnny Ryan on every autobiographical comic ever.
And you can keep track of our entire hatefest with our constantly updated Index of Hate.

Utilitarians Everywhere
At the Chicago Reader I review Yuval Taylor and Jake Austen's new book "Darkest America" on black blackface minstrelsy.
At Splice I review Wu Tsang's film about an LA trans bar.
At Splice I explain that political spouses are career politicians.

Other Links
Erica Friedman on Yuri coming of age.
And Erica again with an introduction to the study of Yuri.
Brian Hayes on what's wrong with HU's anniversary of hate.
Wonder Woman's sneaky dance plot.
Glenn Greenwald on Democrats parading Osama Bin Laden's corpse.

This Week's Reading
I finished Henry James' "The Portrait of a Lady" (Italians aren't to be trusted — who knew?), read Stanley Hauerwas' "The Peaceable Kingdom" about Christian ethis, read Julia Kristeva's essay "Stabat Mater" which I'd sort of hoped would be better, and just just started rereading Thomas Hardy's "Wessex Poems."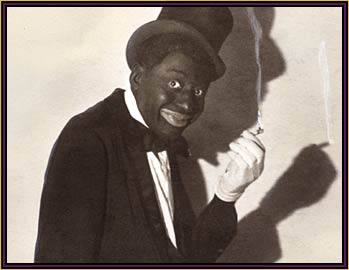 The great black blackface performer Bert Williams.