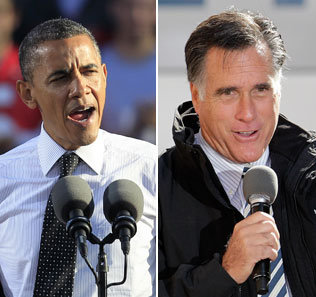 NB: Hey folks. Noah Berlatsky here. Richard Cook and I are going to be live-blogging the third presidential debate not too long from now. As I understand it, the debate is going to be about the rest of the world, which reportedly includes the Middle East, China, and also the Middle East. The President wins if he can utter the name "Osama Bin Laden" more than 30 times in 90 minutes. Mitt Romney wins if can get through an hour and a half without gratuitously insulting Canada or one of those other lesser countries.
I'm not exactly sure why anyone would look to a comics blog for political commentary…but if you have done so, for whatever inscrutable or despicable reason, please feel free to leave us your thoughts, groans, and screams of agony in the comments.
_____________________
RC: We're not a comics blog anymore. We're an online magazine.
NB: Ahhh…yes, I'd forgotten. Well, in that case, we totally deserve to be the web's gateway to democracy. Proceed!
NB: So the debate moderator is Bob Schieffer, it looks like. That's a perfect four-for-four on the white-people-as-moderators, right?
Maybe the people who organize these things need some binders full of people of color foisted upon them….
9:01NB: Here we go….
NB 9:02: The Cuban Missile Crisis. No mention that Kennedy would have nuked us all if he'd had the chance, and that we were saved by Khruschev, a better man than either of these folks we've got to vote for….
NB: 9:03: Mitt Romney appears to be saying that the hope of the Arab Spring was entirely squandered. Our hearts and minds go to the people in Benghazi, because whenever Romney talks about foreign policy he thinks of Vietnam, for some bizarre reason?
NB: 9:06 Barack Obama sure sounds a lot more serious than Romney. Maybe I just have an unusually low tolerance for Mitt's sanctimonious bullshit though, I dunno….
NB: 9:11 Mitt Romney sounds completely at sea. And Obama sneers at him for claiming Russia is a threat. "I know you haven't been in a position to execute foreign policy." Ouch.
NB 9:13 Obviously Romney's decided that "tumult" is his word for the day.
NB: 9:16 Obama's argument that Romney's flip-flopping is a bad way to conduct foreign policy seems like a pretty good argument. Romney sounds completely lost.
Whoops; we're having technical difficulties. Shocker. Here's what Richard's been trying to write:
9:03RC: The audience has sworn a vow of silence. Good thing I'm a pundit.
9:09RC: So Romney's plan is: kill terrorists, give economic aid, and promote Westernization. Not exactly a radical break from the norm.
9:12RC: I'm fairly certain the Muslim world would be fine if they got less American "leadership," good or bad.
9:16RC: First genuflection to Israel. Take a drink!
9:20RC: Romney on Syria: "Exactly what Obama says, but with more enthusiasm!"
9:24NB: I wonder if Presidents are allowed to have any regrets in foreign policy.
9:27NB: Obama really sounds convincing in talking about the aspirations of Egyptians. And the argument that we need to do less nation building overseas and more at home is something I believe, anyway. Which raises the question of why the fuck we're still in Afghanistan. But I guess it would be impolite to ask him that.
Why doesn't Romney ask him that? Oh right, because he wants to invade more places, only harder and with more stuttering….
9:29NB: Romney saying that we've weakened our economy. Who did that? Will we get through the whole debate without mentioning the "B" word?
There's nowhere on earth that our influence is greater today? What about South Korea? Oh right; not Middle East, not China, therefore doesn't exist….
9:32NB: Romney's saying that Obama should have endorsed the Green Revolution…except that doing that would have harmed the Green Revolution, because there was nothing the regime wanted more than to link the rebels to the US. Does he actually not know that? Or is he just lying?
9:34NB: Romney sounds a lot more confident on economic issues, that's for sure. He's still full of shit, but he sounds like he believes the shit he's full of.
He sounds like he memorized that statistic about Latin America being as big as China.
9:38RC: So it's turned into a domestic policy debate, probably in recognition that they really have little to debate about in foreign policy.
9:41NB: Obama bragging that our military spending has gone up every year he's been in office. Why is that okay? Why are we spending more and more on the military when we're in the middle of a budget crisis and an enormous recession?
9:42NB: Our navy is smaller than any time in 1917? Where does he get this bullshit?
The highest calling of the President is to preserve the fucking Constitution, not to protect the safety of the American people. God damn it.
"Fewer bayonets." That'll leave a mark.
9:42RC: I'm glad Obama pointed out that counting ships and planes is pointless. A stealth fighter is worth 100 WWII era planes.
9:45NB: Holy crap. He wants them to declare that an attack on Israel is an attack on the United States? What the hell? Why not just make Bibi commander in chief? That'd scare Iran, huh?
I'm glad we've got a moderator more hawkish than either of the candidates. Maybe he'll ask why we aren't stepping up our drone strikes too.
9:46RC: Second genuflection to Israel. Take a drink!
9:48NB: He seems to have memorized the phrase "crippling sanctions" as well.
The glib cheerfulness with which they contemplate the horrible suffering caused by those sanctions is more than a little nauseating.
9:51NB: Obama's professorial thing works for him when it's coupled to thoroughgoing scorn.
9:52RC: Romney just can't get any traction. Obama's foreign policy is exactly what Romney would like to implement. Except with more competence.
9:54RC: Ah yes, the apology tour.
9:54NB: Weakness, strength, weakness, strength. I'm strong, he's weak, and to prove it I will now deck the moderator, whip out my tumescent stuttering policy, and…destroy!
9:55NB: Romney now promising that when he is President he will not go to the Middle East.
9:55RC: Wait, how are we going to indict Ahmadinejad? Under the International Criminal Court, an institution that the U.S. doesn't support?
9:58RC: Hey, I agree with Romney! I don't want to run hypotheticals about how we should committing ourselves to more wars in the Middle East.
10:00 NB: Obama sneering at Romney for not wanting to break international law. Then dragging out the 9/11 victims. That's fairly nauseating, but I would imagine devastating.
10:03RC: I'm surprised it took an hour for Obama to remind us that he killed Bin Laden.
10:04NB: And Romney doesn't get a chance to respond and then whines about it.
10:04NB: Romney is now explaining and defending Obama's policy in Afghanistan.
10:06NB: Can I vote for George McGovern?
10:06RC: Regarding the 2014 withdrawal: I can respect that Romney doesn't want to play the hypothetical game. But then he answers by making big promises that he can't possibly keep.
10:08NB: Pakistan is important basically because they have nuclear weapons. Why on earth would any other nation want to get nuclear weapons? It's a mystery….
10:10:NB: Is Romney convincing anyone that he knows jack shit about this part of the world?
10:11NB: Hey, he asked about drones. So now Conor Friedersdorfer knows that Romney isn't on his side. What a surprise….
10:12RC: Wow, Noah was right. Schieffer is an ultra-hawk who thinks we should kick Pakistan to the curb. Even Romney thinks that's crazy.
10:13NB: Attitudes about Americans would change more if we weren't bombing fucking wedding parties, you duplicitous shit.
That last was addressed to our President, alas.
10:14NB: And now the China bashing portion of your evening….
10:17NB: I think terrorism is a better answer than a nuclear Iran in fact, though maybe Romney's will go over better because people want to be afraid of Iran now? I dunno.
Whoops, there goes the tumescent policy again.
10:19NB: The recession is all China's fault, apparently. I bet that's a popular position on Wall Street.
10:19RC: There responses about China are almost reasonable … I'm stunned.
10:20NB: You just needed to wait a minute there, Richard. Now we're having a trade war.
10:21NB: Obama again with the shipping job overseas. That is such demagogic bullshit. He manages to sound so sincere when he's shameless….
10:23NB: I don't think Romney talking about his plan for the auto industry is helping him here.
Government investing in companies worked pretty well in South Korea.
10:23RC: Obama can never miss an opportunity to point out what a tough guy he is. China will stop stealing our IPs because I built a base in Australia!
10:27NB: Again, Romney's much happier burbling his lines about the economy. The idea of him as commander in chief is terrifying.
He loves teachers like he loves Big Bird.
10:29NB: We're going to stop wars, except for the wars we're not going to stop, I guess.
10:31NB: Christ, just listening to Romney's oleaginous phrasing is like an ice-pick to the eye. How can people vote for him?
10:32NB: Bipartisan bullshit. And then the greatest generation. Gag me.
10:33RC: So my choices are a continuation of the past four years, or a continuation of the past four years with more empty bravado and some tax cuts for the top 1%.
10:33NB: Yep. The moderator says voting will make you feel big and strong. It's like he hasn't been watching the debate at all (and who can blame him.)
____________________
Give us a few minutes and we'll have a wrap up….
NB: Well, that was pretty thoroughly depressing. I'd say the President won, though I don't know if I'm entirely impartial because the timbre of Romney's voice sets off my gag reflex. But be that as it may, he seems totally lost on foreign policy, stuttering and burbling and wandering off into irrelevancies. It doesn't help that he's got no real policy differences with the President, nor that his one-size-fits-all-plan (I worked in business, and so…magic!) sounds even stupider in foreign than in domestic policy. He did better when he could talk about the economy, where he's got his nonsense down patter. But he sure didn't sound like someone you want anywhere near the nuclear button.
Substantively, though, they're both the same evil imperialists we've come to expect from America. Build a gigundus military, inflict hardship through sanctions, bluster and threaten, drop drones, bait China, repeat. I guess that's what the people want. And perhaps therefore we deserve it, though it's hard not to feel bad for the rest of the world.
RC: A few closing thoughts. People who complain about a lack of "bipartisanship" are clearly not paying attention to foreign policy. The two candidates were in agreement on every major issue, which obviously helped Obama. Romney came across as more cynical than usual largely because he couldn't articulate a policy that differed from Obama's in any meaningful way. So we hear more claptrap about the "apology tour," or the lack of sufficient fealty to Israel, or the need to be strong, Strong, STRONG! Americans love chest-thumping jingo of course, but at a certain point it becomes transparently desperate.
More importantly, the bipartisan consensus on foreign policy is terrible. It celebrates an endless war on terror, shrill imperialist rants, and unchecked presidential power. What this debate needed was a voice that could attack Obama's policies from the left. Gary Johnson or Jill Stein would have pointed out that Obama has assassinated American citizens (to say nothing of the foreigners who are designated as "militants" by virtue of being in the wrong place at the wrong time), waged an unlawful war in Libya, and essentially trampled on the Constitution. But voting for a third party candidate is considered "throwing your vote away." Allowing the presidency to transform into a rotating imperial title is what serious Americans accept.