This was originally published in Tagesspiegel. It is translated by Marc-Oliver Frisch.
_______________________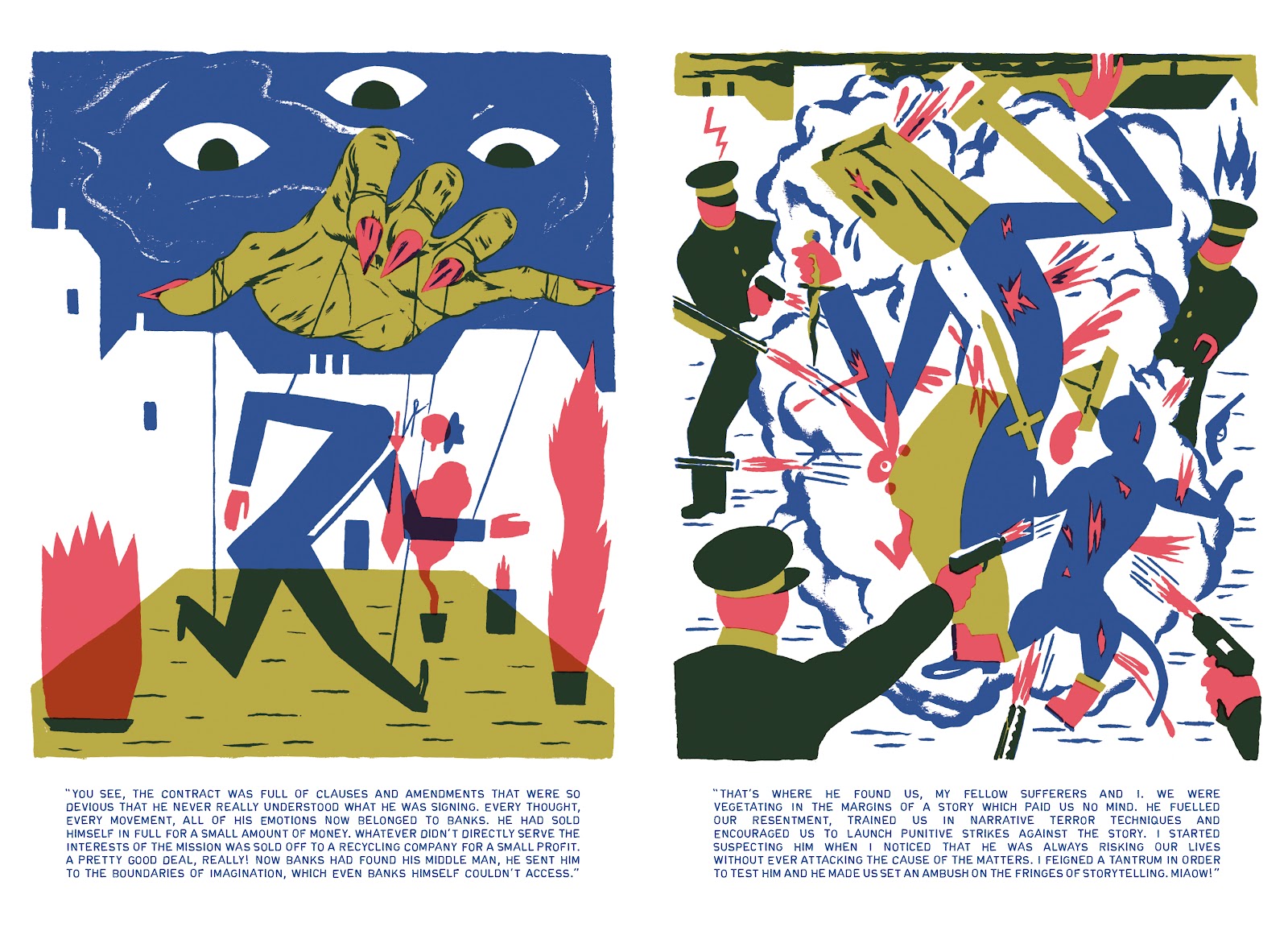 Although, as with Abecederia, Blexbolex is once again paying tribute to pulp culture, he remains best known for his children's books: People, for instance, received a "Most Beautiful Book in the World" award at the Leipzig Book Fair in 2009. But in his works for mature readers, the beauty results from the composition of horrors founded in reality as well as in fantasies produced for a mass audience.
And so, one line tells all about No Man's Land, Blexbolex's most recent pulp-culture tour de force: "At the end of the road I see on the top of the highest mountain the ruins of the same temples made of papier mâché that I once saw in a Tarzan book." An obviously absurd reference to Tarzan's dime-novel, film and comics incarnations—after all, without knowledge of the pertinent publishing history and the fact that papier mâché is also known as pulp, such references are inscrutable.
On the previous page, Blexbolex—alias Bernard Granger, a Frenchman now living in Leipzig—refers to the "covers of a science-fiction novel by Roy Rockwood." Rockwood is a collective nom de plume under which adolescent utopian adventure stories by multiple authors were published at the onset of the 20th century, including Bomba the Jungle Boy, the tales of one of Tarzan's many epigones.
Consequently, the tale of an agent's attempt at self-discovery in no man's land, between all fronts, can be difficult to follow. Mainly, this is due to the author's playful use of meta levels, which involves a nameless narrator visiting classic adventure-genre locations such as submarines, ghost ships or mysterious islands before, finally, returning to his own self. In a recurring motif of this journey, the main character is repeatedly breaking through reflective surfaces, be they windows or mirrors. Thus, the references—in images and words—to the moldering refuse of bygone cultural ages prompt reflections on identity. Blexbolex primarily relies on an associative reception, so institutions with a sense of moral entitlement, such as state and church, may well be depicted here as being circled by instinct-driven sharks. The conflict over the freedom of imagination and, consequently, the future, which is also a struggle over ethics, is illustrated by the character of Banks—a composite monstrosity made of multiple personalities and artificial flesh in whose services the protagonist finds himself—and by the hero's opponents and intermittent collaborators Gregory Rabbit and Puss in Boots. It is a conflict that is carried out with excessive ruthlessness by both sides, but, at least in moral terms, can be won by neither.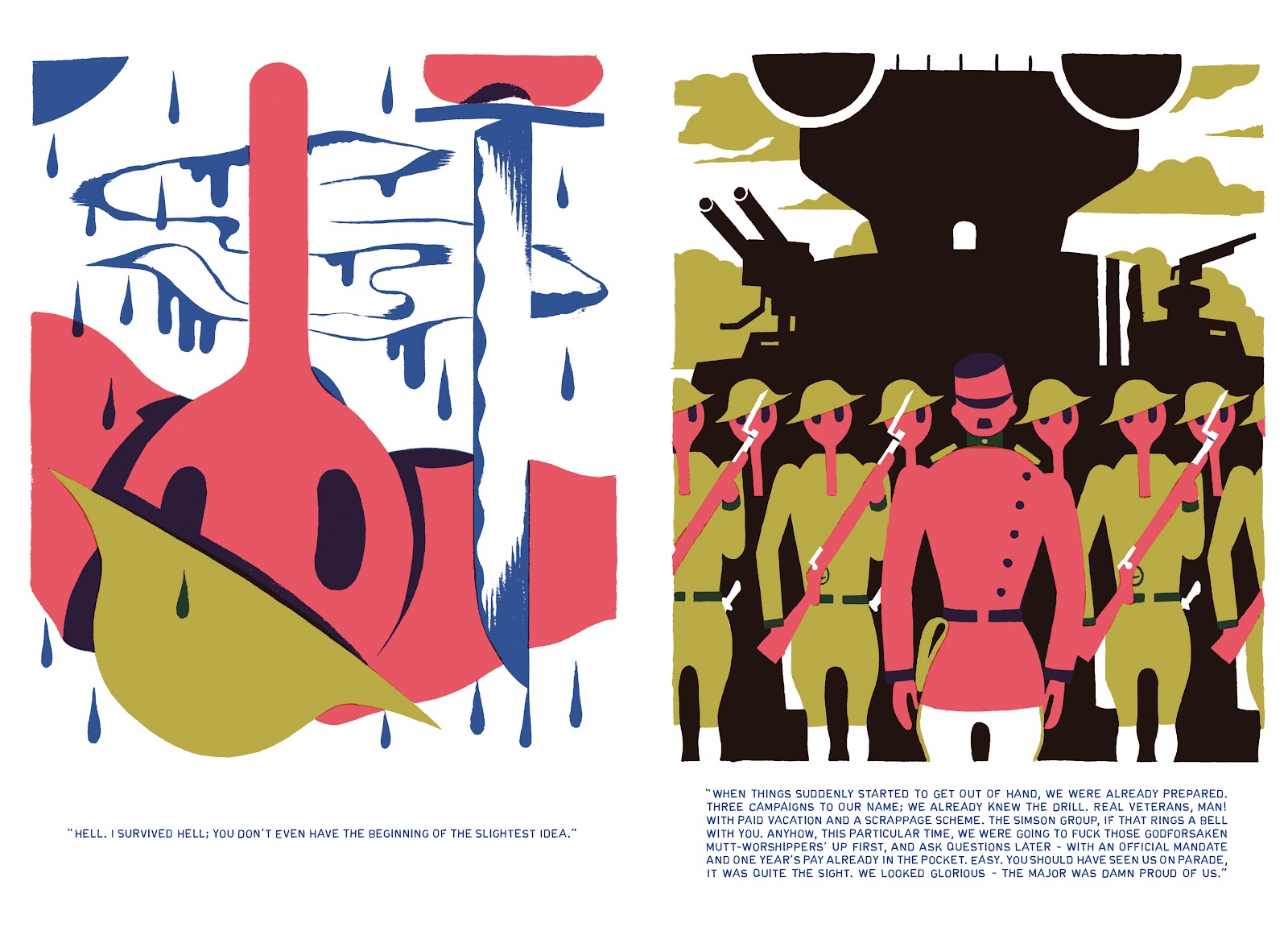 This portrayal of a general lack of orientation is emphasized by references to authors writing under collective pseudonyms, whose interchangeability within the pulp mass-production chain has bred equally interchangeable role models with immutable heroic attributes. Everything seems right and nothing wrong, the means applied degenerate into ends in themselves, and moral boundaries are continually adjusted. Affirmative identification gives way to conceptual randomness. Blexbolex creates wild phantasmagorias of opposites growing ever closer in their approach. He stages them by way of a clear separation of contours made possible through the limited use of colors, as well as deliberately established exceptions from this rule, in which the colors overlap in ways that might seem unintentional.
These graphics, made digitally and sometimes resembling defective screenprints, are influenced by children's-book illustrations, but also by the covers of science-fiction books. The "Série noir" paperbacks by authors Raymond Chandler, Dashiell Hammett or Jim Thompson published in 1950s France constitute another influence. It is those writers' style and variety of characterization that resurfaces in the prose below the illustrations. Another influence is "neo-noir" author James Ellroy's, whom Blexbolex holds in high regard. Blexbolex's literary approach, on the other hand, evokes William S. Burroughs' cut-up technique in Nova Express. As a result, readers have to continually reassure themselves of the continuity, taking their cues by turns from graphics and words. Conceptually, at last, there is a kinship with the Fernando Arrabal play And They Put Handcuffs on the Flowers.
True to the aforementioned literary traditions, No Man's Land provides an opaque type of social criticism in a drug-induced fever haze, delivered with visual three-color precision and predetermined breaking points. Regardless of the debatable timeliness of this vernacular, and despite its consummate delivery, Blexbolex's wallowing in the beauty of the trivial, which is fully accessible only to adept readers, unfortunately represents a big hurdle when it comes to receiving the message.