HU News
I'm pleased to announce that we have two new columnist joining HU. Michael Arthur is going to be writing monthly about all things anthropomorphic and furry. Subdee is going to write monthly about whatever strikes her fancy. Both have written for HU before, but we're looking forward to seeing them here on a regular basis. Welcome aboard!

On HU
Featured Archive Post: Charles Reece on pop culture and alienation in Ghost World.
A complete index of everything hated in our hatefest.
Me on how Van Halen, Ke$ha, and Ina Unt Ina are all hot for teacher.
Me on the end of our festival of hate.
Kritian Williams on the moral costs of heroism for Mad Max, Lisbeth Salandar, and Rorschach.
Jeet Heer on the underground literary tradition of hating Shakespeare.
Michael Arthur discusses race in Blacksad from a furry perspective.
Ng Suat Tong lists this quarters nominations for Best Online Comics Criticism. Nominate your own selections in comments.
Voices from the Archive: Matt Thorn on how he selected the stories for the Moto Hagio anthology A Drunken Dream.
Me on meat, money and Eli Roth's Hostel films.
Utilitarians Everywhere
At Reason I reviewed Michael J. Klarman on the pluses and minuses of pushing for gay marriage as a strategy for the gay rights movement.
At Splice Today I talk about pols like Claire McCaskill who put party before country.
Also at Splice Today I got to write about Cut Copy's In Ghost Colours, an album I've been obsessed with this week.
Other Links
Jessica Abel and Mike Madden have up a list of notable mentions from this year's Best American Comics anthology. Our own Derik Badman is on there…as is this James Romberger contribution to our Wallace Stevens roundtable.
Lesbian parents don't ruin your life, in case you were wondering.
Matthias Wivel on Fabrice Neaud and Galactus.
Sean Michael Robinson is blogging as he busks his way through Europe.
A recreation of sorts of the 1920s Krazy Kat ballet.
This Week's Reading
Finished Kate Soper's Humanism and Anti-Humanism, which was a little disappointing (too far into the weeds on Marxist theory — my patience for that stuff has pretty strict limits.) Read a short Everyman Library volume of Swinburne's poetry. Also read Fanta's forthcoming edition of Moto Hagio's Heart of Thomas, which I hope to review somewhere or other. Finally have been reading Ax Cop #1.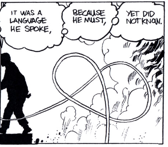 From Wallace Stevens and James Romberger's Madame Le Fleurie