HU News
Joe McCulloch (aka Jog) is going to be joining HU with a monthly column on first-run Bollywood films. Don't have a bio for him yet (send me a bio, Jog, damn it!) but you can read his past posts for us here.

On HU
Featured Archive Post: Domingos Isabelinho on Otto Dix.
Me on nice guys and rape in Audition and Clint Eastwood's Tightrope.
Me on how Lee and Ditko tilted Spider-Man against pacifism.
Me on why Axe Cop and Johnny Ryan are alike (hint: poop.)
Alex Buchet presents the cartoons of Enrico Caruso.
Voices from the Archive: kinukitty on politics and statistics.
Jog on how nobody likes Bollywood and a closeful of candyfloss.
Me on why there is no first comic, and what is a comic anyway?
Andreas Stoehr on the pain and pleasure of slasher movie sequels.

Utilitarians Everywhere
At the Atlantic, I talk about Phillip Pullman's Grimm Fairy Tales and pandering to huamnity's worst desires since 1812.
At Splice today I talk about:
Stefan Goldmann's delightful electronica for robotic children.
Sneering at sneering at Romney voters.
Why liberals can still be depressed about an Obama election.

Other Links
Tim Callahan belatedly replies to the HU 10 best comics poll.
Mette Ivie Harrison has some thoughtful questions about Twilight (scroll down a bit to see them on her home page.)

This Week's Reading
I read John Rieder's excellent book Colonialism and the Emergence of Science Fiction, and read a preview for review of Justin Hart's book about public diplomacy Empire of Ideas. Also reread some Axe Cop and Johnny Ryan's Prison Pit #3, and started Junji Ito's Museum of Terror volume 1.
___________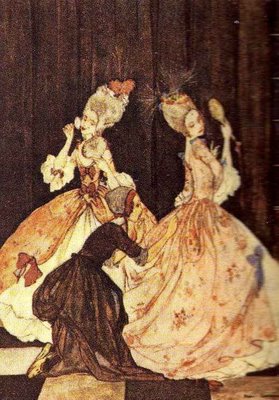 Harry Clarke illustration for Cinderella.