Numbers
I was pretty sure that 2011 was going to be HU's biggest year ever. As readers may remember, Sean Michael Robinson and Joy DeLyria had a massive internet viral hit with a post about the Wire as a Victorian novel, and it just seemed unlikely that we'd ever reach that level of popularity again.
It's true that we haven't had a post that big. But nonetheless, the blog grew on average this year — and that average growth was enough to put us over the 630K odd unique hits from 2011. Not by a ton (as you can see from the graph below) — but still, it was a pleasant surprise.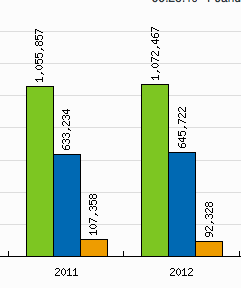 News, or Olds
On the technical end, the big change this year was that we managed to move our archive over from the old blogspot address, so that all five years of our archives are now in one place (which is here — where you are at the moment.)
In other news, that post by Sean Michael Robinson and Joy DeLyria which I mentioned turned into a book on the Victorian edition of the Wire.
Also, James Romberger's collaboration with Wallace Stevens was named one of the notable comics of 2012.
And finally, all my blogging on the Marston/Peter Wonder Woman has turned into a book project; it should be forthcoming from Rutgers UP goodness knows when (the ms is finished, but academic publishing takes a bit.)
Comings and Goings
We had a number of folks leave us over the course of this year, including Erica Friedman, Caroline Small, and Nadim Damluji. We were very sorry to see all of them go…and hope we'll see them back again for guest posts at least occasionally during the new year.
There have also been a number of new additions to the HU roster.
Michael Arthur has started a monthly column on comics and furries.
Jacob Canfield is also writing monthly on more or less whatever he wants.
Kailyn Kent is writing monthly on comics and art.
Subdee i is writing monthly on manga and web comics and other things.
Jog with a monthly column on first run Bollywood cinema.
And Isaac Butler and Jones, One of the Jones Boys have joined as contributing writers, posting occasionally, i.e., whenever I can nag them into it.
So with the numbers out of the way, here's a quick review of some of the highlights of the past year, in roughly chronological order.
James Romberger with brief takes on numerous comics throughout the year.
Domingos Isabelinho on Carl Barks.
Me on sound effects in Tiny Titans.
Tom Gill on Tsuge's Incident at Nishibeta Village.
Andrei Molotiu on the fascination of Frank Miller's Holy Terror.
Katherine Wirick on Rorschach as victim of abuse (tying in to a series of posts in which everybody sneers at Before Watchmen.)
Sean Michael Robinson with a massive Gerhard interview.
Ng Suat Tong on Flash Gordon, Umberto Eco, and sadomasochism.
Monika Bartyzel on Xander Harris, passive-aggressive sexist ass.
Nate Atkinson on having Moebius in his living room.
A knock-down drag out Locas roundtable.
Michael Arthur on the mysterious joys of kpop.
Robert Stanley Martin on the eras of Crumb.
Me on Stanley Hauerwas and America's worship of war.
Alex Buchet on the Avengers film.
A roundtable celebration of the last Marston/Peter Wonder Woman comic.
A series of posts from Phillip Troutman's comics criticism class.
Ng Suat Tong on comics adaptations of Lovecraft.
Erica Friedman on Sukeban Deka, girl gangs, and giant snakes.
Marguerite Van Cook on comics and the postmodern sublime.
Isaac Butler on Election vs. the Wire in a brutal cage match of gritty despair.
Subdee on Homestuck as metatext of doom.
Kailyn Kent on comics and the age of mechanical reproduction.
Matthias Wivel on Degas as comics.
Darryl Ayo on reading and rereading comics.
Jaime Green on how Clybourne Park is lying to you.
James Romberger on Marie Severin.
Ryan Holmberg on abstract comics.
Derik Badman on comics poetry.
Our massive fifth anniversary roundtable of hate.
Kristian Williams on Mad Max, Watchmen, and the Girl with the Dragon Tattoo.
Russ Maheras on the greatest Lee/Ditko Spider-Man story.
Richard Cook on the hackery of Cloud Atlas.
Jacob Canfield on Johnny Ryan and Benjamin Marra.
Kailyn Kent on Chris Ware's Building Stories.
Vom Marlowe on a web comic about knitting.
Robert Stanley Martin on the Superman case and best legal outcomes for comics creators.
Sarah Horrocks on science-fiction and horror comics.
Me on Junji Ito's Tomie comics and the terror of the female.
Kinukitty on the Wilson sisters and Heart.
A bunch of posts on Bart Beaty's recent book Comics vs. Art.
Matthew Brady on Emily Carroll.
So, again, it's been a lovely year. Coming up we've got a small Twilight roundtable, a massive series on Marvel history, announcements of our annual Best Online Comics Criticism results…and we've been tossing around the idea of a Philip K. Dick roundtable or a Spielberg roundtable, maybe. If you've got something you'd like us to cover, please let us know — or, you know, if you have a favorite HU post I missed, feel free to mention it in comments. In the meantime, thanks to all our contributors, commenters, and readers for making 2012 so successful. We're looking forward to 2013.