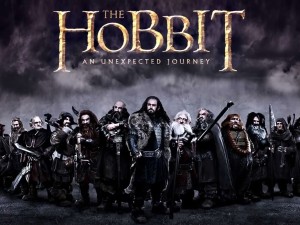 1. The movie spends over half an hour introducing the dwarves, yet doesn't give a single reason to care about any of them. It's hard to even keep them straight. I remember the king, the fat one, the old one, and the one with the stupid hat. Beyond that, I don't remember them and don't care. By any standard of characterization quality, this movie compares poorly with Snow White and the Seven Dwarfs. At least I knew what to think of Grumpy.
2. Somewhere in this great big world, there is a movie that successfully combines musical numbers, snot gags, and rampant violence. The Hobbit is not that movie. The plot retains the cutesy qualities of a children's adventure, but with incongruous levels of violence. Though now that I think about it, this is familiar territory for a comics blogger.
3. PG-13 violence is remarkable, and not in a good way. The movie has decapitations, eviscerations, multiple stabbings, and a body count in the hundreds, yet there is very little on-screen blood and the camera never lingers on the gruesome consequences of violence. The Hobbit is too gory to be cartoonish yet too tame to be explicit. It's the uncanny valley of violent entertainment.
4. The action scenes are not exciting. Several reviewers have noted the video gamey quality of the action, particularly the big battle/chase sequence with the goblins. There is shot after shot of indistinguishable dwarves killing indistinguishable orcs. Noah compared it to a "body count video game," which sounds about right. While body count video games can't be defended as good art, they can at least provide a base level of entertainment and a pleasurable empowerment fantasy. But watching The Hobbit is like watching someone else play a video game, which  is never fun.
5. Every scene is about 10 minutes longer than it needs to be. It's bad enough that such a short book was split into a trilogy. But there's no conceivable reason why each installment has to exceed 2 hours. Though now I can't help but wonder what sort of scenes were cut from the theatrical release. And what will be included in the extend cut DVDs? No doubt there are many more thrilling scenes of characters sitting around tables and explaining the plot to each other.
6. The film is tragically lacking in hobbit feet close-ups. Why even make The Hobbit if you're not going to showcase hobbit feet?
7. To harp on the 3-D again, it adds absolutely nothing to the movie experience. 3-D is just a silly gimick, so if you're going to use 3-D you might as have some fun with the audience (for a great example, see Friday the 13th part 3, which is all rats and marijuana and eyeballs in the third dimension). The Hobbit doesn't have any fun with the 3-D, so it feels suspiciously like an excuse for theaters to jack up the ticket price.
7.5. Speaking of ticket price, two tickets cost me $38. Thirty eight fucking dollars.