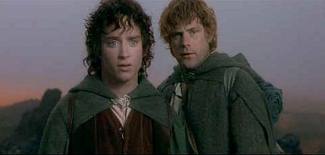 We're rewatching the Peter Jackson LOTR films with my son, and I'm also reading him (much more slowly!) the novels. So I've been comparing and contrasting a little.
I'd say that I still quite like the films. Peter Jackson is especially good at bringing home the terror and pain of impending battle…and of course the war set pieces are also quite spectacular.
There are definitely problems in the parts that don't involve overwhelming dread or out and out carnage, though. You can see the problems that sank Jackson in the Hobbit — those being that he basically doesn't trust the audience to pay attention unless he's shouting at them.
In the second half of the trilogy, Frodo, Sam, and Gollum are supposed to travel wearily across Mordor with basically not a whole lot happening except the traveling and the weariness. It's not clear why this has to be a problem precisely; there's plenty of fighting and mayhem and tension going on elsewhere, after all. But Jackson and his writers just freak the fuck out, turning Faramir into an unmotivated antagonist here and having Frodo become a paranoid nutcase and mistrust Sam there.
The Faramir thing is stupid, but not crippling. Making Frodo turn paranoid, though, seriously undermines the heart of Tolkien's story. Frodo is certainly weighed down by the ring, and it is certainly a corrupting force. But in the novels, he also stands firm against it; he suffers, and is bowed, but does not break. In fact, the suffering is, I think, seen as purifying — the ring wastes Frodo, but what is left behind is, as Gandalf says, a light, not a darkness.
Frodo is supposed to be, in other words, a Christ figure. Suffering, undertaken for others, ennobles him. The journey and the burden make him, not evil and weak, but wiser and more gentle.
Jackson, though, needs conflict; and so Frodo has to turn mean and really quite, quite stupid so that he can mistrust Sam and there can be fallings outs and coming back togethers and drama, drama, drama. As a result, it's not really clear in the film why Frodo was chosen to take the ring in the first place; surely, after all, any random ringbearer could have turned into a paranoid nutcase. And with Frodo sidelined as a moral guide, the place of suffering and sacrifice in Tolkien's world is also largely sidelined. The quiet nobility of the meek is central for Tolkien. But it's something Jackson doesn't understand or care about, and so, in his version of the story, and almost as an afterthought, he left it out.