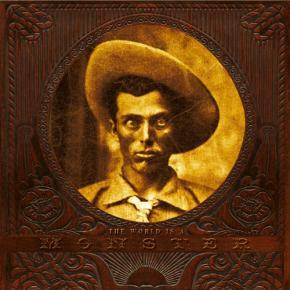 Various Artists
The World Is a Monster
Omni Recording Corporation
The World Is a Monster is a compilation of Columbia records post-war hillbilly and honky tonk. The tracklist eschews hitmakers for lesser-known artists — and in doing so, demonstrates fairly clearly why the lesser-knowns were lesser known. With one or two exceptions, nobody here comes anywhere near the consistent genius of Columbia's biggest star, Lefty Frizzell. Indeed, compared to Lefty Frizzell's easy swing and brilliantly laconic phrasing, an unassuming, declarative singer like Johnny Bond sounds exactly like the also-ran he is, while even a decent Hank Williams impersonator like Frankie Miller seems decidedly unnecessary.
Just because Lefty's not around, though, doesn't mean this set isn't worth getting. On the contrary, the lack of first-rate singers leaves the compiler free to concentrate on that second-rate genre for second-stringers, the novelty song. Virtually every track here is a delightfully transparent gimmick. Undoubtedly the highlight is, "Ugly and Slouchy," the Maddox Brothers deranged, cackling, red-hot proto-rockabilly ode to homely women ("There'll never be no fear of them wolves hangin' round.")
Unassaible as that peak is, though, there are plenty of worthwhile challengers. Neal Jones' "I'm Playing It Cool" stomps its way through Dear John letters, gambling losses, and stolen property with an off-key yodeling attack that would have made even Ernest Tubb wince appreciatively. Jimmy Dickens (probably the biggest name in the set) faces a similar gauntlet of troubles in "Me and My Big Loud Mouth," while Jimmy Murphy's "Here Kitty Kitty" is a double-entendre hillbilly jump blues with some tasty harmonica. And then there's George Morgan's "A Shot in the Dark," with the electric guitar miming the "Peeew!" of Cupid's arrow, and the cowbell ringing to emphasize the "Bullseye!" My seven-year old loves that one because he gets to mime the pistol shots.
My son's enthusiasm is fairly telling, I think . In a lot of ways, novelty records are children's music. And it's that children's music which eventually conquered all with the advent of rockabilly and a whole genre devoted to manically bouncy goofiness. There are some other traditions here too — Carl Smith with the convincing weeper, "There's a Bottle Where She Used to Be;" Jack Rhodes with his cheerfully menacing "Eternity,"; Freedie Hart with his tragi-ballad "The Wall." But listening to this you can easily hear distant echoes of Elvis or Carl Perkins or Buddy Holly or Chuck Berry. The world may be a monster, but the kiddies are going to inherit it.
__________
This first appeared on Madeloud way back when.