The index to the Comics and Music roundtable is here.
_____________________

The album cover for Funeral Mist's 2009 album Maranatha featured a dark chiaroscuro drawing of a cherub blowing his trumpet in the ear of a naked old woman, her eyes rolling back on her head as she masturbates for the apparent titillation of the viewer. Among the images within the liner is a very young girl, rendered in a similar style, holding a small, smooth stone delicately engraved with the word "Whore." Really, no matter what you make of the message, it certainly qualifies as an attempt at humor, rendered with attention to traditional Western visual aesthetics.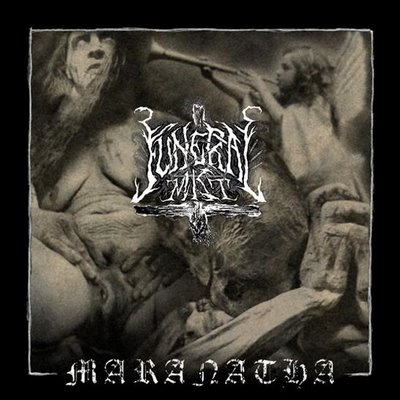 This cover was created by Funeral Mist's only remaining original member, Mortuus, (nee Arioch), not by Brian Schroeder, a.k.a. Pushead, known best for his '80s and '90s illustration work for Thrasher magazine, Zorlac skateboards, Metallica and the Misfits. But the Maranatha art represents a revival of a Pushead-like appreciation of handicraft and fun that has been absent from Juxtapoz-style graphics for far too long. Despite his narrow range of subject matter (bones, skulls, bits of cloth or meat), Pushead's work resonates with allegorical death tableaux from the northern European Renaissance, "ukiyo-e" Japan, revolutionary Mexico, and modern Symbolism, Expressionism, and Art Nouveau, realized in monochromatic tattoo-ready vignettes of sublime line and texture variation. Adorned with scarves, bandages, hair, wires, etc., Pushead's skulls wink, leer, and grimace, eye sockets full of sparkly miasma and undead mirth.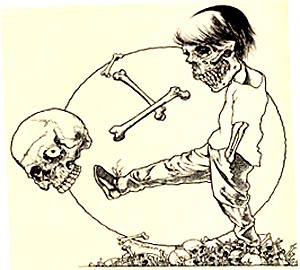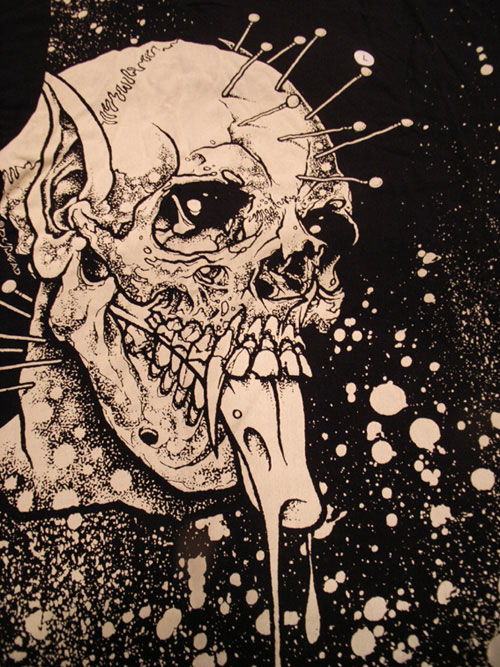 I don't know if there was any conscious influence, but when I first saw the work of German printmaker Horst Janssen, shortly after his death in 1996, I could not help but be overwhelmed by the formal similarities. Thorny tangles emerging from shadowy recesses, suffused in a particulate cloud of decay, to resolve into a mass that may have once been alive, always rendered with a delicate sense of slightly sadistic absurdity.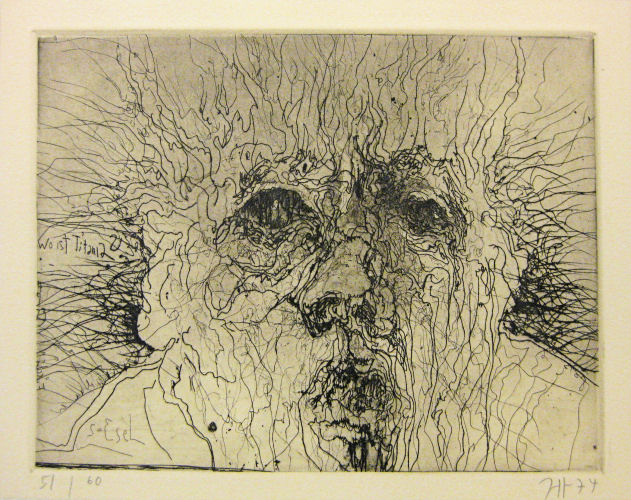 The other artist that Janssen, and perhaps by extension Pushead, recalled, was that other grotesque light of my teenage rendering pantheon, comics illustrator Bill Sienkiewicz. Which helps to make the point that this artwork is, at least at this point in history, "low" art. Not because it is in any way ignorant, but simply because it values craft over concept and fantasy over empiricism.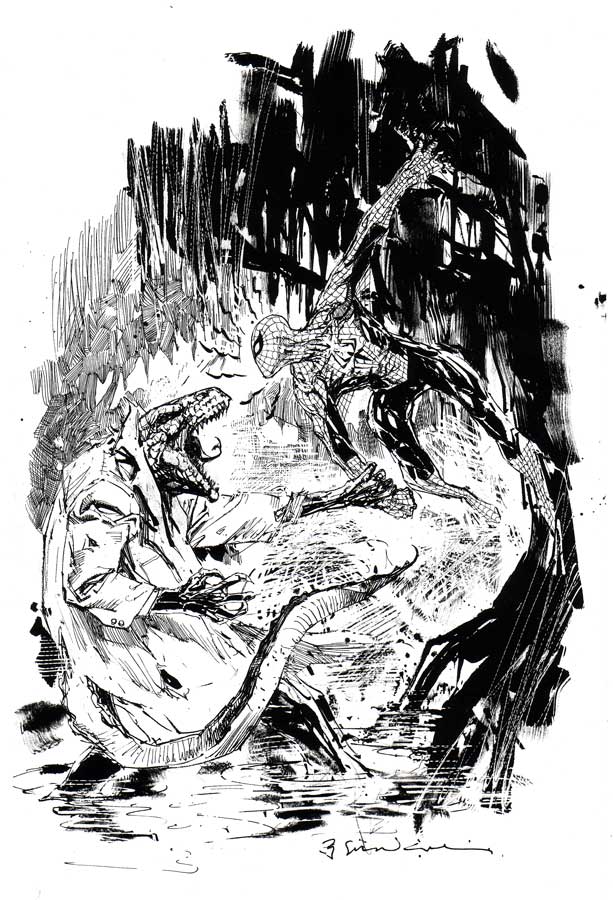 At least that's what "low" art should value, according to me. The fact that so many design-based artists since the millenium want to cash in on their lack of craft or taste by painting a skateboard deck and hanging it in a gallery, and that the kind of trained, elegant modeling Pushead epitomized has been turned into pointless jungles of calligraphy screenprinted on to wraparound T-shirts at Kohl's, is neither a judgment on "high" or "low," fine art or illustration, but their troubled relationship. It's a two-way sellout, much like the deliquescence of Metallica, post-Cliff-Burton, into therapy-empowered stadium-ready flight-simulator music, and the simultaneous aspirational decline of underground comics into faux-cinematic narratives of tortured magical-realist sincerity. The race for seriousness has done a lot of harm.
For years the door to my room sported a Thrasher page featuring Pushead's Zorlac logo, a one-eyed pirate's skull in which not only two locked cutlasses are embedded, but also a Christian cross formed by two bandage-bedecked bones.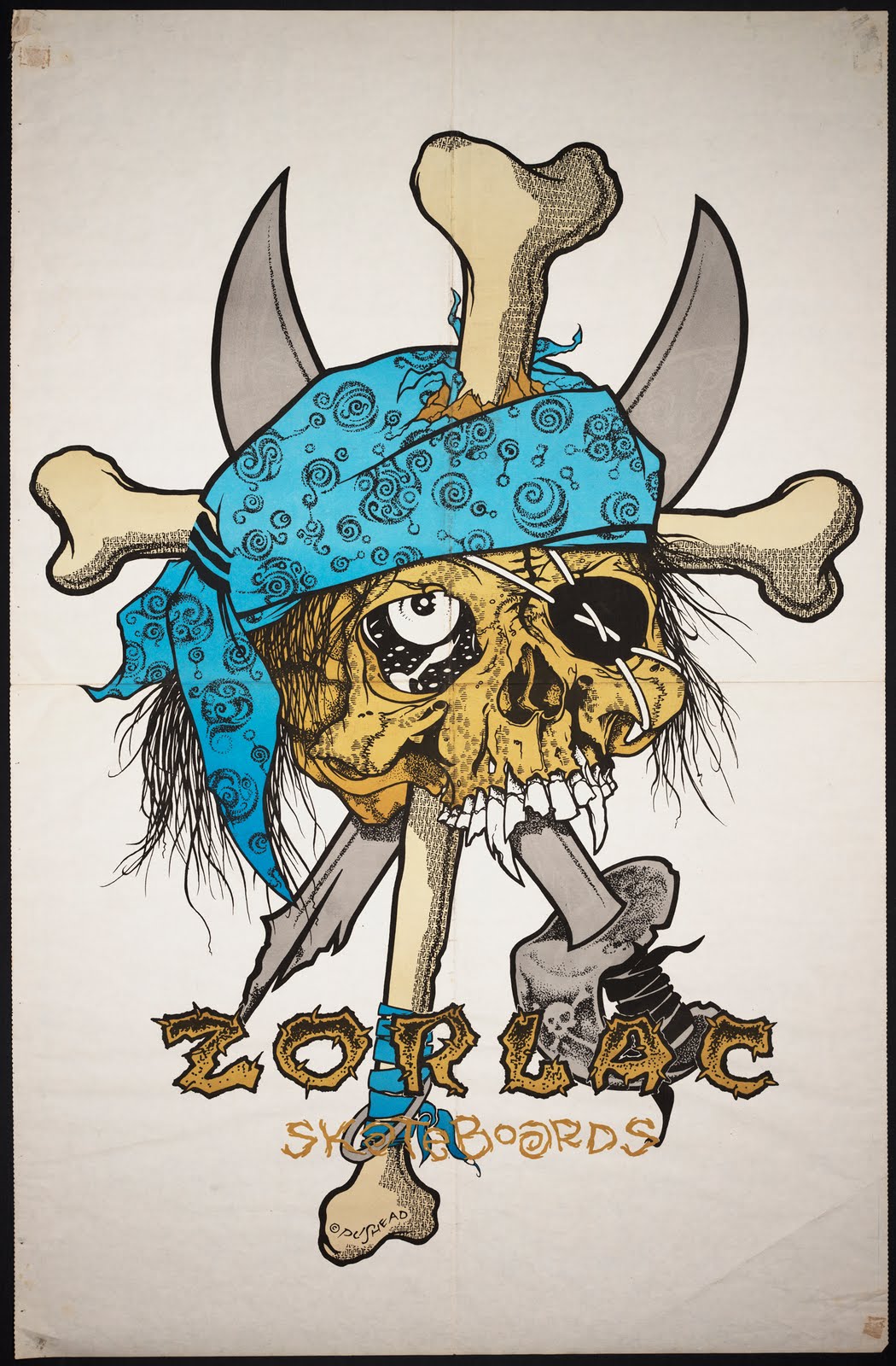 It was (and is) a provocatively ridiculous image, but was never an issue for my churchgoing mother. This was years before black metal band members had to cut their bodies and smear themselves with entrails onstage in order to achieve cred– although Gwar had been using roughly similar tactics, equal parts Gallagher and G.G. Allin, for quite some time. This was when Slayer sang songs gleefully extolling murder and hellfire, but was fronted by a faithful Catholic, and Deicide was soon to take off, untroubled by its majority Christian lineup. Anti-racist skinheads were beating up Nazis, but thy weren't jumping random people coming out of a bar. It was a less extreme time for extreme culture posturing.
This may have been partially because the censorious culture warriors were far more militant in the '80s. You could get in real trouble just for drawing a comic called "Boiled Angel." Insofar as the retreat of assholes like Jerry Falwell, Tipper Gore, Jesse Helms, and Ed Meese means, say, more freedom for gay teenagers to come out and not kill themselves, we are in a far better place. But, in a way, Pushead had a kinship with the politically and viscerally confrontational artwork of the 1993 Whitney Biennial, when a sense of humor and detachment did not reduce the ferocity of a statement, but saved it from the pious, solipsistic irrelevance that has dogged visual culture since shortly after that time.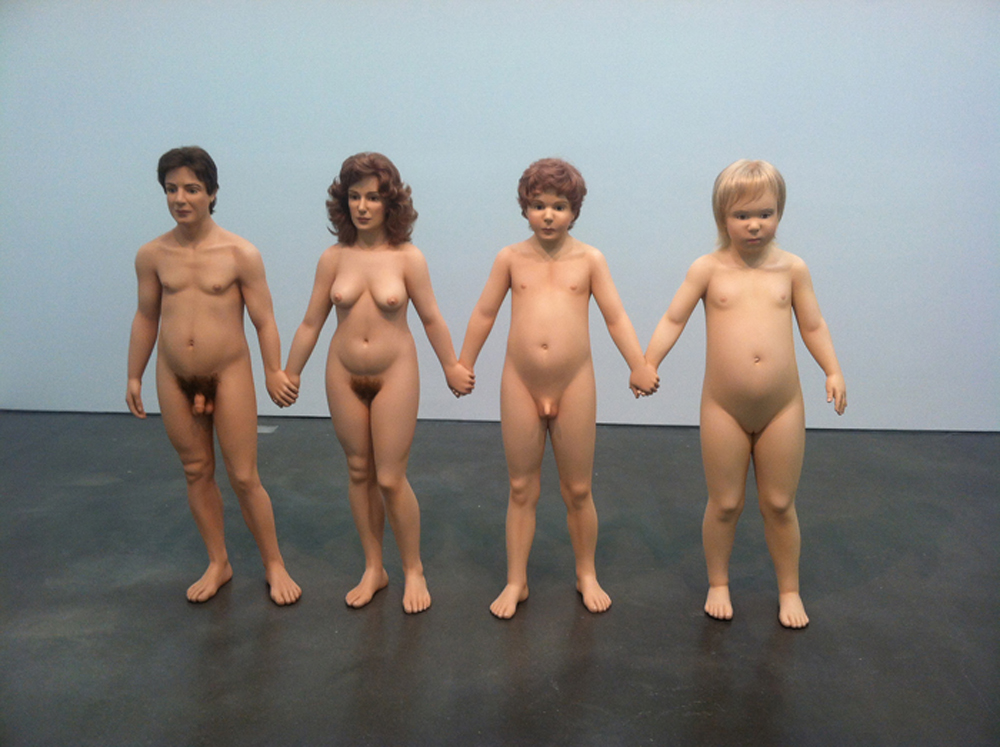 "Family Romance" by Charles Ray from the 1993 Whitney Biennieal

Looking at Pushead again makes me think that it may be time to safety-pin a bloody banner to our genitalia and get back out in the street. I find hope in the fact that Mortuus from Funeral Mist, despite his grand statements about devil worship, obsessively quotes the Bible in his lyrics, thereby emphasizing in-between space over mere fidelity. Sometimes a stance is just an attitude, which may be far better than an ideology.