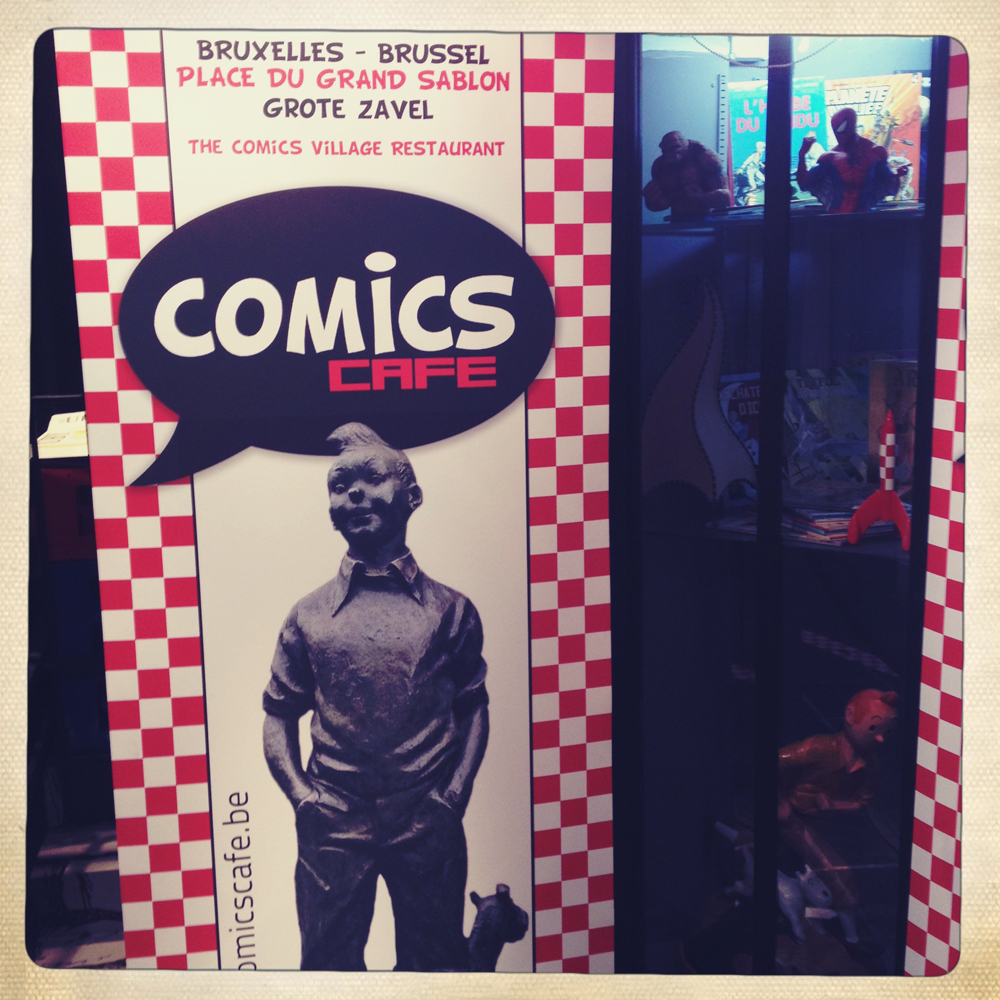 If you are at all serious about the comics medium and you have not visited and/or thought about visiting Brussels, you should really start to reconsider your thinking. It's one thing to read that Belgians regard Bande dessinée (BD) as an important artform and it's another thing entirely to actually experience a mature, mainstream comics culture firsthand in a European setting that's more alike than alien to an American visitor.
It doesn't matter if you don't speak French and it's probable that you don't speak Flemish, either. But because the country is bilingual, most signage is printed in English (and often in German as well) on the theory that it's just as easy to print things in three or four languages as it is to print in two. English is prevalent because of the sheer variety of international visitors – Brussels is the capital of the EU, the headquarters of NATO and is a major international banking, business and convention center. Still, learning another language because you want to has the net effect of making you look less jingoistic and xenophobic than your peers and it opens up an entire world of comics you probably know less about than you think.
Brussels bills itself as the capital of the ninth art, but it was also the epicenter of the Art Nouveau movement. Several prominent Art Nouveau architects designed buildings in and around the city center that still stand. One of the more famous architects was Victor Horta, who designed a wholesale fabric store that now houses the Belgian Comic Strip Center. Lovingly restored in the 80s and beautifully maintained, the building is a work of art in and of itself.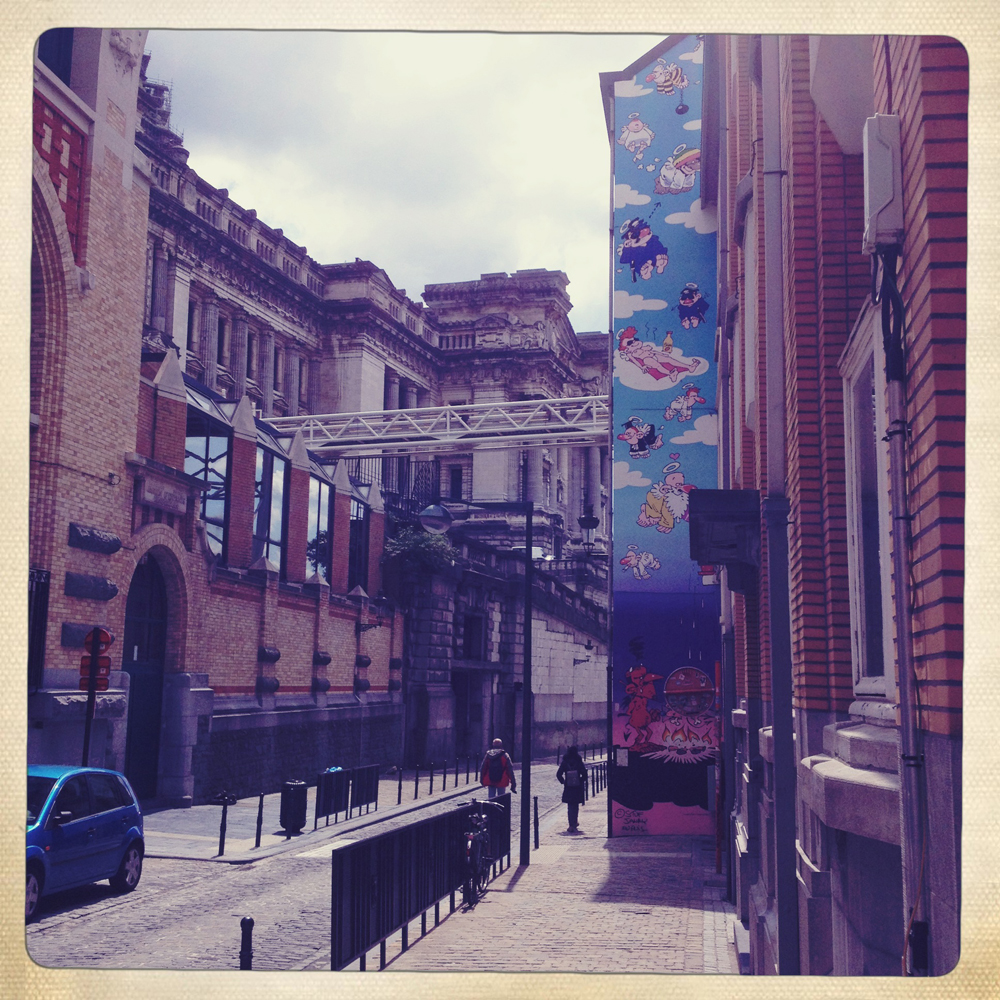 The museum features a permanent exhibition about Herge and Tintin, along with exhibits on other prominent Belgian creators, most notably Peyo and EP Jacobs. The top floor is dedicated space for rotating exhibitions – it's currently dedicated to a retrospective of Willy Vandersteen and a celebration of the 75th anniversary of Spirou. The reading room contains over 3,000 albums and is open to anyone who has purchased admission to the museum. The museum bookstore is fantastic and has token English, German and Spanish sections. If you only have time to visit one thing in Brussels, this should be it.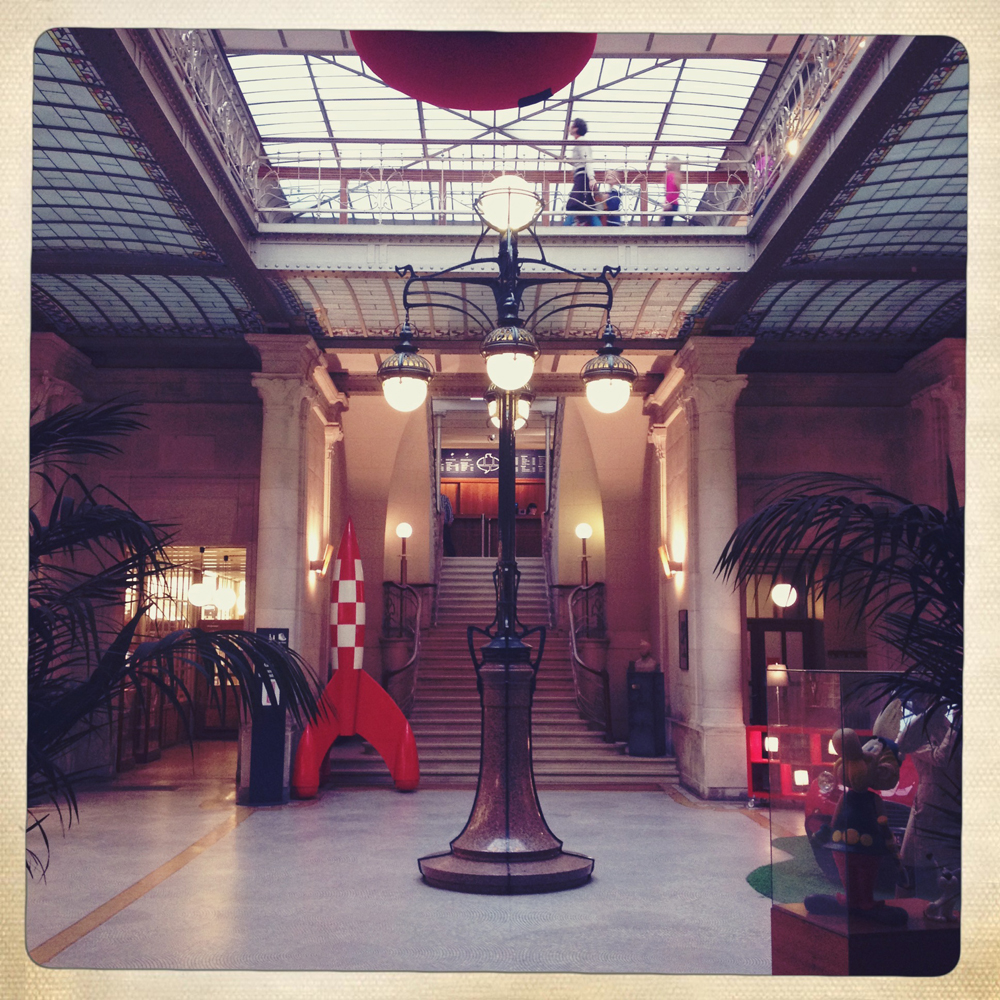 Scattered throughout the city center are a variety of BD-related murals that have been commissioned by the local government, private businesses and associations. These murals are indicated on maps that are handed out by the Brussels tourism board and they are considered to be a major tourist attraction. The city center looks huge on the map, but the blocks are not very big and are very walkable; wandering around looking for murals is a great way to see a large part of it.
Many of the major characters created by Belgian artists are featured in these murals, but Tintin shows up more often than most. Herge is the favorite son of Brussels and is easily one of the city's biggest claims to fame. There is an entire Herge museum found just outside Brussels, not far from Herge's house. If you are a Tintin fan, it is very easy to gorge yourself on the character – the Tintin Boutique is just around the corner from the Grand Place de Bruxelles and features every Tintin related piece of merchandise you could ever want, including (but not limited to) towels, dress shirts, figurines, framed prints, stuffed animals, keychains and playsets.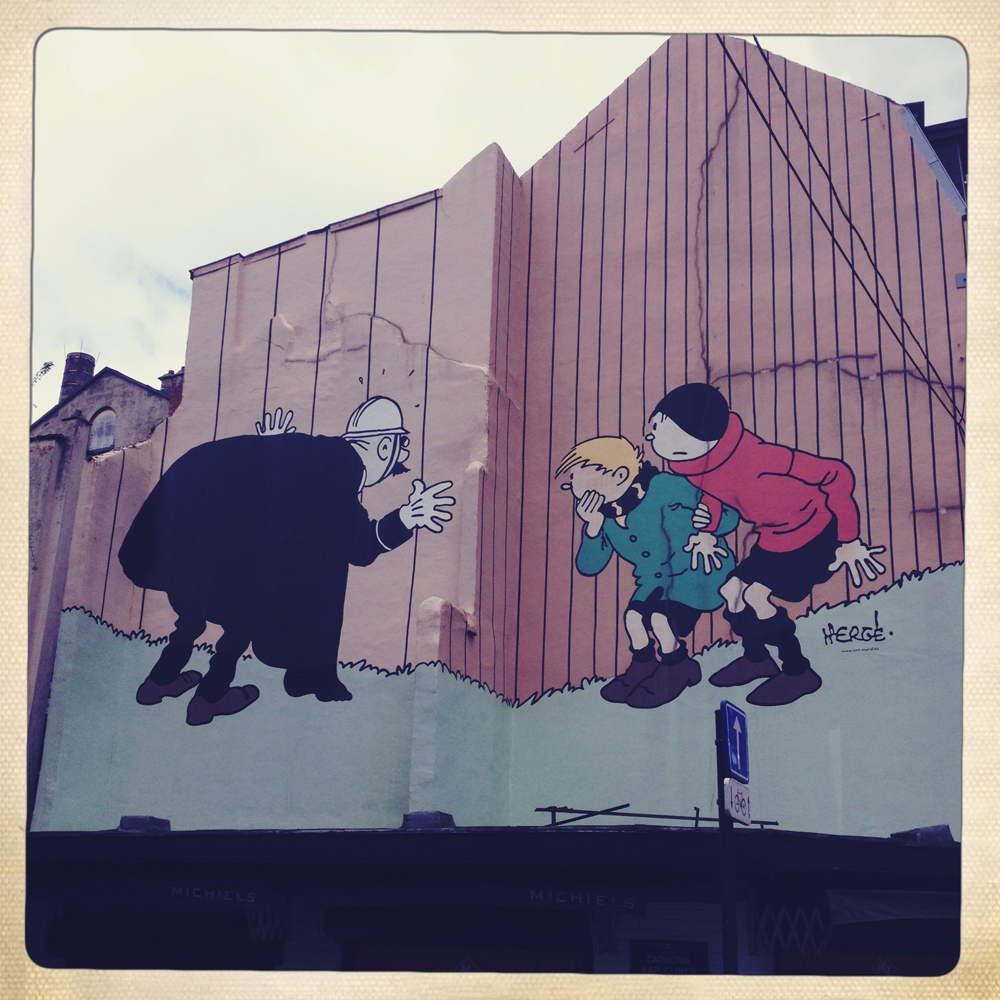 My favorite part of the BD culture in Brussels is the sheer number and variety of stores. From the random boutique book store in the St Hubert Gallery that had Jordan Crane, Alec Longstreth and a translation of Duncan the Wonder Dog to the big stores on the main drag, BD seems to be everywhere. The local FNAC store (sort of like Best Buy, with much less emphasis on household appliances) had more space dedicated to BD than it did to either DVDs or CDs.
The real destination stores, however, are Brüsel and Multi BD. They are obviously aimed at different demographics and approach the sale of BD in completely different ways. Brüsel has a gallery in the basement and top floor and seems to have a much more curatorial approach to what they sell – they don't try to have everything in stock, just those things that they think are worthwhile to carry. They also have comics in English, Spanish and German as well as the obligatory Flemish.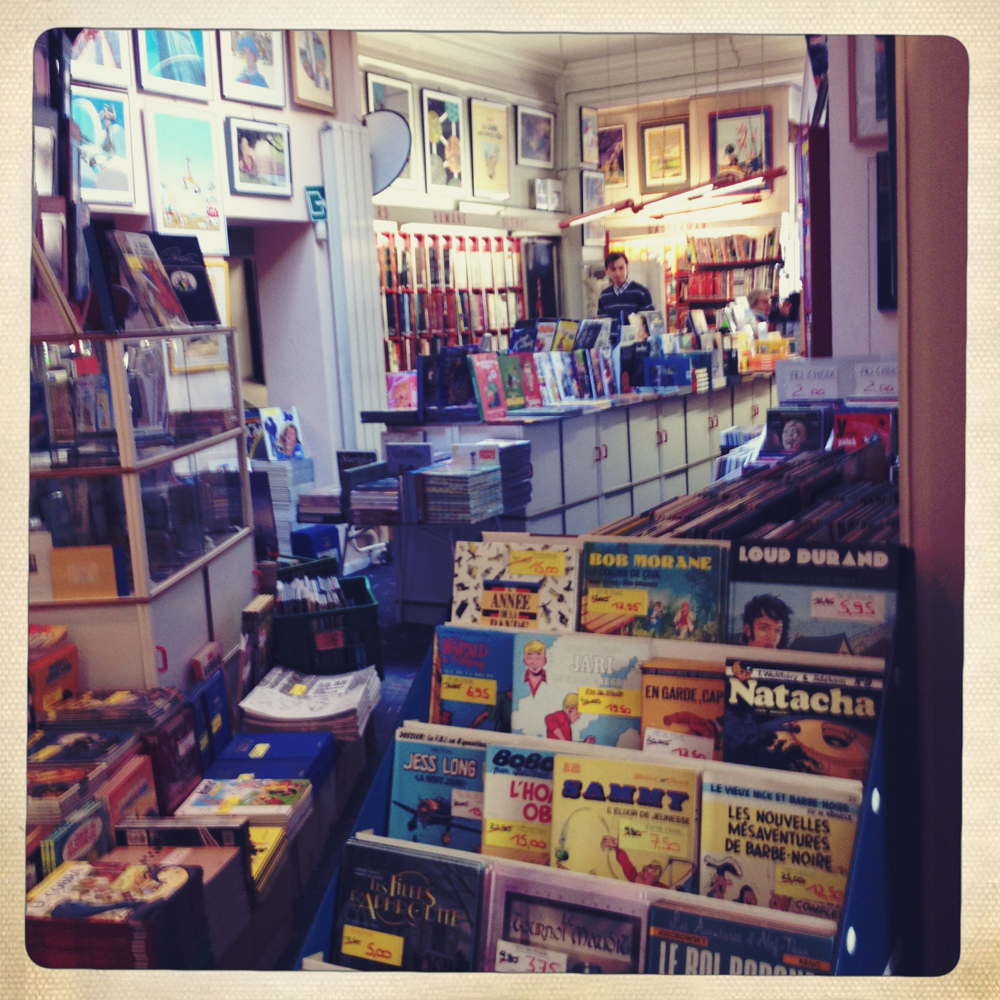 Multi BD is a lot more comprehensive and is your go-to destination if you are looking for book three of that fantasy series from Dargaud that you cannot seem to find anywhere else. Interestingly, Multi BD seems to have a better selection of alternative/small press comics in both English and French than Brüsel does – and places this material right in the front of the shop as the first thing that a customer encounters when they walk in the door.
Neither of these is in the kind of space where you'd find the local Games Workshop franchise – both occupy two fairly large storefront spaces on a major thoroughfare and are within easy walking distance of each other. And neither seems to be hurting for business. More importantly, their primary demographic is not children, but adults of all genders with money. The market is centered around 48 page hardbound albums (although there is a greater flexibility in formats than there used to be) which tend to run about 12 Euros apiece and go up in price relative to the page count.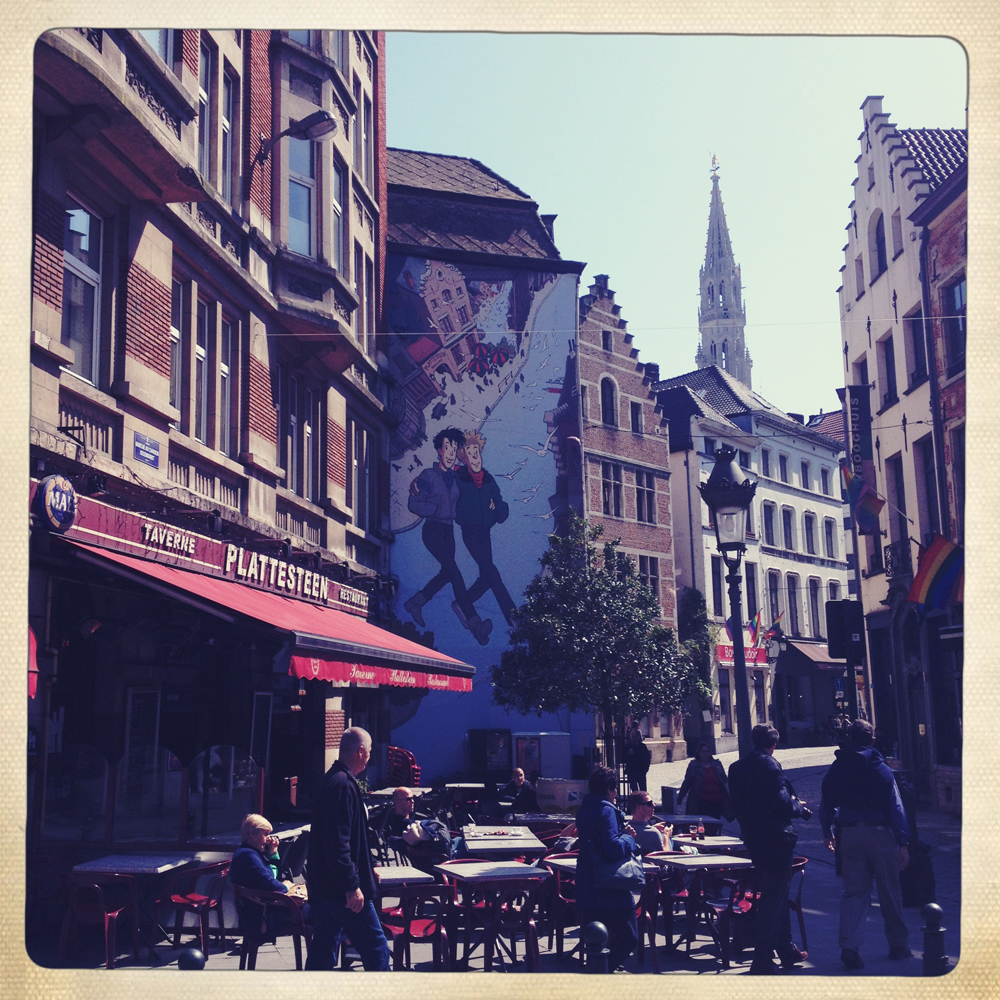 Another shopping destination is the Comics Village on the Grand Sablon, which features a store downstairs and a pretty good restaurant upstairs. If you go here, make sure you buy your books after you eat, to take advantage of the discount. The book selection here overlaps what you can find at Brüsel or Multi BD, but is much less robust and aimed at a much more general audience, as you would expect from a venue that markets itself as a theme restaurant and sidewalk café that happens to have a store. They also have copies of Tintin lying around in the restaurant so that kids have something to read while they are eating lunch.
What I found most interesting about all of these stores is that it's easier to find manga than it is to find American superhero comics and there is usually a better selection of the former. Manga often gets its own prominent corner while American superheroes generally get an out-of-the way shelf. Other English-language comics are found in translation more prominently – Strangers in Paradise, Prophet, Whiteout and Making Comics – to name only a few titles. It is almost as if these stores considered superheroes to be just another genre instead of the foundation of the market and stocked them accordingly. Also of note: American floppies are almost completely absent, probably because graphic novels fit the local buying patterns better.
The other place to look for BD in Brussels is among the used bookstores along the Rue du Midi – only a few blocks from Multi BD and Brüsel. Most second hand bookstores have a large selection of used BD albums which are worth flipping through, if only to see the sheer volume and variety of material that you have never heard of (often for good reason). Along the same street is Le Dépôt, a used bookstore that is entirely dedicated to BD. Here, more than anywhere else, I got a real sense of the depth of the French BD market and how much of it was completely unknown to me. As with the best stores of this kind, it is entirely possible to spend hours lost in the stacks, constantly surprised by things you had no idea could be considered commercial.
Once you have exhausted all of the obvious options, one of the more off the beaten path attractions is a house that was also designed by Victor Horta called Maison Autrique. This townhouse is now a museum that has hosted a variety of small, comics-related exhibits. The whole endeavor of restoration and curatorship of the townhouse is obviously a labor of love and among those lovers are local creators François Schuiten and Benoît Peeters. Albums from their Obscure Cities BD series is available in the museum's blink-and-you''ll-miss-it bookstore and there is a major callout to one of the characters in that series hiding in the attic of the house. Schuiten's artwork is heavily influenced by Art Nouveau and he has also authored a book with Lonely Planet that suggests possible walking tours of the city's architecture. It is possible to get a greater appreciation of their work just by wandering around the more beautiful buildings of the city – including this one.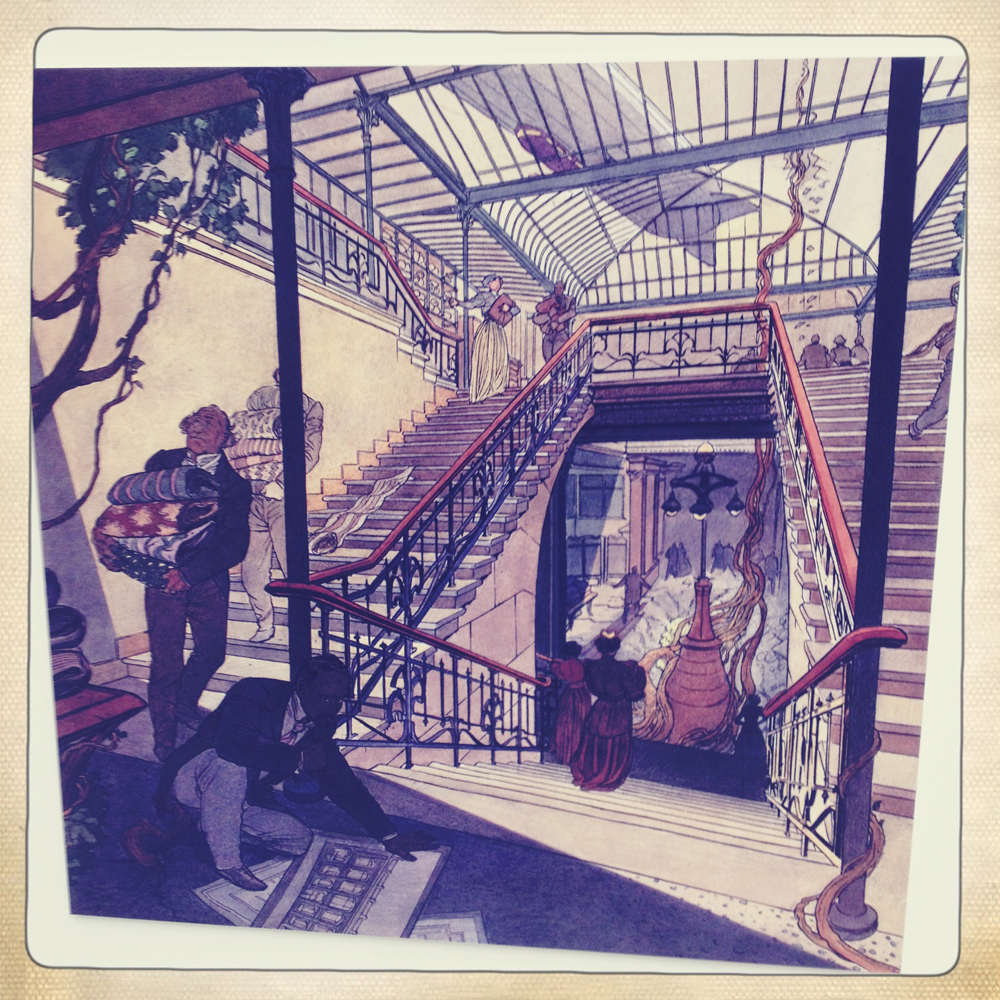 François Schuiten, from the Belgian Comic Strip Center

More than anything else, what Brussels offers a world-class city that features comics as a foundation of their tourism and local identity year-round and not just for a week a year. What other city does that? Besides, they sell fresh waffles in the streets and have good beer. And make sure you try the mussels.