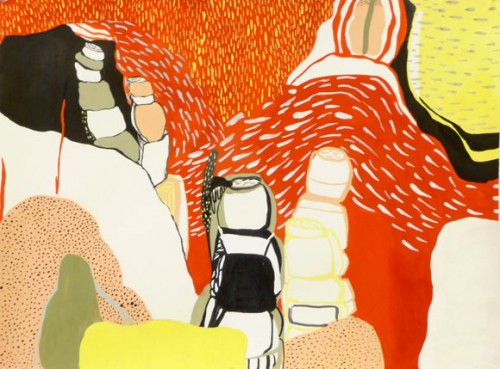 Alyssa Herlocher
Scrotal Mountains
gouache on paper

On HU
Featured Archive Post: Matthias Wivel on the sacred in Chester Brown's Paying For It.
Voices from the Archive: Kurt Busiek on copyright extension and comics.
Me on trying to choose whether to vote for racists or imperialists.
Patrick Carland on Aku No Hana and the politics of decadence.
Jog on cultural tourism and Only God Forgives.
Andrea Tang on the Yellow Peril in recent cinema.
Vom Marlowe on the weirdness of Black Butler.
Me on meaning and no meaning in John Porcellino's Raindrops.

Utilitarians Everywhere
At Wired I argue that we don't need no stinking Wonder Woman movie.
At the Reader I wrote about a great show at Woman Made gallery focusing on the aesthetics of porn.
At the Atlantic I wrote about censorship and porn on the Kindle.
At Splice I write about:
—Obamacare for traditionalist.
—Venus Santiago's lactation stories and porn for women who work.

Other Links
Jes on engaging with music made by abusive men.