Bee Ridgway's novel starts with a jolt and doesn't stop shocking you until it reaches its electrifying end (which is only a semicolon of an end, really – I am waiting on the edge of my seat for the sequel to come out).
Perhaps the most shocking part of Ridgway's novel is the identity of the author. For to the world she may be Bee Ridgway, but to me, she is Professor Bethany Schneider, leader of many of my college seminars. Even as students, we were mesmerized by Bethany's storytelling power. She is a legend on campus at Bryn Mawr College, and we would wake up at the crack of dawn on registration day in order to assure ourselves spots in her class. We looked to her not only for literary direction, but also for guidance in our feminist politics, and for help with wrestling our anger at the world's injustices into well-crafted prose.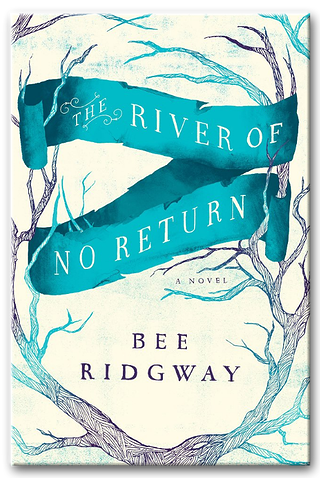 But we never guessed that she'd come out with a novel that places itself squarely in three different genres of fiction: romance, science and historical. And yet, maybe I shouldn't have been surprised. Because though the novel is something of a thriller, it is also deeply grounded in radical and feminist politics.
The River of No Return opens with the death of Julia Percy's grandfather, the Earl of Darchester, in the year 1815. We then jump forward in time to an idyllic New England farm, where we meet Nick Davenant, who turns out to have leapt ahead in time himself. The fun really begins when Nick returns to 1815 to resume being Lord Nicholas Falcott, Marquess of Blackdown (and Julia's neighbor). Intrigue takes the form not only of romantic banter between our hero and heroine (racy in the most heart-stopping and breath-quickening ways!), but also of Nicholas being given the responsibility to save The Guild, the society of time travelers, from doom. Nestled into these overarching dramas are the subplots concerning Nicholas's two sisters, Arabella and Clare. Here, I think, is where the novel truly shines. The desire to follow what happens to Nick and Julia is unstoppable, but the small crevasses into which Ridgway packs these supplemental stories are equally rich.
For instance, I don't know of too many time travel novels that focus on discussions of women's rights and the relationships between various socioeconomic classes across the centuries. I sincerely appreciated that these subjects were not ignored in The River of No Return. Clare, for example, assumes she is going to inherit her family's property when her brother disappears. Without giving too much away, Clare's plans for the estate might be deemed downright socialist in a modern context, not to mention the fact that she might be one of the only women of 1815 with a thorough understanding of Mary Wollstonecraft.
One of the more entertaining anecdotes in this vein is when Nick encounters in the nineteenth century a woman he had slept with previously, while he had been living in the twenty-first century. The shock of this brings up for Nick several questions about how he should be treating women, and Ridgway's reflections on courtship across the centuries is nuanced and hilarious.
The River of No Return moves along at breakneck speed, so much so that it can sometimes be overwhelming. I found myself needing to re-read the complicated passages about the rules of time travel in order to understand them.  But one thing is for certain: if you open it, it will suck you in until the very last page, so make sure to have some time on your hands before reading the first.