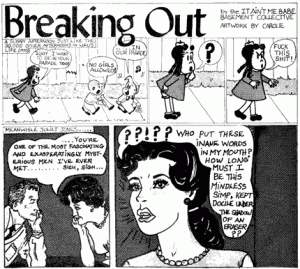 From "Breaking Out," the central story of It Ain't Me Babe Comix.
Image courtesy of lambiek.net.
In explaining the rise of Wimmen's Comix, Terre Richards, one of the founding mothers of the anthology, reasoned in a 1979 interview with Cultural Correspondence, "As a result of the Women's Movement, there was a growing awareness of women in all areas of the arts as well as a newly developing market for women's work in publishing, so the time was right for an all-woman's comic." But when the number of women in mainstream comics would shrink to just two in 1974, what was it about 1972 that made the time right for an all-women's comic anthology?
Financially at least, the answer is fairly obvious: Wimmen's Comix owes its existence to It Ain't Me Babe Comix, the first American all-women comics anthology, published in 1970 by the underground comix press Last Gasp. It Ain't Me Babe Comix, in turn, owes its existence to Trina Robbins, and to It Ain't Me Babe, a short-lived but influential feminist newspaper where Robbins worked.
When it comes to Wimmen's Comix relationship with the "Women's Movement," though, the answer is less straightforward. To extricate any creative work from its sociopolitical context is laborious; the belief that it can be done at all is often laboring under a delusion. Scholars like Paul Lopes have argued that early women's comix represent a "feminist intervention" into the misogynist world of underground comix, a framing which suggests that women were "outsiders" to the counterculture from which comix emerged, in addition to misunderstanding the varied motivations of women underground cartoonists. In fact, though there were only a handful of women actively creating comix before Wimmen's Comix, many more were involved in "the underground" as a whole. The delayed acknowledgement of women's existence in the underground comix movement in the early '70s mirrors the experience of women in the counterculture more broadly. In each case, women were involved in some way for a number of years before their presence and participation was fully recognized. In each case, women's cultural separatism contributed to this process of recognition, though it was and remains a hotly contested feminist strategy.
The story of early women's comix, like the story of underground comix, begins with newspapers. In the 1960s, as the underground press became a space for political radicals to air their grievances and rally support in a way that was purportedly open and democratic, certain voices were still being excluded from the discussion. As John McMillian notes in Smoking Typewriters: The Sixties Underground Press and the Rise of Alternative Media in America, experiences with sexism in the underground press were key turning points for many early feminists. Feminist organizations began starting their own papers in the late '60s, a few years after the "birth" of the underground press in 1965. The founding of the National Organization of Women (NOW) in 1966 and the subsequent establishment of feminist groups in at least 40 cities between 1968 and 1969 led to the creation of at least five feminist publications by 1968. These included a national newsletter, The Voice of the Women's Liberation Movement, and NOW's own first regular periodical, as Lauren Kessler details in The Dissident Press: Alternative Journalism in American History. Feminist newspapers and newsletters blossomed throughout the 1970s; just in 1970, 73 new feminist publications appeared, about a quarter of them affiliated with NOW chapters. It Ain't Me Babe, first published by the Berkeley Women's Liberation group in 1970, is considered to be the first real feminist newspaper.
Feminist papers showcased an array of political attitudes and beliefs, reflecting the diversity of thought of the nascent movement. Like New Left papers, about two-thirds of feminist papers were collective endeavors. According to Kessler, "none was headed by a male editor." The woman's-only or separatist quality of these papers was seen as a way to lend women the voice they had been denied in the New Left papers. Feminist papers retained the lack of editorial hierarchy and communal production of papers in the New Left, as well as their emphasis on equal access for all viewpoints, again with the same bent towards open, democratic circulation of ideas.Further, feminist newspapers often contained highly personal journalism or anecdotes as part of its project of "the personal is political" articulated by feminist writer Carol Hanisch. The feminist press helped the nascent movement communicate within itself, and to the outside world, and provided a knowledge-basis for the budding Women's Movement. Women's-only or feminist papers were often the only place for radical feminist thoughts to be expressed, as they were largely ignored or mocked in the broader press.
Through papers like It Ain't Me Babe, women's separatism emerged as a strong political stance for radical feminists, although it was not advocated by all, as feminist scholar Alice Echols notes. Separatism was generally seen as a "strategy for achieving social change, rather than as an end in itself." When women's voices were seen to be suppressed or silenced in the counterculture, radical feminists posited that one way to be heard as women was to create women's-only spaces for free expression, until feminist ideologies became more pervasive. The fifth issue of It Ain't Me Babe tackles this question head on in an editorial titled "Women … Towards a New Culture."
We see the development of women's culture as an essential part of the liberation struggle. The creation of a cultural ideology is a form of work; we have accepted male products in this area for too long … The cultures which surround us today in America, whose tenets we have internalized, have all been created by men. It is extremely oppressive for us to function in a culture where ideals are male oriented and definitions are male controlled. Our alternative is clear; we must develop a new culture, new images of ourselves and of the forces surrounding us. Yet the creation of a women's culture must in no way be separated from the political struggles of women for liberation… Our culture cannot be the carving of an enclave in which we can bear the status quo more easily – rather it must crystallize the dreams that will strengthen our rebellion.
Thanks to Trina Robbins, the previous issue of It Ain't Me Babe contains an attempt to create one such cultural project, in the form of a small note from the paper's staff: a call for women cartoonists to work on a special comic book issue.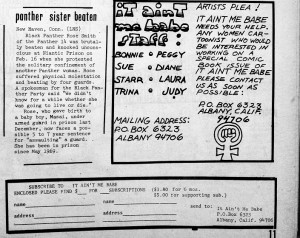 Image courtesy of Schlesinger Library. 
In 1970, Trina Robbins moved to San Francisco to join in the comix revolution. Once there, she quickly learned that the mecca of underground comix was a boy's mecca, one which she perceived as hostile to her and other female underground cartoonists. Early comix artists Lee Marrs, Trina Robbins, and Barbara 'Willy' Mendes have noted that it was initially quite difficult for the very first women to break into the 'old boy's club' of underground comix, and that men initially would not accept women's work into their anthologies, as Robbins notes in Pretty in Ink.
Discouraged, and without work, Trina joined the staff of It Ain't Me Babe, drawing what she called "extremely unsubtle propaganda" for its covers, as well as a regular strip about the liberation of her character Belinda Berkeley.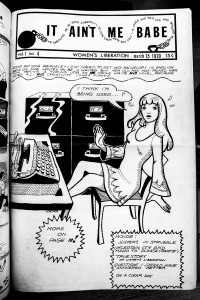 Image courtesy of Schlesinger Library. 
Inspired to stand up to male gate-keepers of underground comix, Robbins soon set out to create a comic book drawn and written entirely by women. Women underground cartoonists were scarce at the time, but she knew a few from other work in the underground. Nancy Kalish, for example, drew the strip Gentle's Tripout (under the name 'Panzika') for EVO as early as 1965. Robbins, Nancy Kalish, and Barbara 'Willy' Mendes were featured in the first issue of Gothic Blimp Works in 1969, towards the very beginning of the underground comix movement. With the support of the It Ain't Me Babe staff, Robbins put together a comic book entirely written, drawn, inked, and colored by women, the first comic book in the nation made that way. Because so few women were involved in the underground scene, experienced contributors were hard to come by. Trina and her fellow cartoonist Willy Mendes (short for Barbara) did most of the inking for the book, as they were the only ones who knew how. The other contributors were an eclectic bunch: Lisa Lyon drew cartoons for a socialist newspaper, Meredith Kurtzman was the daughter of Harvey Kurtzman of Mad Magazine fame, and Michele Brand simply knew how to draw, according to Robbins.
Once Robbins had collected the artwork, she called up Ron Turner, whom she had heard was interested in a "women's liberation comic." It Ain't Me Babe Comix was quickly picked up and put into print by Last Gasp Eco Funnies, which paid Robbins $1,000, a huge chunk of money for a struggling would-be artist in 1970. The stories within the comics make several explicit references to 'women's liberation,' the subtitle of the comic. Robbins described the central story in the book, called "Breaking Out" as a "comic strip, again written collectively, in which Juliet Jones, Daisy Duck, Supergirl, and other characters rebel against their sexist boyfriends. Just as women all over America were doing at the time, they form a consciousness-raising group."
By 1972, It Ain't Me Babe Comix had sold well enough to go into a second printing, prompting Turner to ask his employees Patricia 'Patty' Moodian and Terre Richards to advertise the fact that he wanted to print another women's liberation comic. Moodian then called the first meeting of the group of artists who would produce the first issue of Wimmen's Comix. Unmoored from It Ain't Me Babe Comix's ties to the feminist press, Wimmen's Comix maintained its non-hierarchical collective production structure — the anthology employed a rotating editorship, which later became a rotating double editorship — but was no longer as closely associated with the feminist movement. As Richards correctly notes, the Women's Movement helped birth Wimmen's, as more and more women (and men) clamored to see women's artistic work in all fields, including comix. But In fact, as founding mother Lee Marrs told Cultural Correspondence, the relationship between the feminist movement and Wimmen's Comix was contentious at best.
One reason the women's comic collective did not hold together in a commercial sense, to be able to do more books than just the Wimmen's Comix that some of us could hack together, and that we didn't get better distribution, was that the women's movement in the beginning didn't have any sense of humor in itself, which is sad but typical… We got totally rejected by the women's movement for the most part. 
Over the next 20 years, the relationship between Wimmen's Comix and the feminist movement would only get more fraught, as women's cultural separatism slowly fell out of favor, and a new generation of artists eager to play on the same field as men began to grace the anthology's pages. The feminist roots of Wimmen's  referenced by Paul Lopes and others cannot and should not be ignored, but they should be examined in their full complexity rather than posited as an ideologically uniform intervention. As feminist art critic Lucy Lippard writes about feminist art in the 1970s more generally, "It is useless to try to pin down a specific formal contribution made by feminism because feminist and/or women's art is neither a style nor a movement, much as this may distress those who would like to see it safely ensconced in the categories and chronology of the past."