On HU
Featured Archive Post: Kailyn Kent on the high art(?) of splash pages.
Chris Gavaler on cosplayers for Congress.
Chris Gavaler provides the minutes from the Last Supper.
Osvaldo Oyola on Brian Wood's crappy all-women X-Men comic.
Patrick Carland on Zen Pencils and hating on the haters.
Orion Martin on Jodorowsky's Incal, Prophet, and the problem of keeping science-fiction strange.
Qiana Whitted looks at how what's in print affects comics studies (for PPP.)
On Katherine Gilles Seidel's novel Again and romancing the critics of romance.

Utilitarians Everywhere
At Salon I have
— a list of the 20 most underrated albums ever. Plus 10 more.
— a piece about how there is no canon of romance novels.
—a piece about the Other Woman as displaced rom com.
At the Atlantic I wrote about sci-fi and the imagined colonization of white people.
At Splice Today I wrote about the new Justice League United and DC's pitiful efforts at diversity.
And at the Chicago Reader a short review of a Batman gallery art show.

Other Links
An interview with visual artist Curtis Gannon.
Wendy at Super Librarian argues (contra my article) that there is a romance canon, and she provides a list.
Janelle Asselin on how she has gotten rape threats for pointing out that a crappy DC comics cover was crappy.
And a message to guys about sexism in comics.
Uninsured people really want health insurance.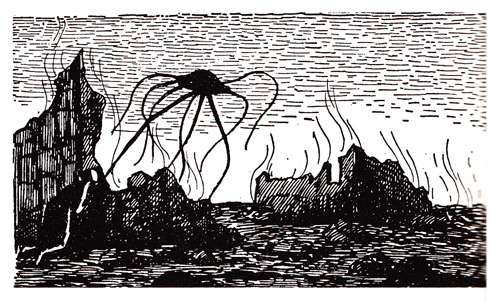 Edward Gorey illustration for the War of the Worlds