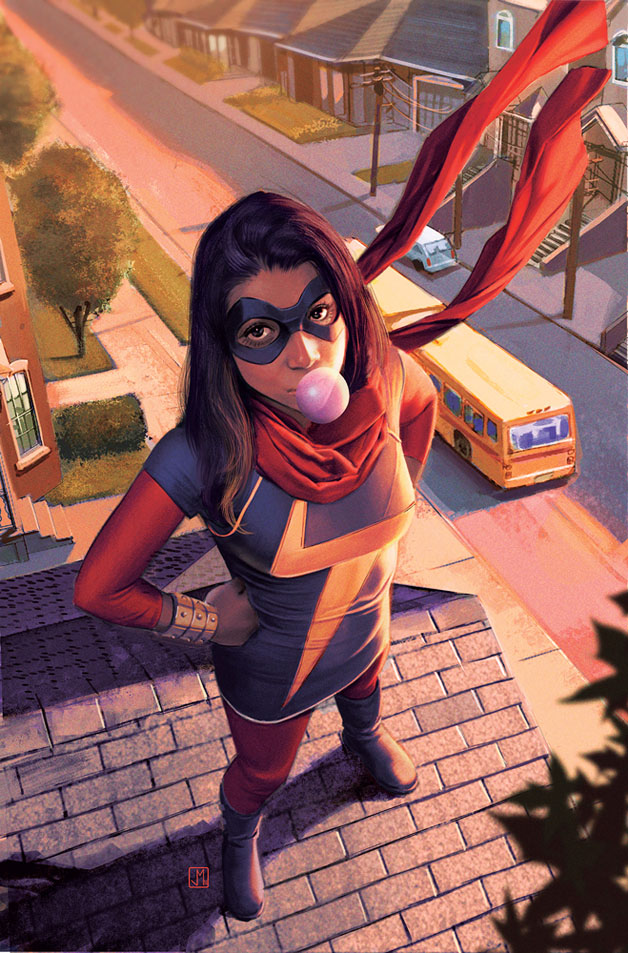 Would you give G. Willow Wilson and Adrian Alphona's Ms. Marvel to your daughter or young nephew to read?
I think the answer in most instances would be a loud and affirmative, "Yes!" It is after all quite inoffensive and mainly concerns the travails of school and family life; if complicated in this instance by the fact that the main protagonist is a Pakistani-American Girl. The comic is friendly, instructive, educational, and has a placid attitude towards the dangers of everyday existence. It would seem to be, in a word, "safe."
And what exactly are the dangers Kamala Khan faces in her first three issues? She is tricked into taking alcohol by insensitive classmates, breaks her curfew and is grounded, is sent to detention for accidentally destroying school property, helps a pair of accident prone lovers, is involved in a friendly hold-up at a corner store, and is injured during the accidental discharge of a firearm.
In many ways Ms Marvel is a return to the more gentle pleasures of the comics of yore; dialing back the myth of a violent America propagated by TV shows like CSI, Criminal Minds, NCIS et al.—where murderous psychopaths reside on every corner and corpses are to be found on every other doorstep and school dormitory. Can a superhero comic subsists on stories culled from ordinary high school life? Well, the sales figures on future issues of the comic should tell the tale in due course.
The central issues at stake in Ms. Marvel are conformity and difference, subjects which are  balanced precariously at this historical moment in America (and Europe) where the simple act of wearing a hijab might be cause for derision.
Perhaps the comics' greatest achievement is to make the life of a Muslim girl in America perfectly ordinary. Part of the success of Jaime Hernandez's Locas lies in just this effect—the way it shapes our understanding of an unfamiliar culture, revealing its core of basic humanity. Something similar occurs in Asghar Farhadi's A Separation where the setting (environmental, legal) and motivations may seem strange but the reactions completely "human." With that moment of recognition, Iranians stop becoming headline material or screaming terrorists (a la Ben Affleck's Argo) but individuals in all their complexity.
I don't think Wilson's work is quite at that level in Ms. Marvel but there is a trace of gentle subversion about it; much of it related in humorous vignettes. A visit to the neighborhood mosque for a halaqah (religious study circle) is not an occasion for harsh harangues of deeply conservative mullahs but some questions concerning Islamic theology and issues surrounding the place of women within the mosque and society. The first page of issue one has Kamala sniffing a "greasy BLT" which is described as "delicious, delicious infidel meat". This is followed by the suggestion that she try fakon instead ("it's not that terrible"). Buddhists face similar philosophical "problems" when encountering vegetised meat dishes; a culinary art form in itself.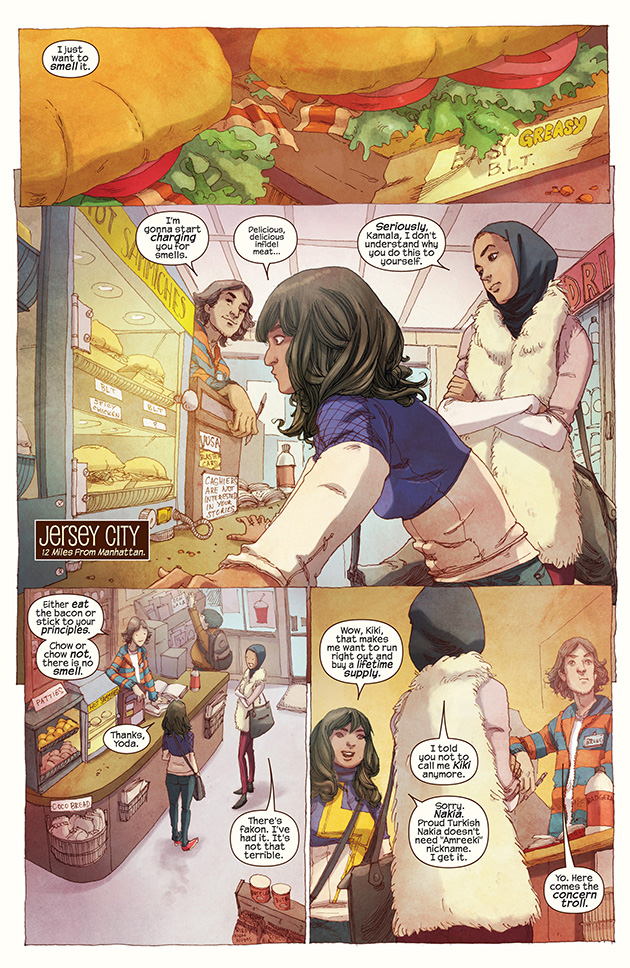 Wilson's subversiveness doesn't lie simply in these small challenges to authority but in more subtle mouldings of this thoroughly "white", Christian-Jewish form of expression—the American superhero comic.
Present day Islam is not especially enamored of figurative works of art, but the image of Kamala confronting the Avengers in the form of Iron Man, Captain Marvel and Captain America is clearly an instance of borrowed iconography. Lamps are not rubbed in the course of issue one of Ms. Marvel but the Terrigen Mists and the appearance of the Avengers suddenly within its folds do suggest the appearance of Jinn bearing gifts, and we all know how badly that usually turns out. The soundtrack to their arrival is a qawwali song by Amir Khusrow ("Sakal ban phool rahi sarson"), sufi devotional music which some might find intoxicating.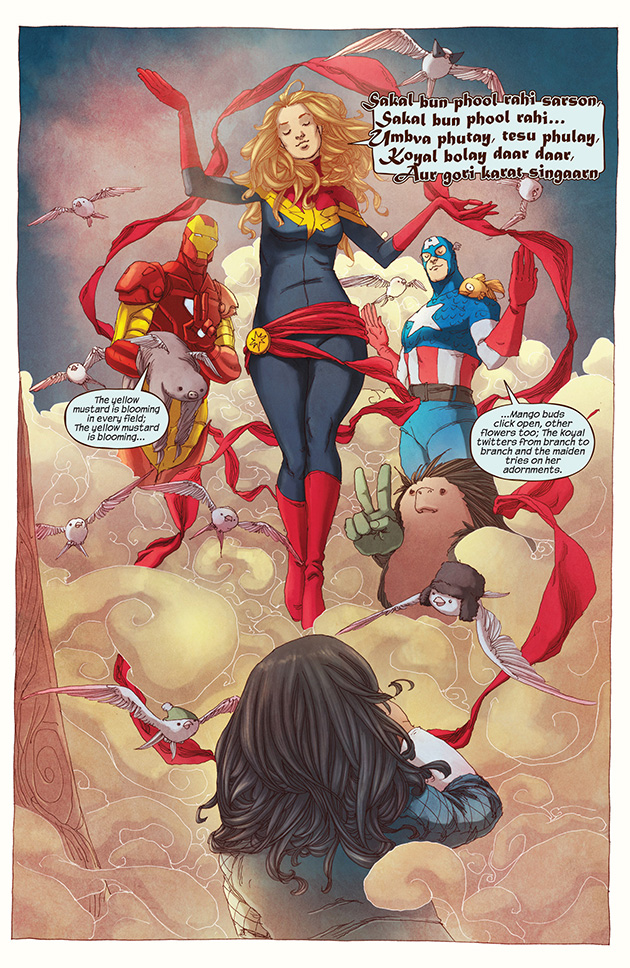 That's Captain America as an Islamic mystical being straight from the pages of the Qur'an (as angels are from the Bible). But more than that, the image is clearly a syncretisation of well known religious forms—it is a Transfiguration with Moses and Elijah on both sides of a female Jesus. Iron Man has his left hand raised in a gesture which either suggests the Trinity or the giving of a benediction. Captain Marvel herself is posed in a manner which immediately brings to mind images of the Assumption of the Virgin—right down to her flowing waist ribbon. The birds surrounding her are presumably modern day versions of the cherubs we see in Renaissance paintings. To borrow a phrase from Ms. Kamala Khan, it's all "delicious, delicious infidel meat." One assumes that Kamala—aged sixteen and forbidden to mix with boys at alcohol fueled parties—is a virgin herself.  One also assumes that Wilson and Alphona are not entirely convinced of the merit of the iconoclastic claims of hadith literature.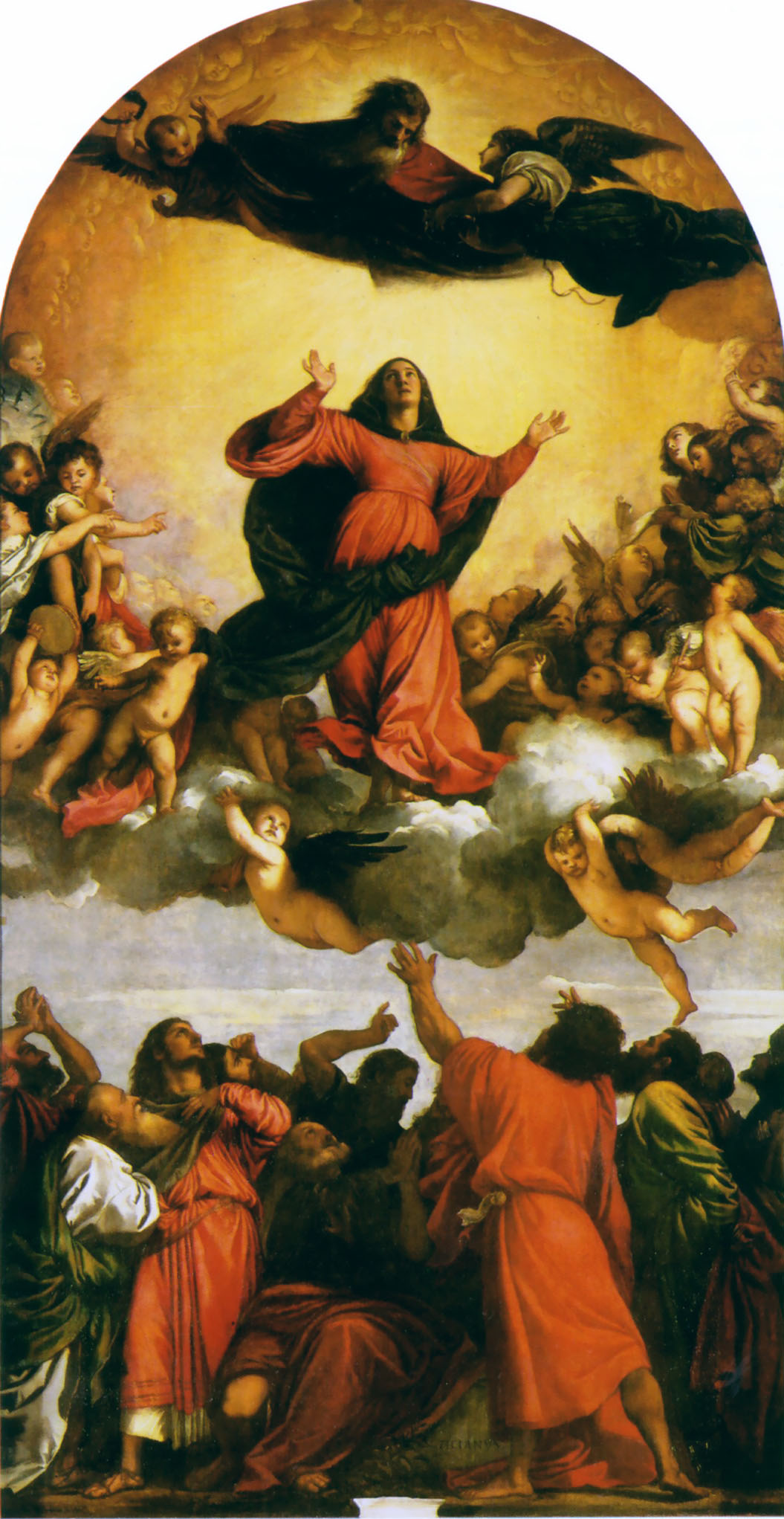 AND LO! The angels said: "O Mary! Behold, God has elected thee and made thee pure, and raised thee above all the women of the world.  Surah 3. Al-i'Imran, Ayah 42
Christopher ZF writing at The Stake is eager to let readers knows that:
"In this instance Kamala's gods are not God, but another trinity that inspires her: Captain America, Iron Man, and the central religious figure of Kamala's imagination: Captain Marvel….The manner in which Wilson and artist Adrian Alphona handle what could be a potentially fraught subject is instead refreshing in its candor…this scene is not a ham-handed, irreligious, or silly affair…."
The caution is understandable though obviously not my cup of tea.
This appropriation of imagery is clearly tied up with Kamala's own conflicted sense of identity and her cultural influences (both knowing and unknowing)—a desire to fit equally into "normal" white American society and the traditions of her parents, with these parts seemingly irreconcilable. She's a dark haired Alice in Wonderland, taking the bottle labeled "Drink Me" to become small or the cake with "Eat Me" written on it to become a leggy white blonde—all of this done in the interest of assimilation. The creators obviously thought long and hard (or maybe not) when they decided to make her a "human with Inhuman" lineage. Kamala's vision is no more than a reflection of the mishmash which constitutes her subconscious desires. As "Iron Man" says to her, "You are seeing what you need to see." If only Captain America was more halal.
Noah writing at The Atlantic doesn't quite see it that way though. Concerning Kamala's shape shifting powers he writes:
"You could see this power as a kind of metaphorical curse, reflecting Kamala's uncertainty; she doesn't know who she is, so she's anyone or anything. I don't think that's quite what it signifies, though. Changing shape doesn't mean that Kamala erases her ethnicity…Rather, in Ms. Marvel, shape-changing seems to suggest that flexibility is a strength. Kamala is a superhero because she's both Muslim and American at once. Her power is to be many things, and to change without losing herself."
And that is undoubtedly the final destination of Wilson's story. The first three issues are in all likelihood a journey to that point of realization.
Perhaps the greatest subversion of all is that Ms. Marvel might be the most religious comic book published by Marvel in decades. Not anywhere as overt as the Spire Archie Christian comics but arguably in the same tradition. Islam both informs Kamala's action and the conflicts she faces at school and at home.The centrality of Islam in Ms. Marvel was probably considered uncontroversial by Wilson's editors (save Sana Amanat who is Pakistani-American) because of the ethnicity of the main protagonist—in America, race and Islam seem almost indivisible and therefore "excusable." At the risk of stating the obvious, this rigidity in terms of race and religion is part of Wilson's challenge to her readership in a country where the word "Muslim" often conjures up images of "brown" or black individuals. The fact that a blonde, white woman is taking moral action on the basis of the Qur'an is an essential part of Ms. Marvel's narrative.
In Culture and the Death of God, Terry Eagleton writes that:
"Societies become secular not when they dispense with religion altogether, but when they are no longer especially agitated by it….as the wit remarked, it is when religion starts to interfere with your everyday life that it is time to give it up….Another index of secularization is when religious faith ceases to be vitally at stake in the political sphere…this does not mean that religion becomes formally privatized, uncoupled from the political state; but even when it is not, it is effectively taken out of public ownership and dwindles to a kind of personal pastime, like breeding gerbils or collecting porcelain…"
American society is "agitated" by Islam but Muslims have almost no voice in the political sphere. Kamala Khan may be the central figure of Ms. Marvel but she is an "other"—not us, someone strange, someone else—with seemingly little to say about how Americans should lead their lives; she has no religious or moral prescriptions which could affect white America. She is someone else's porcelain collection. This makes the comic "tolerable" in the eyes of Marvel's paymasters even while Disney enforces a policy of not taking the Lord's name in vain in song.
The commentators at Deseret News have an even more innocuous explanation for this new venture:
"Comics are a "survey of the pop culture medium," Hunter said, adding that the religions brought up in modern comics reflect modern society.

He said mainstream culture is talking about Muslims. According to the Pew Research Center, the Muslim population in the United States is projected to rise from 2.6 million in 2010 to 6.2 million in 2030, which shows Muslims are a growing market and topic in the U.S….Ms. Marvel's Muslim heritage was chosen as a reflection of what the mainstream culture is interested in…Publishers are not just appealing to certain religious markets, however. They're also using religious comics as a way to tap into the market of unbelievers, too, Lewis said."
How wonderfully bland it would be if this was the comic's sole raison d'être. This gentle and most politically correct of comic book stories is sometimes more clever than it seems.
____
Further Reading
(1) G Willow Wilson on Kamala's powers. Lots of background information in this interview:
"Her power set was actually the toughest thing, I think, to narrow down in the character creation process," Wilson said. "I really did not want her to have the classically girly power sets – I didn't want her to float. I didn't want her to sparkle. I didn't want her to be able to read people's minds. I think a lot of these sort of passive abilities are often given to female characters – becoming invisible, using force fields. I wanted her to have something visually exciting, something kinetic…. The idea of making her a shape-shifter nicely paralleled her personal journey."
(2)  Mariam Asad, Zainab Akhtar, and Muaz Zekeria discuss "What the new Ms. Marvel means for Muslims in Comics."