This is part of a roundtable on The Best Band No One Has Ever Heard Of. The index to the roundtable is here.
___________
People remember "Walkin' My Cat Named Dog," when they do, as the name of a single that saw radio play sometime around 1966 and 1967. It was this Motown-fueled Tin Pan Alley jingle that brought early mainstream success to Norma Tanega, a "classically-trained multi-instrumentalist" with "Panamanian and Filipino roots," a BA from Scripps College (1960), and an MFA from Claremont Graduate School (1962).


Walkin' My Cat Named Dog is also the name of Tanega's stellar debut album that includes this single. The 1966 New Voice Records release, engineered by Gordon Clark at Stea-Phillips Studios, is a revealing mid-1960s attempt to mass-market an unorthodox entertainer. These twelve tunes combining folk, blues, and roadhouse revival are all under three minutes, and half are under two and a half minutes. The record is self-evidently studio-produced gospel garage rock; left coast experimentation via New York City and the Catskills. Walkin' My Cat Named Dog, which took Tanega to London, is earnest, expansive, and simultaneously cynical.
The first track, "You're Dead," uses ambivalent sarcasm to cultivate double meanings about life and living within domination. Imagine suits offering Tanega's "Be sure that you compromise" as a potentially more palatable version of the "It-is-not-he-or-she-or-them-or-it-that-you-belong-to" in Bob Dylan's "It's Alright, Ma (I'm Only Bleeding)." "You're Dead" raises queer questions about ambition, compassion, and interconnection, beginning with its spare warning: "Don't sing if you want to live long. They'll have no use for your song."


Walkin' My Cat Named Dog is thoroughly queer, with messy senses of mind, gender, and time. The quick-hitting second track, "Treat Me Right," is kinky pastiche. Directives include "Open up my brain with your eyes and drive me down" and "Smooth the wrinkles from my brain, burn me up, and slap me down." Note the shout.


"Jubilation," a free love anthem, leans toward later Rufus Wainwright epics: "Come be one two three with me you and I and us: jubilation. Jubilation! Jubilation! It's the time to live!" The track that follows counters the piercing euphoria of Tanega's crystal clear call for multiple partners. The affectless trepidation of "Don't Touch" unleashes a screed reminiscent of the blitzed-out sound of the Silver Jews' "Advice to the Graduate."


Building on the deadpan in the Walkin' My Cat Named Dog tracks "You're Dead" and "Treat Me Right," the swanky "Don't Touch" creates a straight edge soundscape out of new frontier anxiety, like a pre-AIDS-pandemic Safe (Haynes, 1995). The rousing backing vocals so striking in this track, "Treat Me Right," and "Walkin' My Cat Named Dog" also appear in "A Street that Rhymes at 6 A.M." and "I'm the Sky."

"A Street that Rhymes at 6 A.M." is the first track on the B-side and one of the high points in the LP's crescendo of crowd-sourced feeling. It presents a counterpoint to the motif of cultural alienation unfolding across "Don't Touch," "What Are We Craving," "No Stranger Am I" (a song Dusty Springfield also recorded), and "Hey Girl."


This song's surf style, tom-tom licks, and wailing harp bookend the B-side along with a less tortured precursor to Chris Bell's "I Am the Cosmos." "I'm the Sky" ends the album with folk operatic chanting: "it's love, it's mine, it's yours, it's life, it's free."


It is with songs like these that Walkin' My Cat Named Dog answers the question, posed in the title of its ninth track: "What Are We Craving?" The record offers people and pleasure as provisional antidotes to "goldseeking" and social norms.


Ironic and complex, Walkin' My Cat Named Dog has wowed me ever since I discovered it while browsing. I had not heard of Tanega then and no one has mentioned her or recognized the name since. I saw the cover and had to have it.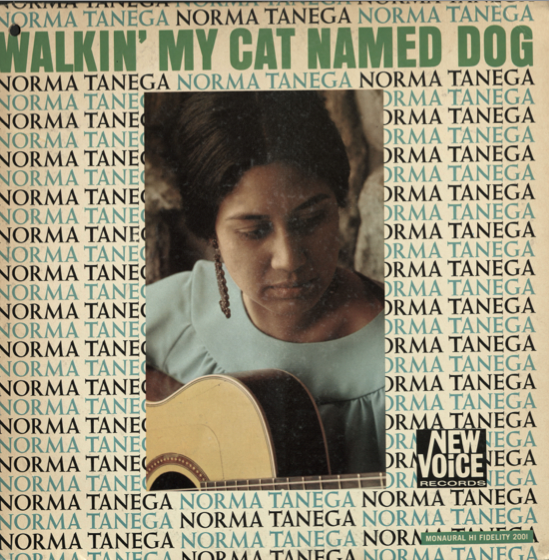 On impact there was the queer promise of a song called "Hey Girl." This track takes us back in time to Lead Belly and to other performances of this traditional folk song—also known as "In the Pines"—including to Nirvana's 1993 rendition, released as "Where Did You Sleep Last Night?" on the band's MTV Unplugged CD. Tanega's "Hey Girl" reframes the story of suffering through its undercurrents of non-monogamy. Within the depressed trend of the B-side, the song serves as a climax in the album's sexual outlaw aesthetic. Scandalous, roomy, and idiosyncratic, the sound suggests a culture of collaborative experimentation evident in the cool power of Tanega's presence.
This presence is on display in YouTube footage that seems to be from the production of a show like the BBC's Top of the Pops; and it is the backstage downtime during recording sessions for that program that provides the setting for Tanega's real-life "meet cute" with lover Dusty Springfield who she later penned tunes for and lived with in London. In this footage, Tanega appears to perform along to a studio replay of some cuts. These artifacts amplify the importance of marketing, engineering, and design in Walkin' My Cat Named Dog's accomplishments.
The LP's Bob Crewe packaging was what initially piqued my interest in the music. (I think I bought it while traveling, perhaps in Washington, D.C.) Optical wordplay springs from Tanega's wallpaper-printed name, offset by an intriguing back cover blurb attributed to Bil Keane. The author of The Family Circus comic strip? This brief essay, titled "The Positive Side" is signed from San Francisco. Combining reactionary moralizing and innuendo-laded slang, the sugarcoated endorsement refers to Tanega's "gift…of positive perception." It describes the making of the album—with co-writer Norma Kutzer and producer Herb Bernstein, who conducted and arranged the recording—as a "movement toward the positive side," presumably away from social protest.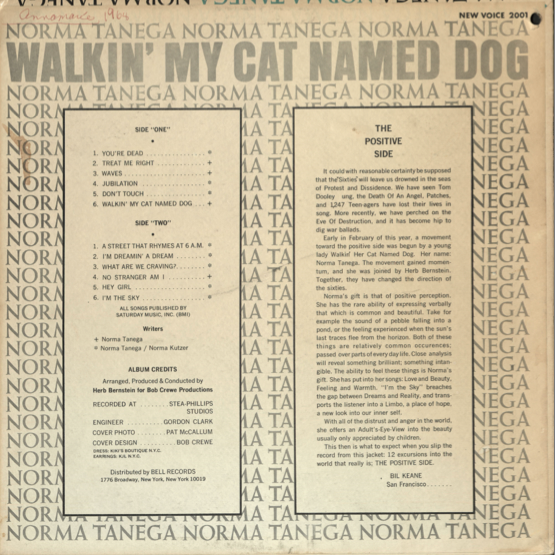 I've never met anyone who knows Walkin' My Cat Named Dog. I've never seen another copy of the LP in person. I'm a devoted fan, but I know only this one album out of the fourteen Norma Tanega has recorded with a range of collaborators.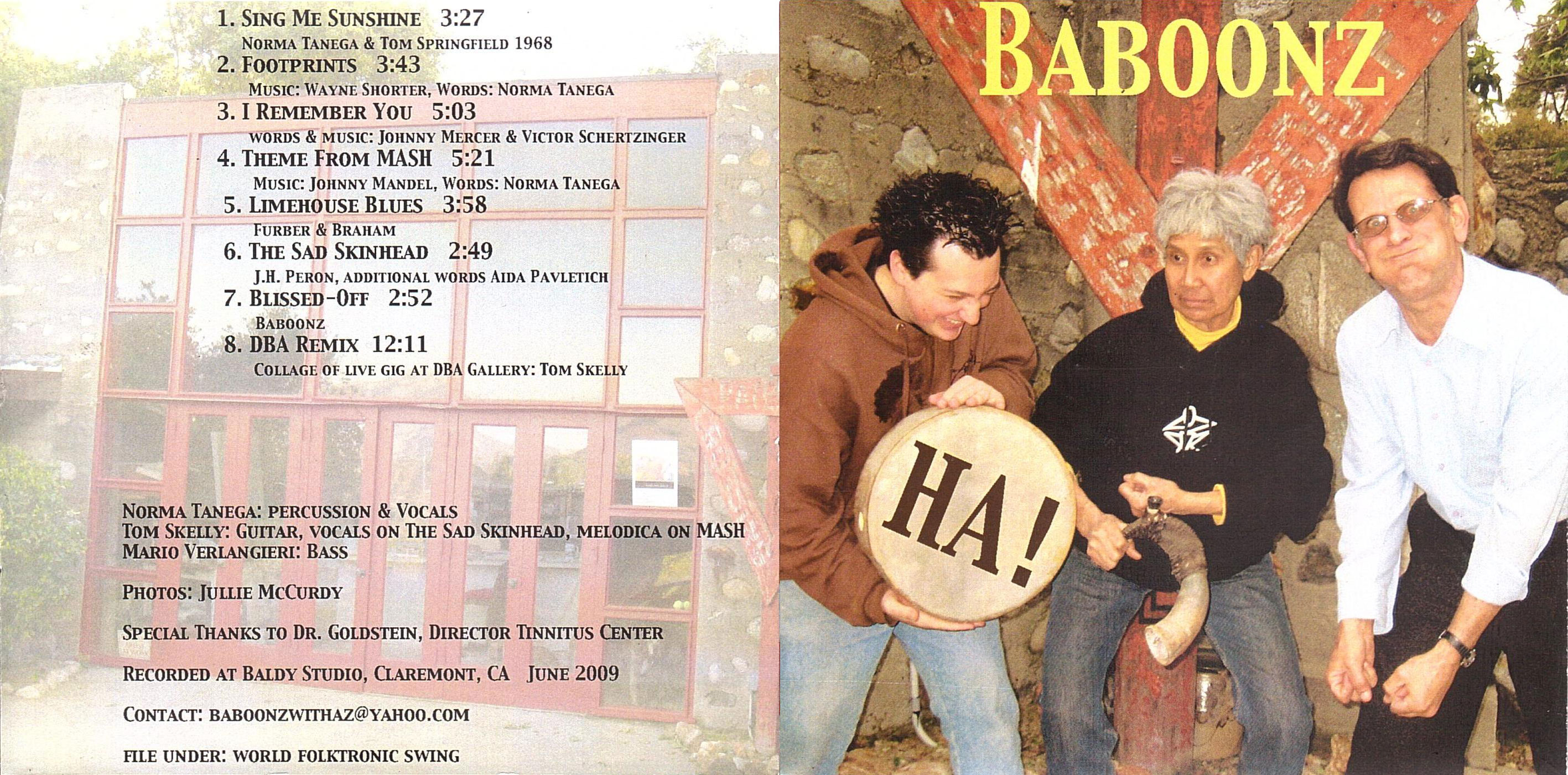 Even without the context of Tanega's later work, Walkin' My Cat Named Dog offers an intuitive history lesson. The sound is distinctly of its era; ahead of its time; and steeped in the past. Candy-coated cerebral lyrics deconstruct cultural notions of massification by marrying self-extraction and engagement. This album is the hippest thing ever pressed.
The palpable irony on the cover and the fact that Tanega took up with Springfield in the ensuing years render Walkin' My Cat Named Dog sublime as a historical object. The individual titles that compose this challenging easy listening record, which are juxtaposed on the back cover with Keane's fantasy of a clean youth movement, flag liberatory content. The music is sublime, too, and calls for retrofitting with more recent intertexts. A concept album along the lines of the Pixies' song "Where is My Mind?" the record has a mix of influences and moods reminiscent of Dylan and The Band's Basement Tapes, the Joos' Starlite Walker, or Arcade Fire's Funeral. Tambourine, harmonica, choir, bells, and clapping support Rorschach lyrics of sonic queer communion suggesting that we might be better off "long gone…and out of this world." Walkin' My Cat Named Dog envisions—and feels into existence—queer modes of connection. The cat-to-dog provocation of the hit single is just a start.