I forgot entirely about this one. It's a harmless episode: Lee Meriwether wants to touch Kirk's shoulder and he hides behind Sulu and McCoy. Lee Meriwether advances, Sulu and McCoy step up to her, a united front, and Kirk stands behind them. The effect is a bit like the fairtytale-theater shows I saw now and then as a kid: adults gathered on stage to do something that resembled kids playing, and to do it without identifiable scenery. An intimate effect results; it's pleasant. I like quiet, undemonstrative ways of passing the time
She's an android representing the dead commander of a space ship/base left long ago by aliens. Three androids in all, all of the lady captain. The ship/base's automatic system causes the androids to try to kill intruders (which they do just by touching). Or so I think, since the plot just doesn't really come thru for me. The upshot: the lady captain is not to blame, and the men toast her memory as her prerecorded taped message (a matte blur against the wall) explains what has been going on and how no harm was meant.
D. C. Fontana wrote the outline. Maybe it made more sense early on. But J.M. Lucas wrote the final, and I liked his stuff okay. He produced "Piece" and wrote/directed "Elaan."
Labored snippiness.  The ep is divided between the landing party's doings and the vigil of the anxious team up on the Enterprise. The ship scenes become painful.  As with so much of old Trek, the intended humor of the dialogue comes across as simple meanness. Spock apparently is the kind of boss who will respond to a perfectly clear but figurative remark by laboriously informing the subordinate that his/her remark, taken literally, does not make sense, then adding that one must not waste time. This happens again and again; the script can't think of anything else for the characters to do. And Spock is incapable of speaking quickly, so you have plenty of time to sit there and wait for his pointless, time-wasting rebuke to trundle past. It's maddening.
Then there's Kirk and his snippiness toward Sulu, though Shatner does it very well: the murmured "Mr. Sulu" when he hands off Sulu's tricorder to him after a rebuke. (I think that during the shoot Koenig was off in the midwest doing a play, which is why Sulu goes down with the landing party, mentions a meteorite in Siberia, and gets put down all the time by Kirk.)
Don't be an Asian guy.  More support for my theory that being an Asian man is the most thankless task on television: Sulu feminized, scrambling back from Lee Meriwether and squealing.
The ep features yet another nothing crisis, this time not an approaching meteorite or space plague but the impending explosion of the Enterprise. Still, there's the reward of seeing the look on Doohan's face when Scotty has to make that last decision and go ahead with fixing the Jefferies tube in whatever highly risky way Spock just recommended. I agree that all the second-rank regs could have done more than they were given (except Takei—acting just was not his thing), but Doohan could have done the most.
Production notes.  From Mem Alpha:
In addition to the standard planet set, Matt Jefferies designed a "rocker plate" set within the set that gave the illusion of a "real" quake. Evidence of this new "rocker stage" can by the movement of the individual "plates" on the stage, followed by sequence of the landing party stepping off it onto the main stage and resting on their hands and knees …




The bypass valve room that Watkins enters consists of re-used pieces of the Yonada control room from "For the World is Hollow and I Have Touched the Sky". The control panel was re-used from the Vians torture chamber in "The Empath".




A new access tube was created to show where the matter-antimatter reaction chamber was. Designed by Matt Jefferies, it had sliding doors accessing the crawlway. …




Spock's calculation device was a reused of the remote control prop created for "Spock's Brain"."

The central chamber which housed the outpost's central brain was created especially for this episode. Designed by Jefferies, … the central chamber contained a "frosted 2D cube – rotating lights inside.""

Sulu mentions the Hortas of Janus VI from "The Devil in the Dark". "



That last one went right by me. I think it's a real stride for continuity because it's gratuitous. Writers have to remember that phasers can fire on stun and that Vulcans don't show emotion. But whoever threw in the horta did so for the hell of it, just because continuity is fun. That's when the habit really starts to entrench itself.
(The makeup around the eyes could be a wall painting; the lashes are like a sculpture … sorry, that sounds a bit like a Troy McClure. Anyway, I think Trek did this to its heroines' eye makeup a lot more in the third season; at least I've started it noticing just recently.) 
Lee Meriwether, b. 1935 in LA. I thought she was fine. She's given absolute dumbass s.f. exposition dialogue and has to deliver it w/ an android affect, a deadly combination. But she gets thru okay. Says she was a reg on Time Tunnel, so maybe that had toughened her up.
Won Miss America in 1955, married 1958, divorced 1974; two girls b. 1960, 1963.  IMDB lists 43 screen appearances as "Self," starting w/ Miss America, 84 as an actor, starting in 1954 with The Philco Television Playhouse, 3 eps., but picking up in 1958, an appearance on The Millionaire, then Bilko, etc. Around her Trek ep, the Time Tunnels, two Batmans (not counting her movie appearance), Land of the Giants, Mannix, The Name of the Game, six eps of Mission: Impossible because Barbara Bain had left. Since the 1990s her main work has been 38 eps of a soap, All My Children, plus some movie roles here and there.
Hey, meat! Old Max Kirkland in the Police Academy movies, and a blueshirt who died like a redshirt.
Arthur Batanides, b. 1922 in Tacoma, Wash. IMDB lists 122 acting jobs. His first was for a tv show called Out There in 1951; his last was Police Academy 6 (1989). Wiki says he was the police sergeant in a 1959 crime show called Johnny Midnight. Around his Trek ep he was doing Death Valley Days, Run Buddy Run, The Man from UNCLE, Time Tunnel, The Green Hornet, Lost in Space, Cimarron Strip, I Spy (5 eps as "Rocco), Wild Wild West (4 eps), Gomer Pyle USMC (3 eps but not the same character), The Mod Squad, "Tony" in The Maltese Bippy, and so on.
… Accidental Family. What a great title for a mid-60s tv series. From The Brady Bunch on, you could imagine the premise. But pre-Brady — what the hell?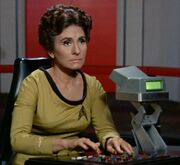 Sulu's replacement.  She gets a lot of lines, actually. She's Spock's feed for much of the tense helming that must be done because of the forces unleashed by the Lee Meriwether androids. In "The Paradise Syndrome" she helps dress the Indian princess and tells her to buck up. Her character's name in this one is Rahda. IMDB says she was in The Shakiest Gun in the West (1968) as "Indian Squaw" and the series Korg: 70,000 B.C. as Mara (1974). That's it, that's the list.
Harvard grad.  Dr. M'Benga played by Booker Bradshaw, b. 1940 (or '41) in Virginia. Wiki says, "an American record producer, film and TV actor, and Motown executive." In the 1970 his IMDB credits are mainly for writing tv scripts (did a Columbo, a McMillan and Wife, a Jeffersons, a Rockford, credits on 4 eps of Richard Pryor's 1977 variety show, bunch of others). Cartoon voice work in the '80s. Career started in 1960s with "Prince Nicholas" in a Girl from UNCLE (1966), 2 eps as "Dr. B'Dula" on Tarzan, then 2 eps as Dr. M'Benga on Trek, tailed out in early '70s. Howard Brunswick in Coffy (1973), Lucas (militant, I guess) in The Strawberry Statement (1970).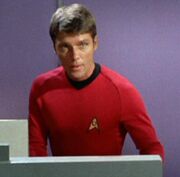 Wordless, beautiful redshirt.  Brad Forrest, birth year unknown. He did "Which" in 1968 and an episode of Man in Space ("Dateline: Moon") in 1960. That's it.
Hogan's Heroes reg.  "He is perhaps best known for playing Sgt. Richard Baker during the final season of the television series Hogan's Heroes." Kenneth Washington, b. 1946, IMDB lists 26 acting jobs, couple as a kidm, then picks up in 1966 with "Man" in a I Dream of Jeannie, "Corporal" in My Three Sons, a policeman in Dragnet 1967. Did his Trek episode in the same period he was doing about a half dozen eps of Adam-12 as "Officer Miller," eventually his 24 eps on Hogan's Heroes, the '70/71 season, and after that things dwindle: "Guard" on 2 Rockford eps in 1977, etc.