Another of the 4 eps that I'm missing. Involved a sort of Julius Schwartz s.f. idea, but one that Mem Alpha says had already shown up on a Wild Wild West ep back when Gene L. Coon produced that show; Coon also did the outline for "Wink," part of his batch of contractually obliged script work done after he left Trek. The ep idea: people moving so very fast that they can't be seen, and the movement isn't running or push-ups, it's vibrating. The ep uses the idea as justification to claim that an entire civilization could exist and be invisible to us, perceived only as an occasional buzzing sound like that of an unseen insect. I would guess that this notion takes the idea further than Wild Wild West did. In other words, "Wink" is another third-season ep with a premise that's pretty advanced and complicated for tv s.f. of the time.
But I get all this from synposes. The ep itself is clean gone out of my mind. It appears to have been another arrogant-advanced-race set-up, with a queen interested in Kirk. 
From Mem Alpha:
At the beginning of the episode, Scotty is shown on the bridge recording a log while other dialogue is played over this scene. The footage is reused from "The Empath". This is evident because Scotty wears a very different hairstyle, and another woman takes the place of Uhura

… only one set, a fountain, which was designed by Matt Jefferies.

The environmental engineering room, also designed by Jefferies, was a redress of the briefing room set.

The Scalosian weapon, also designed by Jefferies, was made from lathe-turned aluminum, and measured approximately 6 ¾" in length. … The weapon made a sound identical to Klingon disruptors and the Ardana torture device in "The Cloud Minders".

This was Andrea Weaver's last episode as women's costumer. She went on to join another Desilu production, Mission: Impossible.
The queen, b. 1930, in San Luis Obispo, Calif.  Married Darren McGavin year after "Wink," stayed married. IMDB lists 85 acting jobs; start: ep of The Gray Ghost (1957), end: 2 eps of Love Boat (1980). Around the time of "Wink," parts in Laredo, Mr. Terrific, Felony Squad, The Wild Wild West, Hondo (5 eps, recurring role), The Big Valley, The Name of the Game (which had an ep titled "Shine On, Shine On, Jesse Gil"), Get Smart, The Outsider, Love American Style.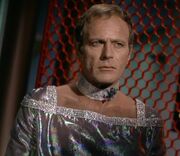 Epicene alien, b. 1922 in NYC; orig name: Herb Evers. Dropped out of high school, went into army, then became actor. Took a long time to get anywhere, never did anything too big, but he worked steadily for years. Quite a looker. IMDB lists 109 acting jobs, starting with extra work in Guadalcanal Diary (1943), ending with "Lou the Editor" in Basket Case 2 (1990). Was getting tv work thru most of the '80s, primetime mystery/crime dramas for old folks. Around time of "Wink" he was quite busy, doing guest shots on Bonanza, The Invaders, Three for Danger, Tarzan, Run for Your Life, Judd for the Defense, Capt. Coleman in The Green Berets, The Wild Wild West, It Takes a Thief, The Mod Squad, a recurring part on The Guns of Will Sonnett (as Walter Brennan's son).
Look at this guy! B. 1922 in Sandness, Norway. He was in Stargate (Prof. Longford) and Titanic (Olaf Dahl), the fire commissioner in Ghostbusters II, did a St. Elsewhere ep (Dr. Sven Hosltrum), "Hotel Travel Clerk" in Hitchcock's Torn Curtain (1966). Imdb lists 80 acting jobs, starting with 2 a two-parter for GE True (1962, so he was 39 or 40), ending with a part (Sven Halleus) in some kind of wacky comedy called Formosa (2005). Around "Wink,"  he was doing The Invaders, The Outcasts, Bonanza, Guns of Will Sonnett, "Digger" in Tell Them Willie Boy Is Here, 3 eps of Mission: Impossible in minor roles.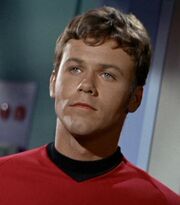 Dead redshirt, no birth year. "He was so young!" Kirk says, because the guy's character has to age really fast and die. IMDB lists a dozen acting jobs. "Wink" was his first, followed by Medical Center a couple of years later, then a dribble of parts: Room 222, Mod Squad, Adam-12, nothing big. In 1974 he played J. Edgar Hoover's special friend, Melvin Purvis, for a TV movie about Pretty Boy Floyd. "Second Warrior" in an ep of Battlestar Galactica (1978). Last role: Mike O'Malley in a movie called Raw Force (1982).
Stunt redshirt, no birth year. Eddie Hice, Mel Apha says he's "a stuntman, stunt coordinator and second unit director whose work includes films such as all of the four Planet of the Apes films," plus lots else. IMDB lists acting jobs that start in 1959 (two eps of The Texan) and end in Hard to Hold (1984, he was "Waiter"). Stunts start with a Get Smart in 1965 and end in 2007 with the film Georgia Rule. Around "Wink" his stunts were mainly for films, including Countdown, Bonnie and Cyde and MASH. Acting he had 3 eps of Get Smart ("Blindfolded Accountant"). In 1970 a part in a movie called The Girl in the Leather Suit, part was "Red Beard"—bet he was some menacing young hipster hanging out in vicinity of the girl in the suit.
Unknown aliens. She's a looker, though maybe her face is too long for tv. The poor guy is being humiliated by costume and wig.