In the two previous parts of this essay, we surveyed the intersection of comics and architecture in a one-sided way: showing how comics draw on architecture.
But what do comics have to offer architecture in return?
In conjunction with the Archi et BD exhibition reviewed in part 1, several architects were asked about their relationship to comics.
Francis Rambert and Jean-Marc Thevenet , curators of the exhibition
David Trottin, co-founder of the Peripheriques architectural collective:
"Many are the architects who have been marked by Gotham City and all those American cities you'd see in Strange [a French superhero reprint mag] and other comics. More recently, I've been attracted by the strips of Charles Burns or Daniel Clowes (…) I like this vision of the city, cleaving to reality while leaving the door open to the supernatural. These authors create a sideways banality ("un banal decalé").
The city, anyway, is never so beautiful as when it is the medium of a story.
We architects are not supposed to tell stories.
And at the same time, our role is to imagine places for living. This debate about the 'scripting' of life in the architect's work is extremely interesting."
So it would seem that comics provide a source of inspiration, but also of reflection.
As Trottin indicates, narrative is inherent to architecture yet secretive, difficult to articulate; one can, however, follow possible architectural narratives in comics. Comics can serve as a sort of test lab for the liveability of a space. It is always a challenge, in an architectural drawing, to show how human beings will occupy and inhabit a space.
But if there's one thing comics characters do well with architecture, it's to inhabit it– and architects are very much aware of this.
Reza Azard, from the Projectiles studio that designed the Archi & BD exhibition:
"For architects, drawing is primordial, it even represents a great part of our work. Before construction, there's the project that must be drawn and, in order to convince, the drawing must express life, emotions, things one finds in films and in comics, which are media that place man in his context. Many architects are inspired by films and comics."
As a parodic, playful witness to this inspiration, this tribute to Winsor McCay's Little Nemo by cartoonist Marc-Antoine Mathieu:
(Comics certainly are also useful for presenting the architects' work: Trottin's Peripheriques agency produced its 2003 catalogue in the form of a comic book. The same goes for the Danish agency BIG, which has sponsored a travelling exhibit of its work– 'Yes is More', a parody of Mies Van der Rohe's dictum 'Less is More' — jointly with a comics-formatted catalogue; see the result here)
And architects also revel in the sheer invention and vitality of comics. Here's the cover of a manifesto by the 1960s British architectural agency Archigram: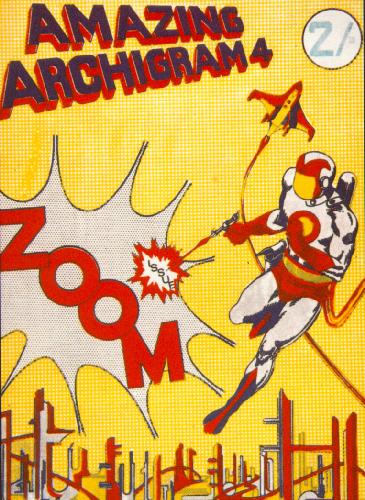 Yes, this draws on the Pop Art and Camp vibe of the times, but I prefer to think the Archigram crew was attracted by the brashness, the childishness, the sense of play of comics — of illicit creativity.
They certainly proposed fantastical projects that could, indeed, have come straight from the comics, such as their Walking City: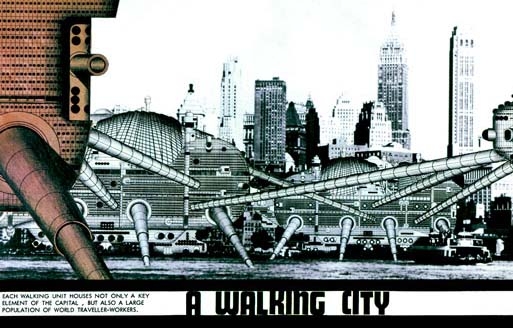 Norman Foster has done more than any other architect to bring to life some of the spirit, and even the fabric, of the optimistic, technologically underpinned world celebrated in the futuristic British strip Dan Dare by cartoonist Frank Hampson.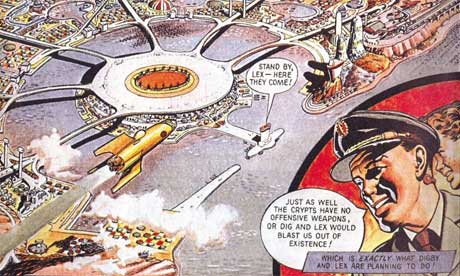 Foster is in no doubt that Dan Dare has been a genuine influence on his work. In 1983, he even commissioned John Batchelor, a former Eagle artist, to draw the new Renault Distribution Centre in Swindon as a pullout poster for the Architectural Review, which ran a feature on Foster's approach under the headline: The Eagle has landed. (The Eagle was the comic magazine in which the strip ran.)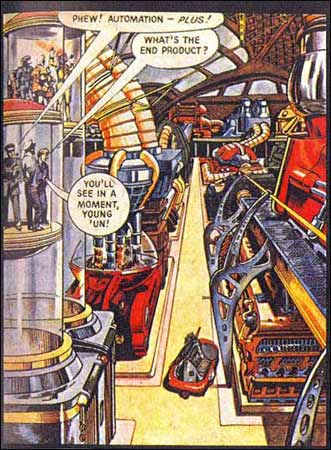 "I loved the coloured, cross-sectional, technical drawings that appeared in the middle of the Eagle after Dan Dare," says Foster.
One Dan Dare episode features Big Ben housed in a Perspex sheath, shaped exactly like Foster's famous Swiss Re building in the City of London, the so-called 'gherkin' (pictured above).
Laurie Chetwood, born in 1957, is one of Britain's leading architects. His most recent proposal is a $300m space-age sanctuary for world leaders in the Nevada desert. It looks exactly like something Dan Dare would manoeuvre his rocket around.  Says Chetwood:
Architects don't often seem to have had childhoods. Or at least, they pretend they can't remember them, in case they appear to be less than earnest. My cousins handed me down their Eagle annuals, and I became a Dan Dare fan. I drew loads of space rockets and strange machines.
The draftsmanship skills required of a cartoonist and those required of an architect are similar– rigor, clarity, mastery of perspective and space, a controlled line, a good sense of measure and proportion.
(These skills, however, may seem less and less relevant to young architects in this age of computer-aided design; I once had a book entitled Perspective for Architects — incidentally the most useful book on drawing I have ever owned– in which the author scolds architects for their poor draftsmanship, comparing them unfavorably with illustrators and cartoonists.)
Many cartoonists have had training in architectural or technical drawing. Dave Gibbons, of Watchman fame, trained as an engineer ( he points out that not only could he draw a window, he could also build one), as did Jacques Martin, the author of the Alix series set in ancient Rome:
Jacques Martin, Alix
The late Marshall Rogers trained as an architectural draftsman, a fact readily apparent from his city backgrounds:
Marshall Rogers and Terry Austin, Detective Comics
Some cartoonists, however, go beyond depictions of buildings and get involved in building design and decoration.
The most basic way is the painting of exterior murals. And, indeed, the city of Brussels — one of the historic capitals of comics creativity — has commissioned 32 of them to adorn its streets with the works of popular cartoonists: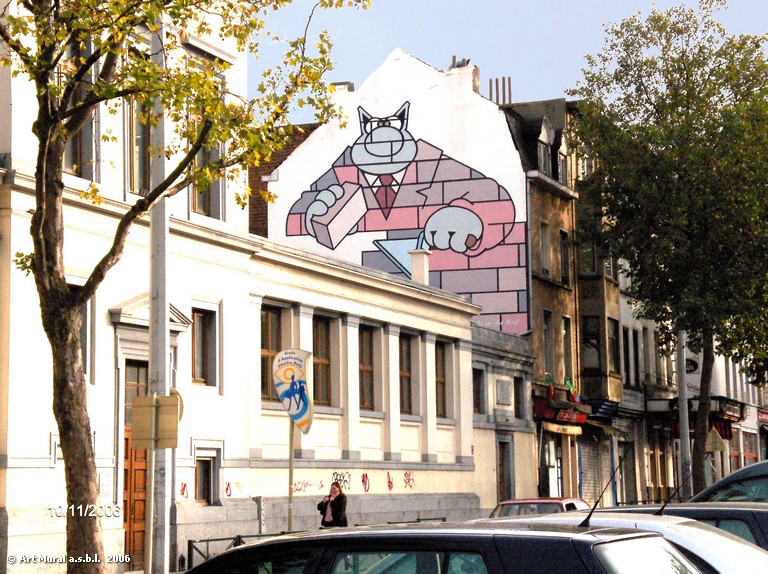 Le Chat, by Phil Geluck

Cory Moussaillon, by Bob De Moor
However charming these be, for the most part the murals don't integrate well with the buildings — merely adding an illustrative layer on the facades– sometimes to add a gag: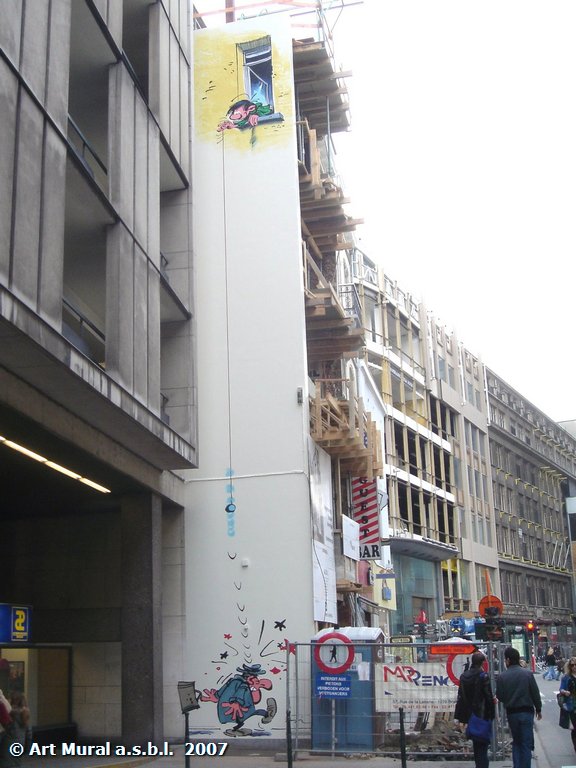 Gaston Lagaffe, by Franquin
Here is a complete series of photos of this delightful urban phenomenon
But one in the series does seem to dialogue with its support: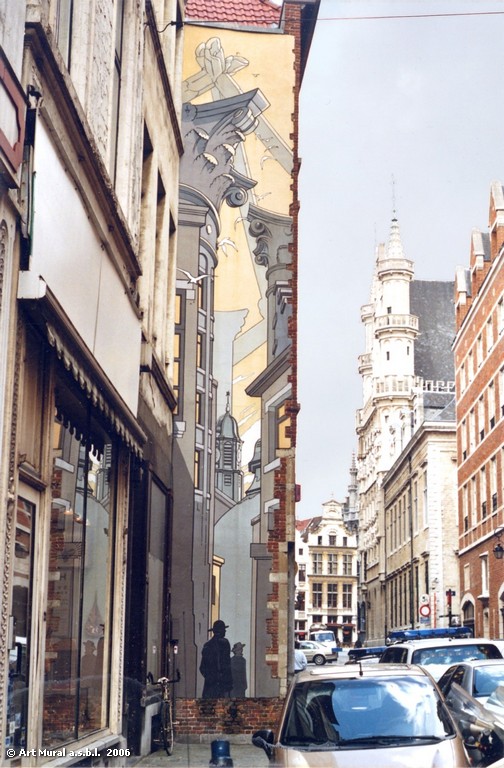 … and this doesn't come as a surprise, for the comics artist who designed it has thought much about architecture over his three-decade- plus career's span: François Schuiten.
A typical architectural fantasia by Schuiten



And another one
His most renowned series in that vein is Les Cités Obscures, written by Benoit Peeters.
Francois Schuiten and Benoit Peeters
These stand-alone but thematically connected works deal in an often fantastic or metaphoric mode with humanity's relationship with the city and with buildings.

In Les murailles de Samaris (the Great Walls of Samaris) a mysterious city seems to be in a perpetual state of flux, with shifting walls and morphing buildings:

From Les Murailles de Samaris
In La Fièvre d'Urbicande (Fever in Urbicand) two cities that have always been separate are joined by a strange grid that starts out as a desktop toy and grows slowly to immense size, overlaying the cities:
La Tour (The Tower) is Schuiten's take on the Tower of Babel legend, with a nod to Borgès, featuring a Medieval-style tower of seemingly infinite height and depth.
All in all, there are nine Cités Obscures albums so far; several are available in English from NBM.
And another urban landscape…these are addictive



It comes as no surprise that an artist of his accomplishments should be solicited to realise those architectural "dressings" known as scenographies. And, indeed, Schuiten has done several; most spectacularly, a platform on the Paris Metro's 'Arts et Métiers' subway station:
Schuiten's preliminary sketch
The finished station
You step into a dream of "steampunk", a Jules Verne setting made real, a way station in the Cités Obscures.
In walls of copper sheathing, portholes worthy of Captain Nemo's Nautilus display models of marvellous inventions from the Arts et Métiers museum.
In the tunnel's ceiling, we see the ominous edges of gigantic gearwheels…for what obscure purpose?
Schuiten has also designed scenographies for the Pavilion of the Grand Duchy of Luxemburg at the Seville World's fair, and the Pavillon des Utopies (A Planet of Visions) at the Hanover World's Fair.
World's Fairs? How appropriate for a designer of architectural utopias.
Schuiten comments:
"The risk in drawing utopia, is that it isn't incarnate, it distances itself from reality, that it is complacent in its own invention and detaches itself from the roughness of reality. So, when one works on worlds, one wishes to test them> my drift into scenography allowed me this, and in exchange has modified my draftsman's gaze. This back-and-forth between the two forms of expression creates a new awareness of what drawing can bring and what reality cannot."

What the heck, I can't resist… Schuiten adapts Jules Verne's 'Paris au XXeme Siecle'
François' brother and erstwhile collaborator, Luc Schuiten, has abandoned comics altogether and become an architect full-time.
His projects, though, show definite comics influences in their utopian designs:
Jean-Claude Mézières, the artist on the noted science-fiction series Valérian, was commissioned by the city of Lille, France — the European Capital of Culture for 2004 — to transform a boulevard into a spaceport landing strip: ' Le Chemin des Etoiles' (The Way of the Stars):
The Dutch illustrator and cartoonist Joost Swarte is also known for the strong architectural presence in his drawings; he is yet another artist with training in industrial design:
Joost Swarte
Swarte has collaborated with architects to actually design and realise buildings.
His first major project was the Toneelschuur Theater in Haarlem, in partnership with the Mecanoo agency:
Swarte:
"Architecture projects are big puzzles to be solved… An architect friend pointed out that a wall is a pen-line on paper, while it has thickness in the real world. I'd forgotten that when I had started organising the different spaces in the theater. But walls make up about 15% of a building's area! Comics also have this advantage over architecture that you can launch a project with zero budget…"

The Swarte/Mecanoo design for the Toneelschuur Theater in Haarlem
The director of the Hergé foundation, Nick Rodwell, then asked Swarte to design the Herge Museum in Louvain-la Neuve; with Thierry Groensteen — a man possessing great experience as a comics curator — and Philippe Godin, the foremost Herge scholar, as consultants, he came up with a design for the building that was completed by architect Christian de Portzamparc.
The Musée Hergé under construction
Front approach to the museum
The main hall

Footbridges link the four main exhibit rooms; Pontzamparc compares them to the gutters between panels

Note how the spaces reserve surprises and summon the spirit of exploration and adventure of a Tintin album:

Side view; note the colors, all carefully matched to those in the Tintin albums.




Swarte:

"It's bizarre, but when I'm working on an architecture project, I think about the comic I could make of it. And on the other hand, when I'm doing a drawing, I start drawing facades, and imagine what I can put behind them. I can't fight it! It's natural."

The Musée at dusk
Christian de Portzamparc:
"The Musee Hergé is perhaps the only example of a comic transformed into architecture. At least, it has materialised in three dimensions".

Joost Swarte also designs for other media. Here he presents his tapestries at the Stadhuis (City Hall) of Haarlem
Hob-nobbing with architects is all very well, but why shouldn't the guys who actually build the building inspire cartoonists? Why this snobbery towards the hard-hats? Cartoons may lead to construction, but can't construction — with your own two hands — lead to cartoons?
The cartoonist Alan Weiss spent a summer on a construction site; it got him thinking about the lack of real proletarian heroes in mainstream American comics.
Thus was born Steelgrip Starkey, a genuine blue-collar fusion of Li'l Abner, Edison, and Doc Savage: a superhero who disdains violence for the kicks of building huge wicked cool projects the world over! Check out this quirky but good-natured series from Marvel Epic.
Yes, I know — the full title sounds like a porno movie. So sue me already.

***********************************************************************************
There is a final, compromised but creative way for cartoonists to "realise" their architectural ambitions, through a third artform: the cinema.
Directors and designers have not been slow to call on the creativity of comics artists. Ron Cobb designed the ship Nostromo's interiors for Ridley Scott's Alien; Mike Ploog designed for films such as Tomb Raider.
Two of France's top science-fiction comics artists were the chief designers of director Luc Besson's The Fifth Element, and that film's futuristic New York: Jean 'Moebius' Giraud and Jean-Claude Mezieres. Here are a few of Mezieres' preliminary sketches:
And here's Meziere's designs come to life:
Mèzière's city comes to cinematic life in this clip.
Enki Bilal has gone further, directing as well as designing Immortel (Ad Vitam), an adaptation of his Nicopol series of albums: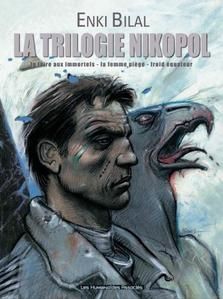 Another option for cartoonists who wish to concretise — if only virtually — their designs is video games. Such was the path chosen by Benoit Sokal, the creator of the anthropomorphic noir series Inspecteur Canardo.
Inspecteur Canardo, the police duck, in an introspective moment
Sokal was the designer behind the games Amerzone and Syberia.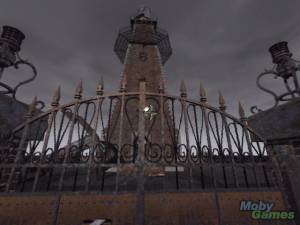 From Amerzone
From Syberia
This concludes my essay on comics and architecture; as a valediction, this advice:
Architects, draw more; cartoonists, build more.
****************************************************************************
"Concludes"? I wish! this is too vast a subject.
Where, for example, have I mentioned Alan Moore's and Eddie Campbell's From Hell, in which architecture is used narratively in such an innovative way?
What of the Japanese comics masters?
In other words, I can't exhaust this subject, and follow-up columns on it will appear from time to time; as ever, your suggestions are welcome.
********************************************************************************
This is part 3 of a 3-part series. Click here for part 2 and part 1