Ezra Pound, by Wyndham Lewis
"Pound was friends with (former lover of?) HD (he was sort of the Kevin Bacon of modernism)" — Caroline Small

"Wow, I didn't realize Pound actually knew Beerbohm. It's that Kevin Bacon thing…." — Noah Berlatsky
What were you thinking, my learnèd colleague and fellow Utilitarian Caro?
What on Earth could connect Ezra Weston Loomis  Pound (1885–1972), the modernist Poetic Master of the Revels, author of the Pisan Cantos…to the respected Hollywood actor Kevin Norwood Bacon (1958–     ), the sensitive megastar of classic films such as  Animal House and My Dog Skip ?
Kevin Bacon wants YOU!
The answer is–
More, much more than you would think!

---
There is a theory that all humans are connected by a limited amount of connections, or degrees of separation– A knows B,  B knows C,  C knows D, thus indirectly connecting A and D.  Spooky mad genius Stanley Milgram (1933- 1984) demonstrated that the average number of degrees of separation between Americans was 3.
Stanley Milgram, thinking up new ways to screw with your brain

The notion of the average number being six originated with playwright John Guare:
"I read somewhere that everybody on this planet is separated by only six other people. Six degrees of separation between us and everyone else on this planet. The President of the United States, a gondolier in Venice, just fill in the names. I find it A) extremely comforting that we're so close, and B) like Chinese water torture that we're so close because you have to find the right six people to make the right connection… I am bound to everyone on this planet by a trail of six people."

— John Guare, Six degrees of Separation
Naturally, when first I heard of this theory I scoffed.
"Oh, scoff!",  I thought, "so I'm only separated by six people from the Queen of England?"
Wait a minute…
My mother was a close friend of actress Tippi Hedren, who held me in her arms when I was a baby.
Hedren starred in the films The Birds and Marnie, directed by Alfred Hitchcock.
Hitchcock was knighted by Queen Elizabeth II.
I was separated from Her Majesty by only 3 degrees.
What about Hitler?
I knew my father, of course.
He once met Charles De Gaulle at a reception.
De Gaulle once served as the aide of Philippe Pétain.
Pétain was the head of state of Vichy France, put there by Adolph Hitler.
Four degrees from Alex Buchet to Adolph Hitler.
So, where does Kevin Bacon come in?
A popular party game, 'Six Degrees of Kevin Bacon',  purports to link the hard-working actor to any of his thespian colleagues in 6 degrees or fewer.
For example:
Alfred Hitchcock was in Show Business at War (1943) with Orson Welles, and
Orson Welles was in A Safe Place (1971) with Jack Nicholson, and
Jack Nicholson was in A Few Good Men (1992) with Kevin Bacon.
Find the Bacon is a website where you can play this intellectually stimulating pastime ad libitum.
---
Back to  Ezra:
When Caro likens Pound to Bacon, she is pointing out his extraordinary connectivity as a writer, editor, mentor and critic. Dozens of writers and artists counted among his acquaintances. He was a true nexus of the Modernist movement.
Ez  hangin' with the homeboys from his posse: (left 2 right)  Ford Madox Ford, James Joyce, Ezra Pound, John Quinn.
But can he not be even more connected?
How many degrees separate Ezra Pound from another  American artistic  Titan of the 20th century, Jerry Lewis?
How to get from here:
…to here?
The American part of me looks askance at such a possible connection; the French part of me rejoices, knowing better, agreeing with the dictum of  Bartleby's  author:

"For genius, all over the world, stands hand in hand, and one shock of recognition runs the whole circle round".

—Herman Melville, "Hawthorne and his Mosses," The Literary World, August 17 and 24, 1850

Ezra Pound: Pavannes and Divisions (1916)

Let's put this to the test.
Ezra Pound's mugshot. Scary dude, eh?
Ezra Pound was the editor of Thomas Stearns Eliot (1888 – 1965).

T.S. Eliot, by Wyndham Lewis
Eliot was a friend of Julius Henry "Groucho" Marx (1890-1977).
(No joke; Groucho loved Eliot's poetry, and Eliot was a huge Marx Brothers fan; he wanted to pen a screenplay for Sweeny Agonistes, the film to star Harpo Marx as Sweeny.)
Art by Al Hirschfeld
Groucho starred in the 1949 film Love Happy, written by Frank Tashlin (1913- 1972).

Tashlin used to be a comic strip artist under the pseudonym 'Tish-Tash'. Hey, this is a comics blog — I get my justification where I can find it

.
Tashlin, starting with Rock-a-Bye Baby (1958), directed  6 films starring Jerome Levitch, a.k.a Jerry Lewis (1926-     )
Jerry Lewis ALSO wants you!
So that's 4 degrees of separation between these two cultural  masters.
Of course, it'd be easy to link Pound to Frank Sinatra (1915-1998) from here: merely note that Dean Martin (1917-1995) was Jerry's comedy partner, and that Martin co-starred with Sinatra in such Rat-Pack fare as Robin and the 7 Hoods.  This gives us two more degrees of separation, for a total of 6.
Ring-a-ding-o!
But can't we link the theorist of Vorticism and the Chairman of the Board of Entertainment in a more streamlined way, I hear you ask?
Natch, Clyde.
Ezra Pound edited and published A Portrait of the Artist as a Young Man, by James Joyce (1882 -1941).
Joyce's secretary was once Samuel Beckett (1906-1989).
Beckett wrote the screenplay for the 1964 short movie, Film, starring Buster Keaton (1895-1966).
Keaton made a cameo appearance in the 1956 movie Around the World in Eighty Days, as did Frank Sinatra.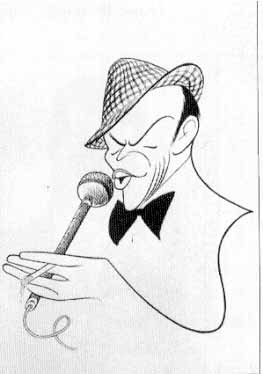 Art by Al Hirschfeld
There! Four degrees of separation — so much more elegant.
How to reach from Ezra to Joe Dimaggio (1914-1999), though?  Two such revered icons of American civilisation must be connectable.
And Joe, like Ezra, was no stranger to poetry.
Witness this 1941 song by Ben Honer and Alan Courtney, as performed by Les Brown and sung by Betty Bonney:
Hello Joe, whatta you know?
We need a hit so here I go.
Ball one (Yea!)
Ball two (Yea!)
Strike one (Booo!)
Strike two (Kill that umpire!)
A case of Wheaties
He started baseball's famous streak
That's got us all aglow
He's just a man and not a freak,
Joltin' Joe DiMaggio.
Joe, Joe DiMaggio
We want you on our side
He tied the mark at forty-four
July the 1st you know
Since then he's hit a good twelve more
Joltin' Joe DiMaggio
Joe, Joe DiMaggio
We want you on our side
From coast to coast that's all you'll hear
Of Joe the one man show
He's glorified the horsehide sphere
Joltin' Joe DiMaggio
Joe, Joe DiMaggio
We want you on our side
He'll live in baseball's Hall of Fame
He got there blow by blow
Our kids will tell their kids his name
Joltin' Joe DiMaggio
We dream of Joey with the light brown plaque
Joe, Joe DiMaggio
We want you on our side
And now they speak in whispers low
Of how they stopped our Joe,
One night in Cleveland Oh Oh Oh
Goodbye streak DiMaggio
Closer to our troubled times, 1966's song from the film The Graduate –as sung by Simon and Garfunkel— Mrs Robinson, in its final peroration eerily echoes Pound's Hugh Selwyn Mauberly (1920) and its disillusionment and pessimism in a world where the notion of a hero is an empty mockery:
Where have you gone, Joe DiMaggio,
Our nation turns it's lonely eyes to you.
Woo, woo, woo.

What's that you say, Mrs. Robinson?
Jotting Joe has left and gone away,
Hey hey hey.
Ah hey hey hey.
The Yankee Clipper: Joltin' Joe
Go back to Groucho. That film Love Happy was also the debut of Marilyn Monroe (1926-1962)…who of course married Joe Dimaggio.
Awwwww…
Four degrees.
What of Kevin Bacon, though? How does he connect to Ezra?
Ezra Pound…
…was the editor of Ernest Hemingway (1899- 1961).
Hemingway's novels A Farewell to Arms and For Whom the Bell Tolls were adapted as  films, starring Gary Cooper (1901- 1961), who became a friend.
Cooper also starred in Sergeant York (1941), along with June Lockhart (1925–   )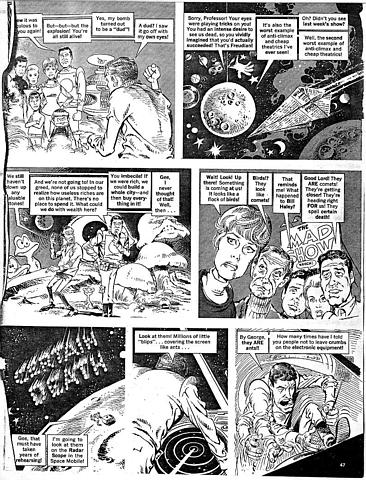 June is first from left in panel 4; art by Mort Drucker
And in 1989, Lockhart acted in the movie The Big Picture, alongside Kevin Bacon.
Four degrees.
What about myself?
Among the surrealists Pound mingled with in Paris was the painter Max Ernst (1891- 1976)
In 1974, Ernst met Alex Buchet (1954– ) at a cocktail party.
(His only words to me were: 'You thought I was dead, didn't you?')
Two degrees of separation.
---
Challenge to the Reader! (apologies to Ellery Queen)
Ezra Pound to Ernest Borgnine in 3 degrees.
Art by Wyndham Lewis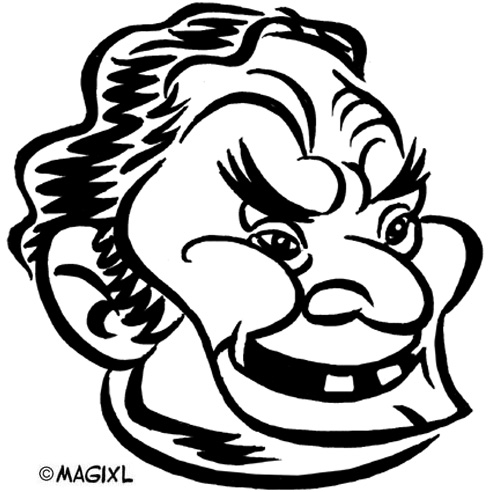 Here's the answer: to read it, drag your mouse cursor over the text while pressing the left-hand button.
Pound edited Ernest Hemingway.
Hemingway was a friend of Gary Cooper, who starred in 2 film adaptations of his novels.
Cooper and Ernest Borgnine both appeared in the film Vera Cruz (1950).
But no fair peeking before you've tried.
And dear Reader– hypocrite lecteur, mon semblable, mon frère!– by all means post in 'comments' your own challenges.
For those of you who think I've overloaded this post with pictures:
It is better to present one image in a lifetime than to produce voluminous work.
–Ezra Pound