Yesterday, Robert Stanley Martin argued that there was satirical intent in R. Crumb's Cheap Thrills album cover.
Contrary to Noah Berlatsky's reading of the second panel in his "Crumbface" essay (click here), I don't feel any of it is gratuitous. It's a pointed rebuke that did not flatter its ostensible targets. Telling Joplin that's she's engaging in a "Mammy" routine, as well as identifying her audience in part with an Al Jolson figure, is not something that would be calculated to endear Crumb to either. And given the avowedly anti-racist liberal politics of the San Francisco counterculture scene that Joplin and her early audiences belonged to, Crumb also pointed the way for their political enemies to cluck at them for hypocrisy. It didn't cause offense because Joplin and her audience were sophisticated enough to both recognize and at least tacitly acknowledge the failing Crumb was highlighting.
It's a thoughtful defense. I'm still not convinced though.
First, Robert says that Joplin and her fans would not have found Crumb's satire of their black appropriations comfortable.
However, Drew Friedman's account seems to contradict this:
Interestingly, Crumb's original intention was for this art to run on the back cover and a portrait of Joplin to run on the front. But Joplin loved the the comic strip art so much, (she was an avid underground comics fan, especially the work of Crumb, and already at that point in her escalating career, had the power to hire her own cover artist), she decided to run it on the front.
That certainly doesn't sound like Crumb's satire made Joplin at all uncomfortable. I haven't been able to find anything online suggesting that fans were put off either. Maybe Joplin's just kind of dumb of course…or maybe, as Robert suggested, she was self-aware enough to find a pointed reference to her black roots amusing. Still, if satire doesn't cause its targets even the least discomfort — if they in fact want to put it on the cover of their product — does it make sense to call it satire?
More important than intention or audience reaction, though, is the image itself. And I don't think that image sustains a claim of satire.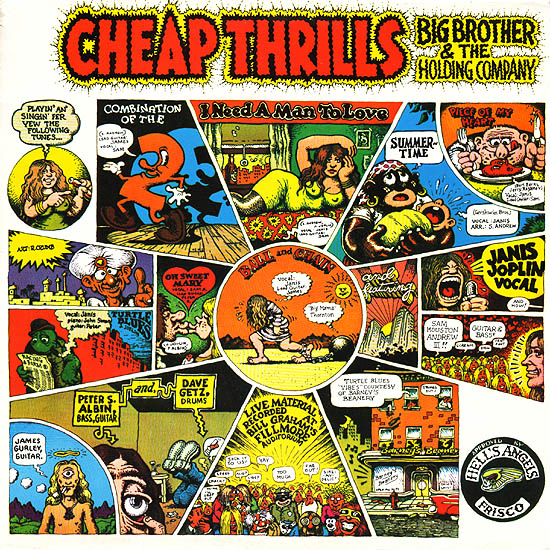 Look at the rest of the album cover; the images other than the blackface caricatures. None of those images is satirical, or pointed. Instead, they're silly and/or sexy and/or energetic. Many of them rely on goofy puns ("Piece of My Heart", "Combination of the Two") The center top image shows a woman (probably meant to be Joplin) in a sultry pose with prominent nipples clearly visible through her top. On the left hand side, there's a drawing of a goofy, stereotypical Indian with traditional headdress. On the bottom, there's a caricature which seems to conflate Jesus and Eastern mysticism.
Robert argues that the blackface caricatures are different. Instead of an expression of high-spirited high-times and easy irreverence, he argues, the blackface caricatures are a critique. In them, Crumb is showing Joplin's connection to and reliance on a black musical tradition, and linking her to earlier white performers who relied on that tradition, like Al Jolson.
But, as an alternate reading…couldn't Crumb just be more or less thoughtlessly using blackface iconography because it's funny and energetic? Couldn't the images just be examples of high-spirited high-times, and of Crumb's irreverent refusal to bow to the 60s equivalent of political correctness? Couldn't his use of blackface be like his use of prominent nipples or his use of a sacrilegious Jesus caricature? That is, couldn't the blackface caricatures be used because they are fun, and because they are (at least somewhat) shocking, rather than because they skewer Joplin and her fans?
Intent is hard to parse, of course. But I think if you're going to argue for satire, you need to explain what Crumb has done to distinguish between blackface-as-critique and blackface-as-nostalgic-scandalous-good-times. If the cover can be read as fun good times, and the blackface can be easily incorporated into the idea of fun good times, and Joplin and her fans embraced it, presumably as an icon of fun good times, it's really not clear to me why I should give Crumb credit for making a pointed political statement. On the contrary, it seems to me that he's using blackface like he's using nipples and silly puns — as a cheap thrill. And, as I said before (to Jeet Heer's annoyance)using blackface as a cheap thrill still makes Crumb, to my mind, kind of a shithead.
I have to say too…even if Robert is right, and it's a satirical take, I still find it pretty dumb. As I note in that Comixology article, "Summertime" is one of the great interracial collaborations in American song. Written by George Gershwin about the black experience, it was based on Eastern European folk melodies and adopted by many of the greatest American performers of various races. It's a song whose history challenges the usual narrative of white appropriation of black music. George Gershwin didn't don blackface to become a pretend black person; he collaborated with black people over decades in order to interpret an American experience through an American art that was neither white nor black.
The usual narrative of blackface appropriation— applied to Elvis, or Janis Joplin, or whoever — is itself part of our racist past. It assumes that blacks are the authentic creators of music, the magical Negroes, to whom whites must go to draw upon true musical genius. And I think you can actually see Crumb's cover as plugging directly into this; his use of black caricatures does not so much critique Joplin's music as light-heartedly validate it. The caricature in the center bottom panel, the black man digging Joplin's music, is not a sneer at Joplin — it's a goofy thumb's up. See! Whoohoo! Even black people dig this music! Similarly, the shouting baby, all gusto and throat, is not a critique, but a funky wink. Joplin gets her lungs from that true source. And that true source is a stereotypical black mammy.
American music is, and has always been, both black and white, with performers of every race borrowing and learning from each other. The reason blackface is racist is not because white performers were inspired by blacks, but because they gilded their black influences with invidious racist stereotypes. Crumb's use of blackface caricature is, therefore, neither fun nor, even in the most generous interpretation, insightful. It perpetuates simplistic images of black people and of race in the U.S. The Cheap Thrills cover is an ongoing testament to Crumb's great illustration and design skills, and to the extremely limited intelligence with which he often employs them.
____________
Update: This post is part of an ongoing roundtable on R. Crumb and race.