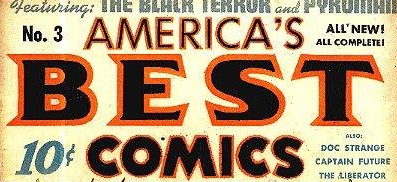 Just a reminder that we're coming up on the deadline for you to submit to the Best Comics Poll, organized by Robert Stanley Martin. We already have over 120 lists from comics creators, bloggers, academics, and journalists. We're really excited about how the poll is shaping up, and we hope you'll contribute!
Here is Robert's announcement of the details:
Would you like a break from all the incessant, pretentious squabbling here at The Hooded Utilitarian? Well, so would we! And we're going to have a party!

We've already started sending out personal invitations to comics creators, members of the comics press, and various others to participate in a poll. We want to know their favorite comics of all time. In early August, we're going to start counting down the top vote getters until we get to the winner of our little popularity contest. We will then publish all the submitted lists so everyone can see who voted for what. You may find your taste in comics is simpatico with people with whom you never thought you agreed.

The specific question of the poll is this:

What are the ten comics works you consider your favorites, the best, or the most significant?

We want lots of participants, lots and lots of them. We want more than we can ever hope to think of inviting. So we're making a public announcement. If you can make any real claim to being a member of the comics press or comics academia, to being a professional creator in the comics, cartooning, and illustration fields, or an owner or employee of a comics-related business, you're eligible to participate as long as we can easily verify your status. If you're a comics blogger, no problem! A web-comics creator? No problem! An English professor who has assigned comics in your classes? An employee of a book publisher that handles comics? No problem! We want your list. And please pass our request on to eligible people whom you think might be interested!

If you send your list, and you are interested in writing a short appreciation of one of your favorites, we ask you to let us know. However, please remember that The Hooded Utilitarian is a not-for-profit writers cooperative and cannot pay for published submissions.

Here are the submission guidelines:

Send your list in an e-mail to [email protected]

Please don't send your list in an attachment. E-mails with attachments will not be opened.

If you haven't been sent a personalized invitation, please include a brief note explaining who you are and a website where we can go to confirm your status. If you send your list from an employee e-mail account from a comics-related or otherwise suitable employer, that should be sufficient. (Though don't do anything that might get you into trouble with your boss.) Please keep in mind that if you have not received a personalized invitation, we cannot guarantee you will be participating in the final vote.

Please send your list by June 22, 2011. If you have received a personalized invitation, and we haven't heard from you by June 15, we'll send you a reminder notice asking you to please get it in by June 30.

Here are the guidelines for preparing your list:

First, here's a sample list:

Barbarella, Jean-Claude Forest
The caricatures of Victor Juhasz
Curtis, Ray Billingsley
The editorial cartoons of Bill Day
The single-panel magazine cartoons of Rowland B. Wilson
The Mystery Play, Grant Morrison and Jon J Muth
Samurai Executioner, Kazuo Koike and Goseki Kojima
X-Men, Roy Thomas and Werner Roth
X-Men, Chris Claremont, John Romita, Jr., and Bob Wiacek
The Zap Comix stories of Robert Williams

Your list may include any newspaper strips, comic-book series, graphic novels, manga features, web comics, editorial cartoons, and single-panel magazine cartoons. These works can be from any country of origin. Please do not include an entry that has yet to be published.

Each of your list's entries should consist of the name of the work and its author(s).

With newspaper strips and corporate-owned comic-book features, we ask that you list runs by different creative personnel as separate entries. Do this in the manner of the two X-Men entries in the sample list above. If your list includes an entry like "X-Men, Roy Thomas, Werner Roth, Chris Claremont, John Romita, Jr., and Bob Wiacek," we will print it as part of your list, but it will not be counted as a vote towards the final one.

In the case of features in alternative-comics series that were later published as distinct graphic-novel collections, please use the graphic novels when preparing your list. For example, if you would like to vote for work by Daniel Clowes that was originally published in Eightball, we ask that you vote for Ghost World, Ice Haven, or Caricature & Other Stories, etc. as separate entries.

With a manga or graphic-novel series by a single author (or author team) that stars continuing characters, please vote for this as a single work instead of for individual volumes. If you vote for multiple volumes, it will only be counted as one vote for the feature.

With caricaturists, editorial cartoonists, and single-panel magazine cartoonists, we ask that the entry be for the cartoonist's body of work in that mode.

Please do not vote for anthology publications. Please vote for an individual piece or a continuing feature in the anthology. Voting for a single author or author team's body of work in the anthology is fine, such as the entry in the sample list of Robert Williams' body of work in Zap Comix. The rare anthology in which the editor played a primary creative role in the featured material, such as Harvey Kurtzman's Mad, is also fine.

While you are free to rank your lists (we will show your rankings when we print your submissions), your rankings do not weight your votes in the tally for the final list. Each of your entries will be counted as one vote.

If you send a list with less than ten entries, all will be counted towards the final tally. If you send a list with more than ten entries, we will likely write back to ask that you restrict your entries to ten. If you do not reduce your list to ten, we will count none of your entries as votes in the final list, although we may print your list with an explanatory note in the submissions posting.

We reserve the right to count votes towards the final tally as we see fit.

Don't get stressed preparing your list. The point is to have fun!

If you have any questions, please e-mail them. We'll do our best to help.
Please feel free to reprint this, link to it, and otherwise pass it around.