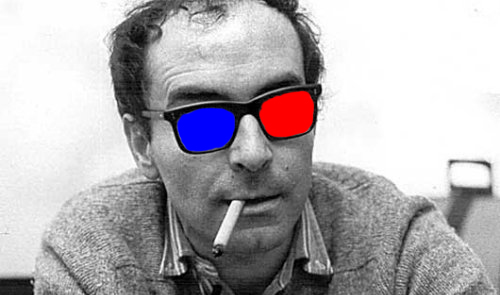 We've had an interesting discussion of Godard's relationship to Brecht in comments, and I thought I'd highlight it here.
Charles Reece started it off by comparing Brecht to Godard in his post on One Plus One.
As our reality was becoming increasingly mediated by images, where the representation of life was replacing life and human relations were displaced through commodities (compare Pierrot le fou's famous dinner party scene in which the guests communicate through ad-speak to Guy Debord's Society of the Spectacle), Godard radicalized his films in Brechtian fashion by subverting cinema's conventions, calling attention to their mediating effects (albeit Debord and the Situationists weren't fans): music pops up arbitrarily, dialogue doesn't sync with the images, quotes (both visual and textual) are used in abundance but frequently have no logical connection to what little plot is involved, etc.
This prompted a series of interesting responses in comments, first by Craig Fischer:
I think you're the first person to invoke the "B" word in your post–labeling Godard's films "Brechtian"–and I'd agree that SYMPATHY's separation of elements, etc. follow the techniques of Epic Theater. Personally, though, I've always had trouble with Brechtianism, because (a.) it presumes that the author (or auteur) can create a text that can effectively govern reader/audience reactions, and (b.) it assumes that escapism is a bad thing. What about the counter-argument, made by the great Hollywood director John Sullivan, that escapism is "all some people have? It isn't much, but it's better than nothing in this cockeyed caravan…"?
Then Andrei Molotiu responded:
You're making Brecht's point for him. Of course, escapism is never "all some people have." A choice to educate oneself (for example in critical theory, which is only as far as the nearest public library), or to be a creator rather than just a passive consumer, is always possible. But the entertainment industry would like people to believe that is all they have, so as to keep them coming back as obedient consumers. There is a clear connection between corporate interests, the promotion of escapism, and the definition of film as exclusively narrative, fictional and diegetic (therefore providing a story and a place to escape to). From this point of view, "Brechtianism" is exactly the corrective that is needed. Furthermore, if I'm not mistaken, Godard is influenced by Brecht from the very beginning; the jump-cuts in "A Bout de souffle" are already such a verfremdungseffekt, though later they get absorbed fully into narrative filmmaking, forcing Godard to push alienation further and further (especially in "Weekend" and "La Chinoise"–I haven't gone back to read your review of the latter since reading this comment, but I'm not sure how one can enjoy it without being aware of exactly that intent–I mean, it's pervasive!)

(I'd also like to point something out here–about how your comment seems to posit "escapism" and "Brechtianism" as the only two choices… But discussing that would take forever. Let's just say I see it at least as a sliding scale, with many hybrid possibilities in the center, and also other approaches–Brakhage, say–that do not fit on the scale at all, though a Brechtian approach certainly could prime viewers for them.)

Your other "trouble with Brechtianism" is that "it presumes that the author (or auteur) can create a text that can effectively govern reader/audience reactions." But isn't that exactly what Hollywood does–indeed, isn't that Godard's main problem with the Hollywood institutional style? It's just that Hollywood does this through emotional manipulation, counting on an (ideal) ideologically-blinded viewer, while Brecht (and again, I haven't read him in decades, so I'm working from memory now) undertakes to educate the audience as to its own risk of being manipulated, and then refuses to manipulate it emotionally (for example, through catharsis, which, IIRC, was one of Brecht's bugaboos), rather trying to educate it and therefore (hopefully) to help it judge rationally the presented ideas and narrative?

Well, that's the theory, at least. In practice, as shown by Godard, verfremdungseffekts can clearly be used without a single-minded didactical purpose, can be used more "modernistically," I guess you could put it, but, nevertheless, the Godard/Brecht notion involves a more aware cultural consumer, one who is conscious of the possibility of his or her own ideological manipulation–a much more positive scenario, I'd say, than the ideal consumer of Hollywood spectacle that Sullivan's comment implies.
And then Craig again:
My mistrust of Brechtianism stems from Brecht's assumption that much of the misery in life is a product of capitalist ideology. Brecht, like Marx, is at heart a utopian; if we offer the masses an alternative to mindless escapism, Brecht says, they can take steps towards liberation. The problem with this, however, is that sometimes life can be brutal in ways that have little to do with ideology. People die and shit happens regardless of the nature of the social order, and during those times escapism can be a balm. The examples that come to me are personal ones—how after my mother's death I re-read old comics to escape into a nostalgic haze for a while—but I do think that SULLIVAN'S TRAVELS is a credible rebuttal to Brecht. Sometimes life sucks, and escapism helps.

In some ways, we're on the same wavelength here: we both lament the overwhelming dominance of Hollywood escapism, and you're right when you say that Brechtian aesthetics are a corrective. Given that Hollywood operates within a pathetically narrow narrative field, other types of films—Brakhage's closed-eye abstractions, Bergman's psychodramas, Antonioni's languorous ennui, etc.—function as radical alternatives. I'd also agree that it's a sliding scale between the extremes of Hollywood storytelling and Brechtianism, a point that Brecht himself acknowledges when he categorized his own plays into "culinary" Epic Theater (with enough old dramatic tropes to give pleasure to a mainstream audience) and Lehrstucke (much more experimental, and designed for already enlightened participants).

I'd disagree, though, that the Godard of BREATHLESS was Brechtian. The jump cuts and formal play in his earliest movies jolt the audience, but many of the pre-1965 Godard films don't follow that jolt with any political content or point-of-view. There are plenty of exceptions—the Algerian War in LE PETIT SOLDAT, or the critique of consumer culture in A MARRIED WOMAN—but movies like BREATHLESS, A WOMAN IS A WOMAN and BANDE A PART give us Brechtian form but virtually no radical content. In his book A CERTAIN TENDENCY OF THE AMERICAN CINEMA, Robert Ray points out that plenty of late 1960s-early 1970s Hollywood films (BONNIE AND CLYDE, FIVE EASY PIECES) borrow flourishes of Godard's style, but since the content (and the emphasis on narrative) doesn't change very much, the result is a jazzier version of Hollywood business-as-usual. I'm reluctant to call a text "Brechtian" unless it has both radical form and content.

Also, I'm sorry I wasn't clearer about my "trouble with Brechtianism." I'm perfectly happy to extend my skepticism about texts controlling audience/spectator/reader response to ALL texts, Brechtian, Hollywood, and otherwise. I stick close to the Cultural Studies belief that a text generates a multiplicity of responses, only some of which were anticipated by the creator(s) of said text. That doesn't mean that Brechtian movies can't have a radical effect—just that I think our assumptions about their radicalism should be humble and skeptical until proven otherwise.

In her book INTERPRETING FILMS, Janet Staiger argues that films (and the historical moments in which films are watched and discussed) generate a plethora of reading strategies, though some of these are much more dominant than others. I relied on Staiger's work in my dissertation, where I argued that US critics read Godard's late 1960s and Dziga Vertov films in many different ways, though by far the dominant reading was to co-opt them into a conservative "Godard as auteur" paradigm. That's happened here at HU too: the thread following John and Sandra's post is a list of favorite directors formidable enough to make Andrew Sarris blush. But is there tension in claiming that Lynch, Bresson or Godard are "radical" while admitting them to the canon and labeling them "great artists"?
__________
Images of Godard and Brecht with 3-D glasses from BRRRPTZZAP! the Subject.

The index to the Godard roundtable is here.