It's rare to get an invitation to complain about comics, so I'm going to jump in with enthusiasm, although I don't intentionally try to read crappy comics so I can only pick out a few comics which disappointed me.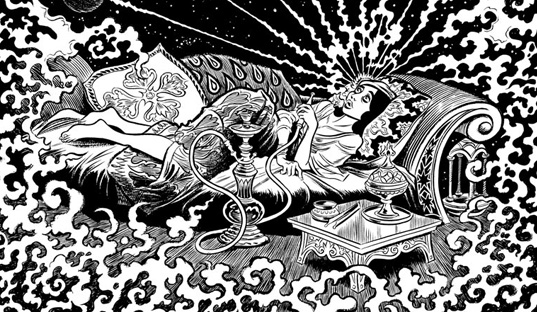 Although it's already been dogpiled on Hooded Utilitarian, I want to talk first about Craig Thompson's Habibi, one of the most frustrating books I've read in the past two years—partly because of its high level of artistic skill. It's not that Thompson uses every cliché about Arabs and the Middle East (child marriage, prostitution, harems, slavery, despotism); this itself is par for the course in Western pop culture, just a difference of degree, not essential type, from thousands of representations including Christopher Nolan's terrorism-themed Batman trilogy with its civilization-hating, don't-call-them-Muslims League of Shadows. What's frustrating about Habibi, instead, is its relentlessly pedagogical nature, alternating these stereotypical representations with its "real" storybook-Bible lessons about the Quran and the Arabic language. On the one hand Wanatolia is an Orientalist fairytale land, and yet thanks to these lessons, it's also the "real" Middle East—it's like suddenly getting "educational" segments about Christianity in the middle of one of those fantasy manga set in an otherwise generic Medieval Europe, like Claymore or Berserk. Thompson is obviously attempting to use his positive book-larnin' about Islam as a counter for the negative images of Arabs, but as a result, Habibi just falls into the tired idea that "Islam in the answer" to everything in the Middle East, a belief shared, ironically, by both right-wing Western Islamophobes and right-wing Muslims. Thompson does introduce a postcolonial element with the late-in-story discovery that evil white men are behind the evil powers of Wanatolia, but on the whole the series does nothing to counter stereotypes of the Middle East, even when Thompson's trying to show the good side. People who think that "Arabs were savages before Islam" might find confirmation for their beliefs in Habibi. Even the supposedly uplifting idea that "Islam, Christianity & Judaism have the same roots" can't be embraced by any really secular liberals or leftists, since it expels atheists, as well as members of every other religious tradition, from the common tree of humanity. In reality, Habibi, like Thompson's other works that I've read, is more than anything about male sexuality. This is where it really succeeds in expressing its theme, although unlike in Blankets and Carnet de Voyage (the obvious prequel to Habibi with its sidelong sketches of veiled women in Morocco) there's no one "Thompson" figure—rather there's two, Zam and the Sultan.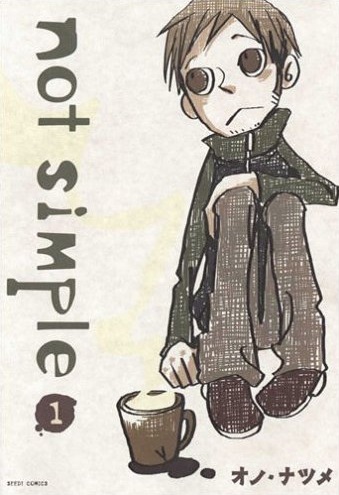 It's hard to think of a most overrated manga, because most manga gets no mainstream critical coverage and most manga fans are completely fine with that. One exception is Natsume Ono, who has received a lot of Western press for her minimalistic art style and indy-comix-ish stories. To her great credit, Ono has engaged with her overseas fans in return, appearing as a guest at the Toronto Comic Arts Festival in 2011. Which makes it unfortunate that, beneath her breezy art, most of Ono's stories are so conventional. Not Simple, her first work published in English and also set in America, is typical. Ian, the adult survivor of child abuse, is a bishonen Christ figure, giving his body up to the desires of evil men and deserving women without ever expressing any desires of his own, except for family (to find his sister). Some critics seem to have taken Ian's childishly innocent demeanor as a serious depiction of the lack of affect suffered by abuse victims, but it's really shojo-manga-esque wish fulfillment, a male figure who's just a handsome doll who needs a hug. Even the conflation of the American setting with homosexuality and broken families follows a formula established in '80s manga like Banana Fish and Cipher, where such hot-button issues are depicted as 'Western' ills. Ono's fascination with nonthreatening guys is also evident in Ristorante Paradiso and its sequel Gente, about an Italian restaurant whose waitstaff is composed entirely of handsome, glasses-wearing men in their 50s and 60s. Nicoletta, the 21-year-old protagonist of Ristorante, gets a crush on Claudio, a sweet, gentlemanly 50ish divorcee, who's too physically weak to resist her advances—if only he weren't still pining for his ex-wife! Although Ono attempts to write some real character interaction between Nicoletta and her mother, the male characters in Ristorante all lack any inner life or any flaws (apart from 'cute' flaws). The result is lots of eye candy and dojinshi bait, but Ono's resourcefulness in finding and exploiting the oyajicon/meganecon fetish market does not a great manga make. I simply haven't read an Ono manga yet which believably depicts any serious emotion or character development, which is why my favorite Ono manga is her very first one, La Quinta Camera, a slight European apartment-complex comedy manga which can basically be summed up as Ristorante Paradiso without the romance; here, Ono's whimsy and Western-exoticism is pleasantly on display, unburdened by attempting to get 'serious.'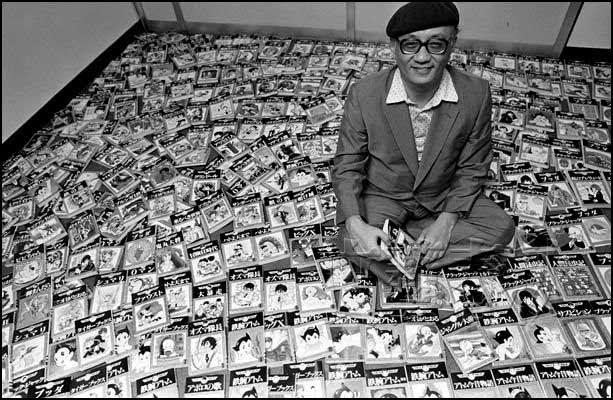 This writeup also wouldn't be complete without critiquing the halo that perpetually surrounds the work of Osamu Tezuka. It's not that Tezuka is bad; even his lesser manga, like Swallowing the Earth, The Book of Human Insects (a character portrait so sexist Dave Sim could have written it) or Message to Adolf, provide hours of entertainment, twisty storytelling and visual invention. (Incidentally, Tezuka feels like a strong influence on Thompson's Habibi.) But, like the way that American comics critics used to deem Lone Wolf and Cub the only manga worthy of serious consideration, it's frustrating to see the "God of Manga" get so much attention, and so many new translations, while so many other classic mangaka linger in obscurity. What about Leiji Matsumoto, Go Nagai, Riyoko Ikeda, George Akiyama, Sanpei Shirato, Shinji Wada? Yes, we now have translations of Moto Hagio, Keiko Takemiya, Kazuo Umezu, Hiroshi Hirata and Shigeru Mizuki, to the great praise of their publishers, but what about so many other classics, like the ones described in Takeo Udagawa's Manga Zombie? Must Tezuka always be the William Shakespeare of manga, with everyone else from his period in his shadow? Does the Tezuka name really = reliable $$$ from manga buyers? Admittedly, one of the reasons publishers license Tezuka is that he liked to create self-contained works of only a few hundred pages, switching from project to project rather than the "draw the same comic for 20 years", 1000+ page tactic of newspaper strip creators and many manga artists. Also, it's a BIG help that Tezuka Productions, the rightsholders to Tezuka's work, are very eager to work with licensors despite the small size of the American market; the extreme example of the opposite is Riyoko Ikeda's famous Rose of Versailles, which, it's an open secret in the manga industry, has never been licensed because Ikeda's company wants a ridiculously large licensing fee. But my point is: I want to see more from other classic creators.
As for the mainstream comics industry, my biggest complaint about it is, of course, that it's become nothing but a license farm for Hollywood, producing movie pitches in easily digestible comic form. This doesn't just apply to Marvel and DC, but to all the companies trying to follow in their footsteps. The glut of miniseries, the desperate chase after movie options (which destroyed Tokyopop), the prevalence of noir and superhero themes…it all adds up to an incredibly boring comics market from which the real action has long ago moved on to Kickstarter and self-published webcomics. Convince me otherwise.
*******
Jason Thompson is the artist of H.P. Lovecraft's The Dream-Quest of Unknown Kadath and Other Stories and the author of King of RPGs (with Victor Hao). He also wrote Manga: The Complete Guide.
__________
Click here for the Anniversary Index of Hate.